UPDATED: AUGUST 23, 2023 | 1 MIN READ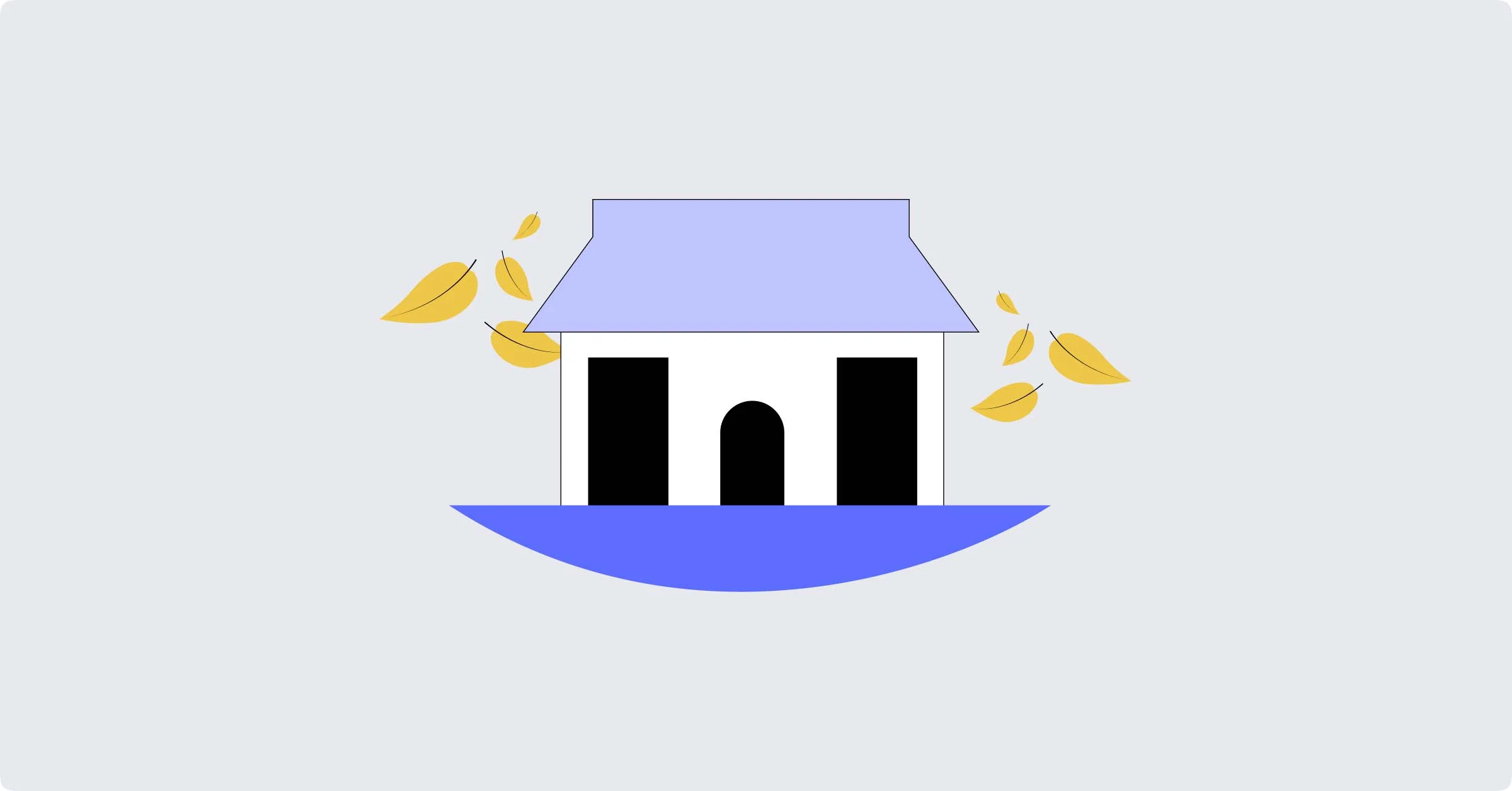 Fall is more than just a season of vibrant colors and cozy sweaters. It's also the season that homeowners need to start prepping their homes for the winter. Use this fall home maintenance checklist to make sure you get all the important chores completed before it gets too cold.
Table of contents:
Exterior fall home maintenance checklist

Expect to do quite a bit of exterior home maintenance in the fall because you need to winterize your house and property. Also, the more outdoor chores you complete in the fall, the less you'll have to do in freezing temperatures.
Roof and gutters
Damage to the roof can lead to serious issues when snow and ice accumulate. That's why dealing with your roof and gutters is so important before cold weather hits. You should:
Inspect your roof for damaged or missing shingles
Make sure flashing is in place
Clean the gutters to make sure they're debris-free
Make sure water flows freely through the gutters and downspouts
Make sure the downspouts are directly water away from your home's foundation
Windows and doors
A good seal keeps the cold out and the warmth in. Inspect windows and doors for cracks or gaps and replace weatherstripping if needed. For added insulation, consider installing storm windows.
Siding and paint
Even small cracks in your home's siding can let in cold air. Inspect for potential vulnerabilities and address them promptly.
Peeling paint impacts aesthetics and exposes your home to potential weather damage. Touch up as necessary.
Landscaping
A lot of your fall landscaping revolves around ensuring your home is protected from snow and ice. Inspecting trees for branches growing too close to your home is important. They can become heavy with snow and ice and fall.
Also, fallen leaves can create a damp environment that attracts pests. Regularly rake and dispose of them. It's especially important to clean leaves out of your gutters.
Before the first freeze, winterize outdoor faucets and sprinkler systems to prevent pipe bursts.
Foundation
Inspect the foundation for cracks or damages, which can become exacerbated in freezing temperatures.
You also need to make sure the soil around your home slopes away from it, preventing water accumulation that can damage the foundation.
Protect outdoor home features
It's also important to protect all of the equipment and features you have in your yard. Here are some things to take care of:
Put patio furniture in storage or protect it with tarps
Winterize your swimming pool
Store outdoor toys away for the winter
Take down trampolines or winterize them
Interior fall home maintenance checklist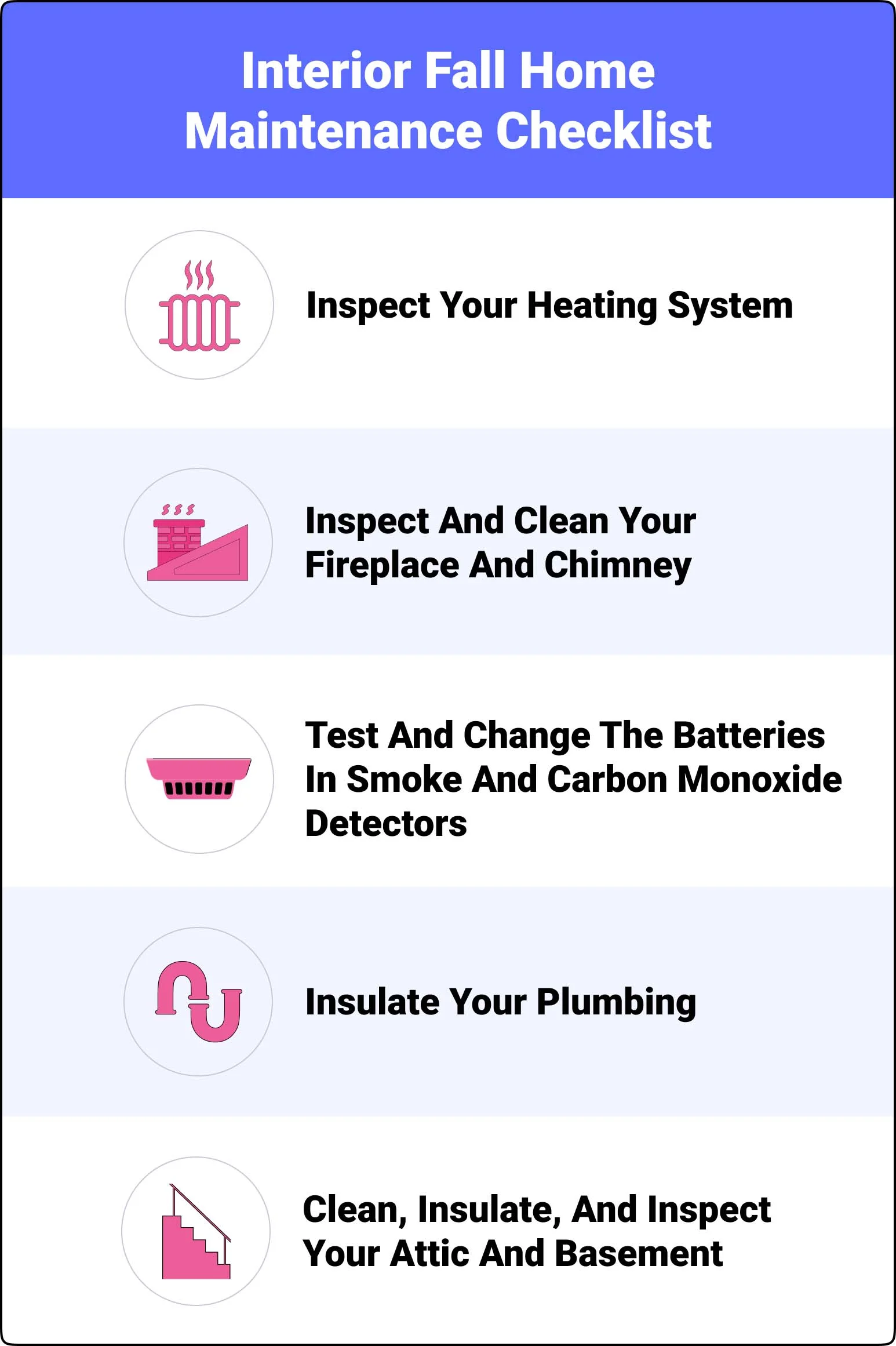 Maintaining your home throughout the fall is just as important as maintaining the outside of your house. Here are some things you should take care of indoors.
Heating system
A professional furnace or heating system check-up can preempt major issues and ensure you're warm all winter. During an inspection, your HVAC tech tests the furnace to ensure it's in working order and changes the filter.
After the inspection, you need to regularly change or clean filters to keep the system running efficiently. Plan to check the filters once a month and change them at least every other month.
Fireplace and chimney
Before lighting the season's first fire, ensure your chimney and fireplace are clean and safe.
And make sure the damper opens and closes properly.
If you use a wood-burning fireplace, stock up on a good amount of seasoned firewood.
Plumbing
Pipes in unheated areas, like garages or crawl spaces, can freeze and burst. Insulate them well. You can purchase insulation tape at basic hardware stores. Simply use it to wrap your pipes so they don't burst.
Also, regularly inspect your home for leaks or drips and fix them promptly to avoid bigger issues later.
Safety devices
Your smoke and carbon monoxide detectors are essential safety nets. Test them monthly and replace batteries as needed.
If you don't have a fire escape plan, now's a great time to create one. Make sure all upstairs bedrooms have a rope ladder, you have a clear evacuation plan for your family in case of a fire, and all of your fire extinguishers are in working order.
It's also a good idea to start stockpiling non-perishable goods, water, and other emergency supplies in case a bad winter storm traps you inside and you lose power. Some things to keep for emergencies include:
Blankets
Warm clothes
Batteries
Flashlights
Shovels
Salt or sand to help combat icy conditions
If possible, keep a generator on hand and a supply of fuel for it.
Attic and basement
Proper insulation in the attic can significantly cut down on heating costs. So consider adding more insulation if needed.
Also, as the weather turns colder, critters look for warm places to live. Because of this, it's important to inspect the basement and attic for any unwanted guests.
You should also check your basement regularly for signs of moisture or mold and address any issues immediately.
FAQs
What should I do to my house in the fall?
In the fall, one of the most important things to focus on is preparing your home for the winter.
Clean the gutters
Inspect the roof and foundation
Have your furnace inspected
Rake and dispose of leaves
Inspect your attic and basement for pests
Winterize your plumbing
Insulate your home
How do you declutter in the fall?
When fall hits, it's time to put all of your spring and summer belongings in storage. As you pack it up, go through it to determine if there's anything you want to donate or sell. Then, go through your fall and winter stuff as you get it out of storage and bring it back into your home.
How do you refresh your home for autumn?
A good way to refresh your home for autumn is to bring some of the season's colors inside. Add blankets and throw pillows in fall colors to your house. Consider bringing in some classic fall scents like the smell of pumpkin, apple, and cinnamon.
Check your home insurance policy
You should review your home insurance policy and check rates for other companies once a year, so it's a great item to add to your fall home maintenance checklist.
When you're ready to compare rates, use our online quoting tool to get rate comparisons quickly.
Recent content: