UPDATED: SEPTEMBER 06, 2023 | 3 MIN READ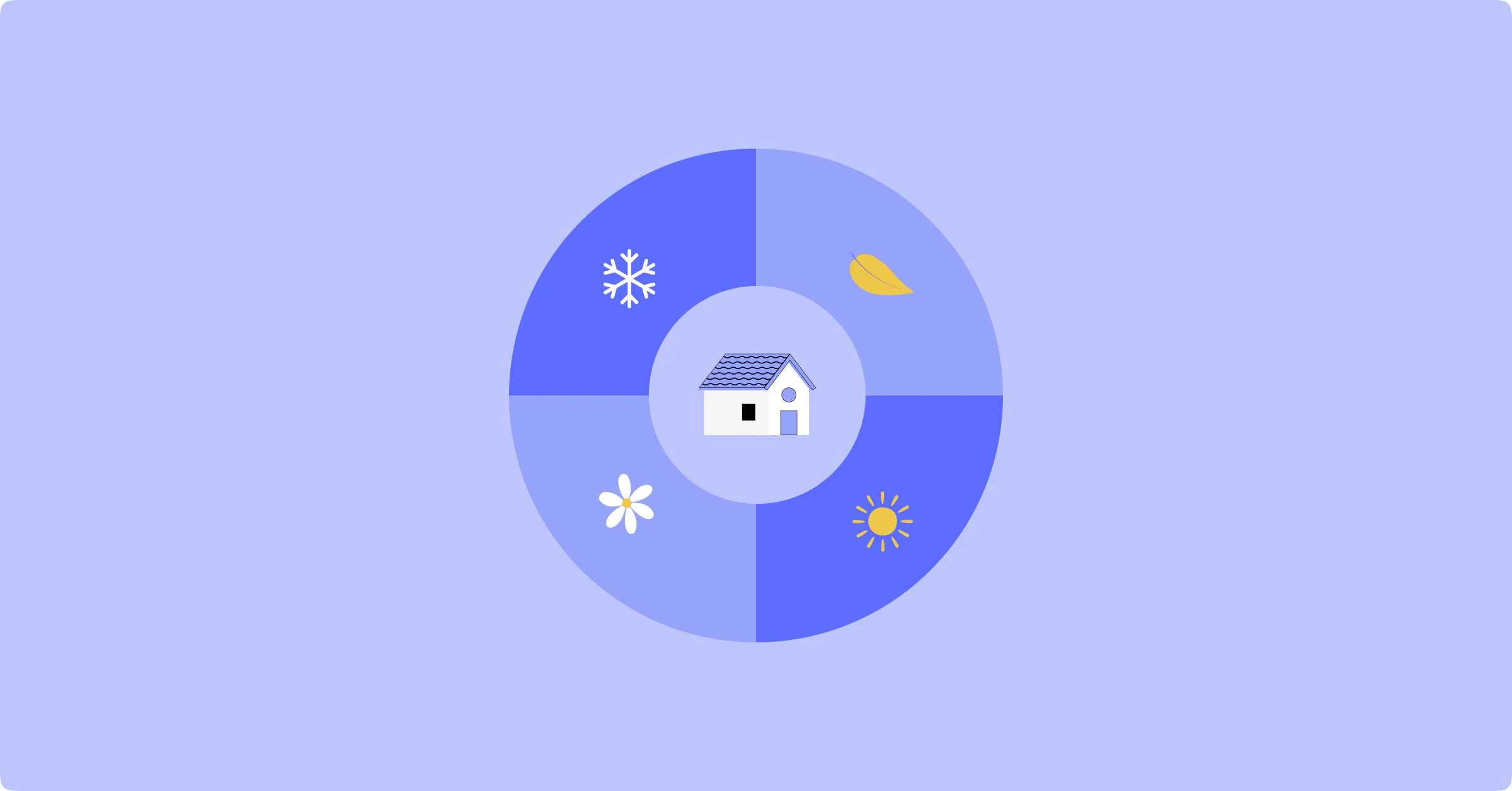 Maintaining your home is extremely important. It preserves its value and ensures your family a comfortable, healthy living environment. However, it also takes a lot of time, organization, and commitment. This comprehensive home maintenance checklist helps you stay organized and on top of tasks to keep your property in top-notch condition.
Seasonal home maintenance checklist
As the seasons change, different aspects of your home require attention. Follow this seasonal home maintenance checklist to tackle specific tasks and prepare your property for the upcoming weather challenges.
Spring home maintenance checklist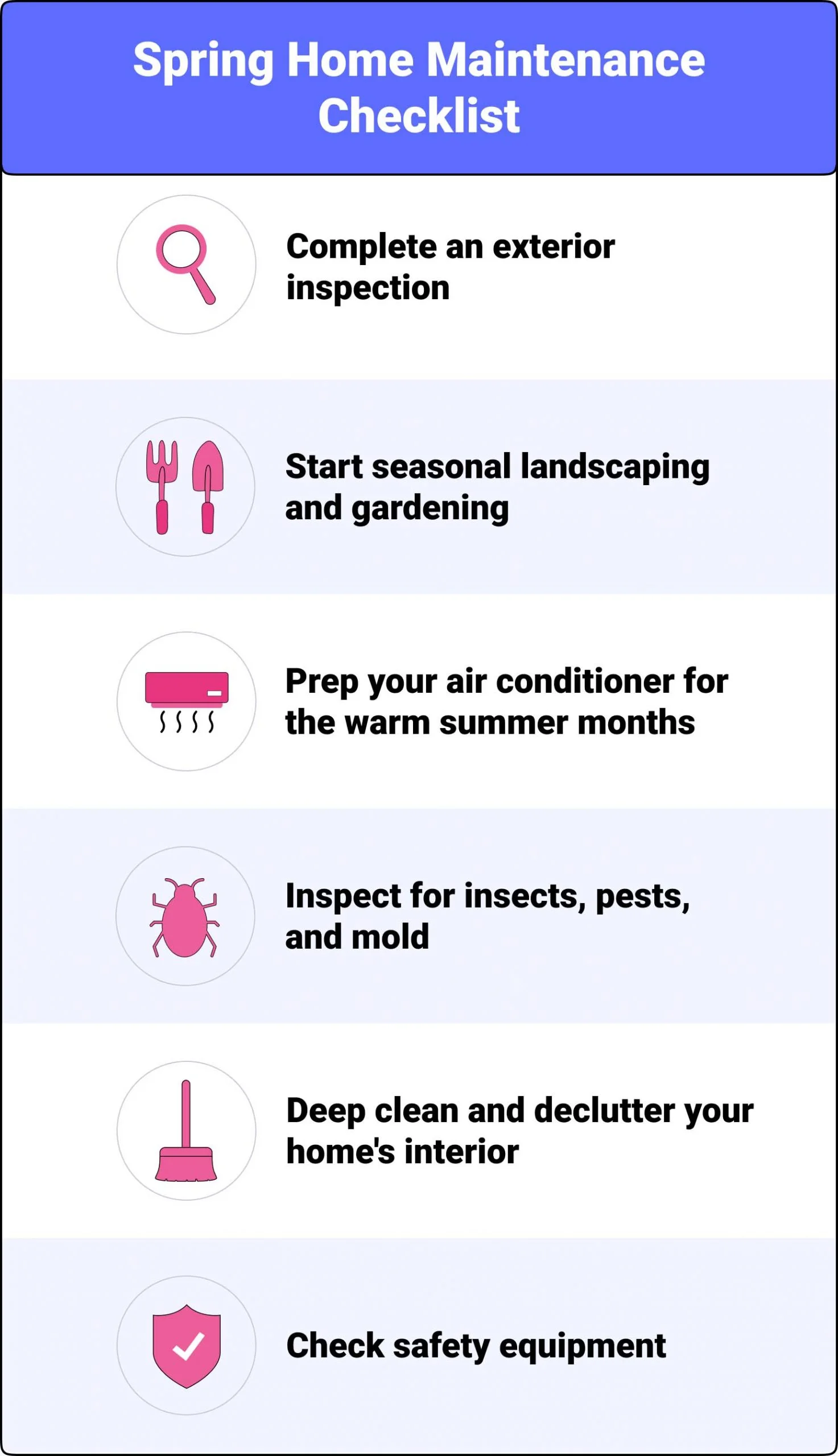 It's not called spring cleaning for anything. Spring is the perfect time to deep clean and declutter your home and prepare the outside for the nice summer weather to come.
1. Complete an exterior inspection
Walk around your home looking for anything needing to be repaired or replaced. Check the gutters, siding, deck, foundation, and roof to make sure all are in good shape.
Gutters: Make sure they're secured properly
Siding: Look for missing pieces
Roof: Look for missing or shifting shingles
Foundation: Watch for masonry cracks
Windows: Check caulking and weather stripping
2. Start seasonal landscaping and gardening
Mowing the lawn is important, but you should also take time to edge it properly so it looks neat. Also, plant flowers and mulch your flower beds, and take some time to trim unruly trees and bushes.
Spring is also a great time to pull out your power washer. To get your home's exterior extra clean, power wash your house, driveway, walkways, patio, and deck.
3. Prep your air conditioner for the warm summer months
Before running your air conditioner for the season, inspect it professionally. An HVAC technician can make sure it's in working order and top off the anti-freeze if needed so you stay cool all summer.
4. Inspect for insects, pests, and mold
Inspect your basement and attic thoroughly for any signs of insects, other pests, and mold. If you see signs of these things, you must immediately call a professional to remedy the situation.
Also, termites start swarming in the spring. So, look for small insects with wings flying near holes in any wood on or near your home.
5. Deep clean and declutter your home's interior
Spring is a great time to deep clean and declutter your home. Open the windows to let the fresh air in while you work. This will help eliminate any musty smell built up over the winter months.
6. Check safety equipment
Twice a year, usually in the spring and fall, you should check all of your home's safety features to ensure they work well. Test and change the batteries in your smoke alarms and carbon monoxide detectors.
Also, make sure each room has a clear fire escape route. To do this, make sure the paths to the doors and windows are clear. You should also keep rope ladders near the windows in upper-floor bedrooms. Don't forget to discuss fire safety and evacuation with your family to ensure everyone knows what to do.
Read our full Spring Home Maintenance Checklist.
Summer home maintenance checklist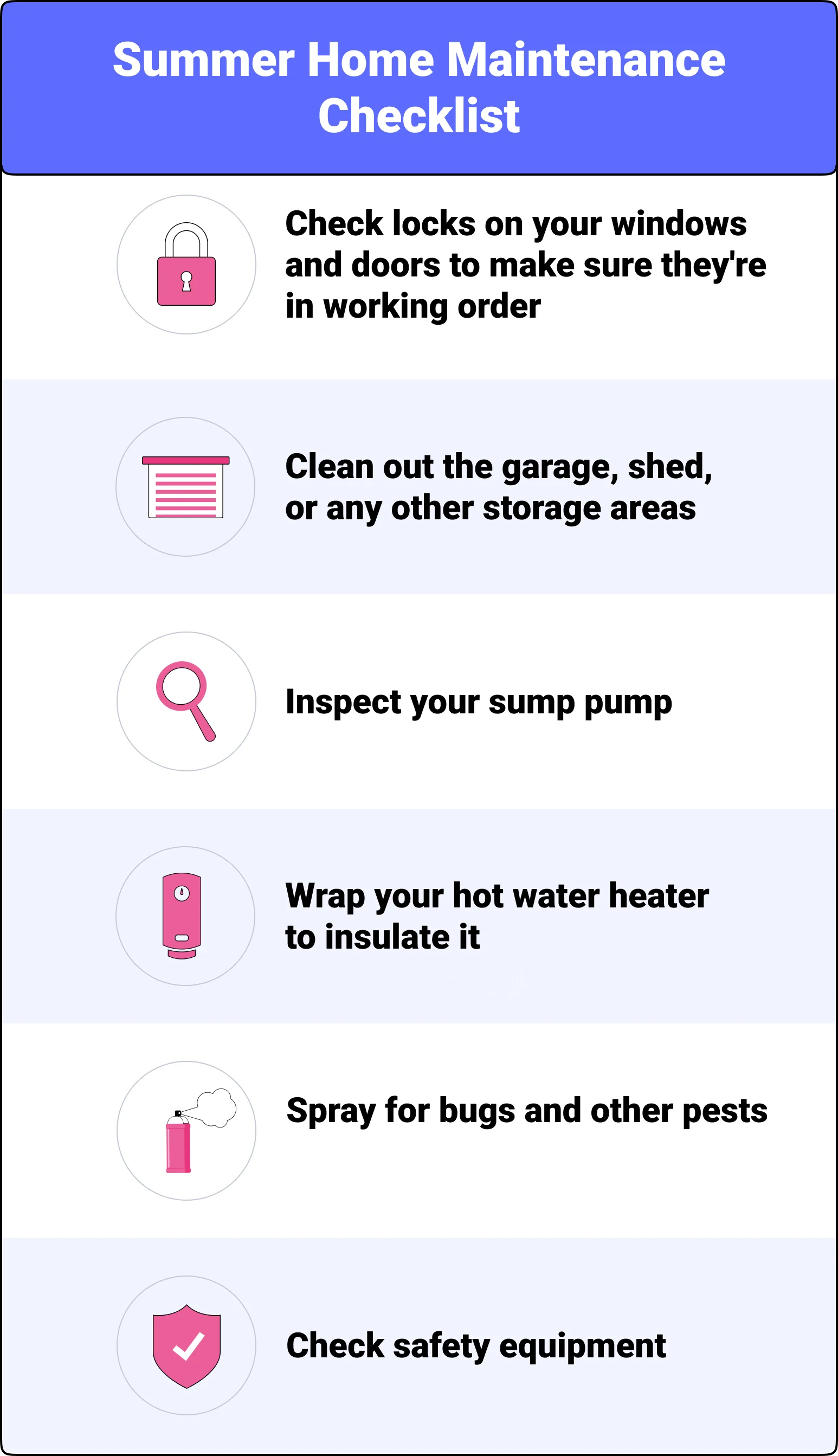 Summer is all about maintaining the work you completed in the spring. Lawn and yard maintenance is extremely important to keep your home looking its best.
Some other things to consider include:
Check locks on your windows and doors to make sure they're in working order
Clean out the garage, shed, or any other storage areas
Inspect your sump pump
Wrap your hot water heater to insulate it
Spray for bugs and other pests
Install or inspect smart home tech, including alarms, cameras, motion detection lights, and smart doorbells
Read our complete Summer Home Maintenance Checklist.
Fall home maintenance checklist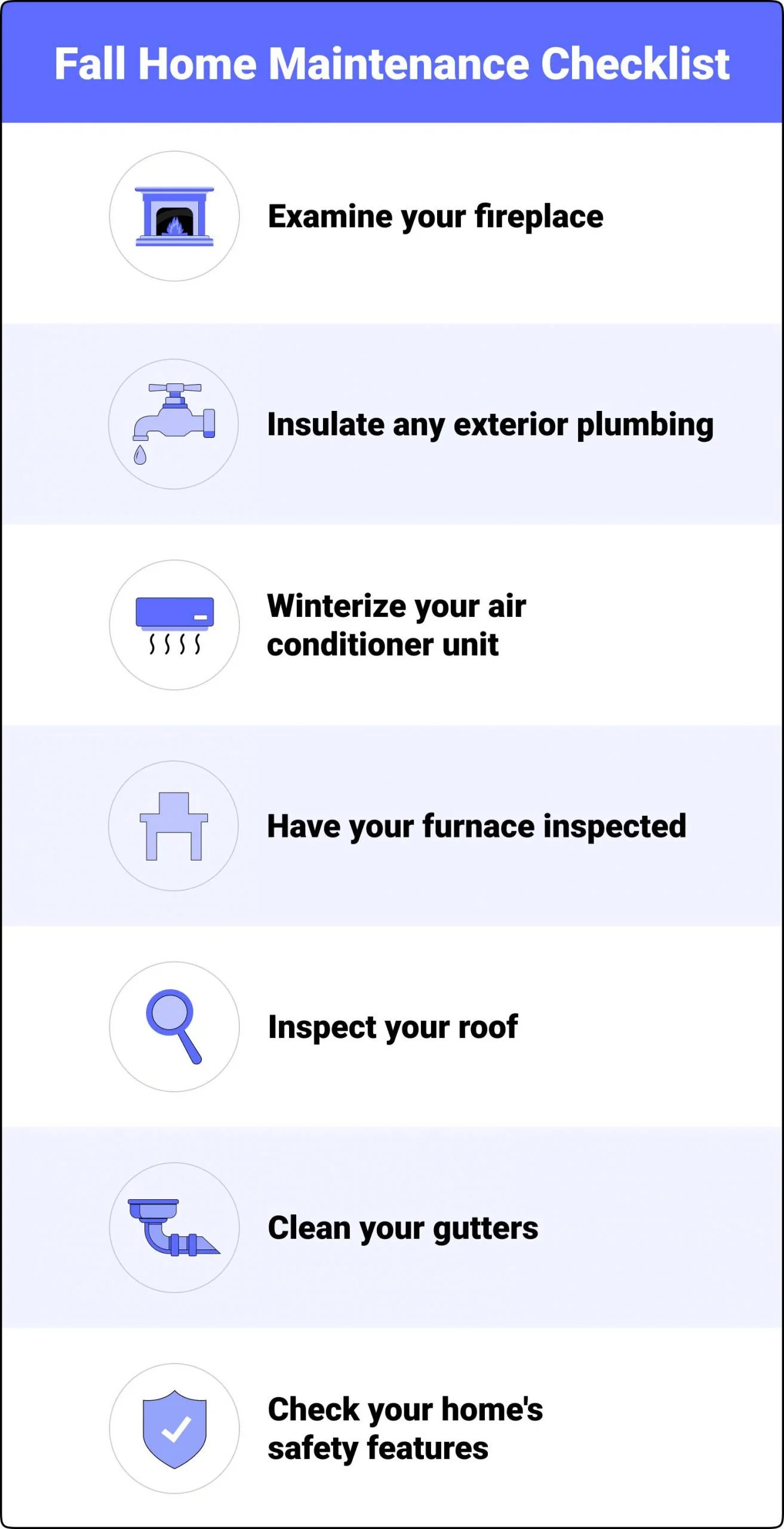 As soon as the air turns crisp, it's time to prepare your home for winter. Like spring, fall comes with a long to-do list because you're preparing your home for more extreme weather.
1. Examine your fireplace
Before lighting a fire, you must ensure your fireplace is in tip-top shape. It's important to check your flue and chimney for any damage or blockages. If possible, have it inspected and cleaned by a professional.
2. Insulate any exterior plumbing
Exterior plumbing doesn't hold up well in freezing temperatures, and the last thing you want to happen is for pipes to burst. Places styrofoam covers over any outside faucets and pipes running through your home's crawl space.
3. Winterize your air conditioner unit
Winterizing your AC unit isn't as difficult as it sounds. You need to remove any leaves or debris around the unit, wash it, and cover it. This way, it's protected from the elements and ready to go next summer.
4. Have your furnace inspected
Hire a professional HVAC tech to inspect your furnace before the winter. The technician will ensure everything is in working order and you have no gas leaks. In addition to the inspection, you also need to make sure the furnace filter is changed.
5. Inspect your roof
You don't necessarily need to climb up on the roof to inspect it in the fall. Instead, walk around the house from the ground looking for any missing, shifted, or lifted shingles.
You also want to make sure the metal flashing around chimneys and vents looks secure and in place. Lastly, make sure your chimney caps are in place to prevent birds from making nests in the chimney.
6. Clean your gutters
After all the leaves fall, clean your gutters to prevent clogs. This is extremely important because gutters clogged with leaves are prone to ice dams.
While cleaning your gutters, look for small granules that might have fallen off your roof shingles. This is a sign that the coating on the shingles is coming off, and you should have a roofer inspect the roof for further damage.
7. Check your home's safety features
Repeat the process you completed in the spring by checking the smoke alarms and carbon monoxide detectors. Also, make sure each room has a clear fire escape path.
In the fall, you should also examine all of the fire extinguishers in your home. Check the extinguisher's pressure indicator to ensure it's fully charged. Then, make sure the pin and lock are firmly in place. If you notice any damage, replace the extinguisher completely.
Read our full Fall Home Maintenance Checklist
Winter home maintenance checklist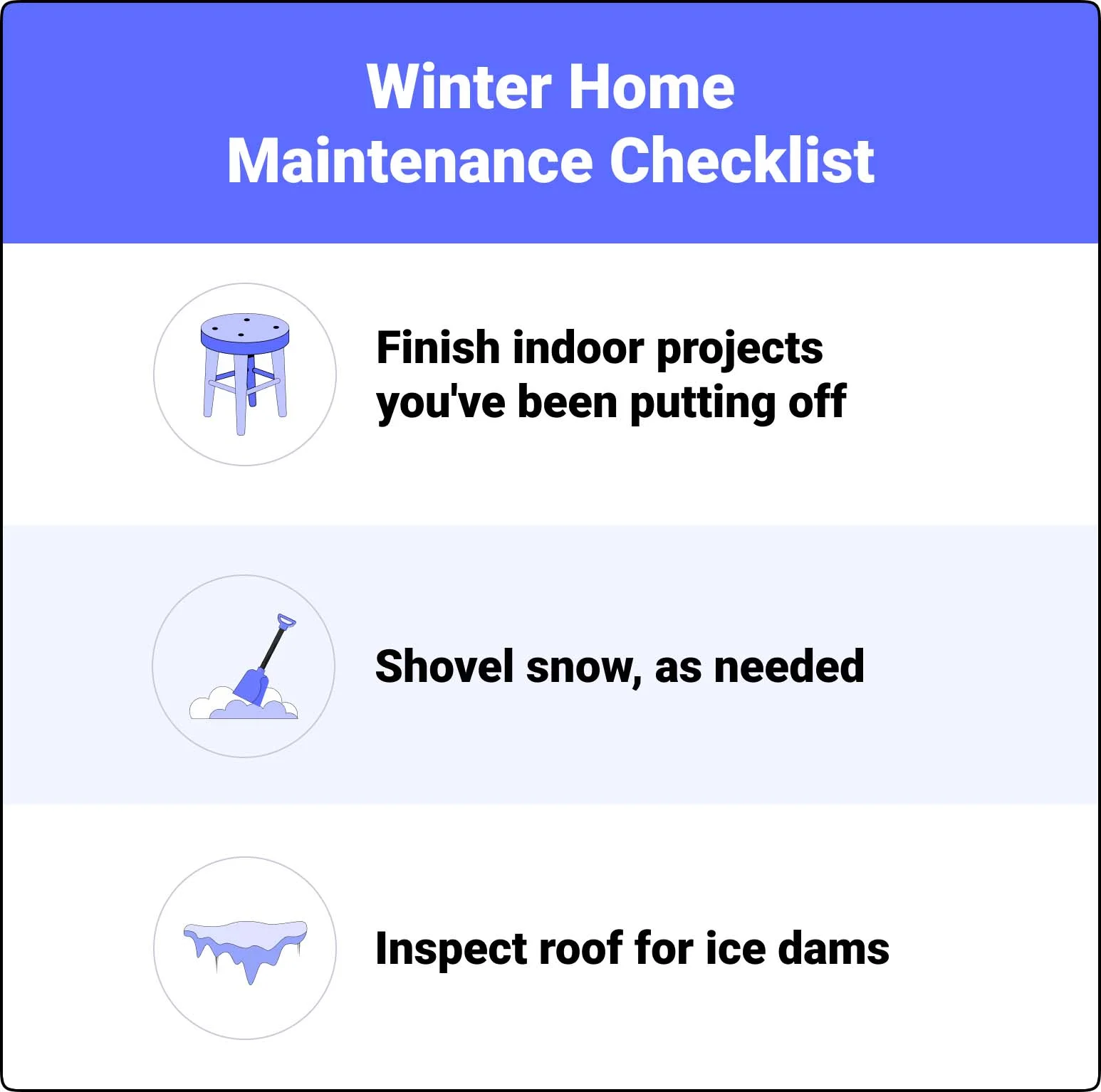 While you're settled in for the winter, spend some time working on the inside of your home. Winter is a good time to work on any small indoor projects you've been putting off. You also need to change your furnace filters monthly, so that's a great chore to add to your monthly home maintenance checklist.
When you go outside, look at your roof to see if you have any ice dams forming. Also, when it snows, shovel promptly to prevent falls.
Read our complete Winter Home Maintenance Checklist.
FAQs
What is seasonal home maintenance?
Seasonal home maintenance is maintaining your home by season. Instead of making one big to-do list, you organize household maintenance by season to work on them all year long in the best season for the task.
What does regular maintenance do for a home?
Regularly maintaining your home keeps it nice longer. Also, regularly maintaining the outside of your house helps keep home values steady in your neighborhood.
How much should you spend annually on home maintenance?
The amount of money you spend each year for home maintenance varies depending on the age of the house and the shape it's in when you buy it. However, some experts suggest putting aside 1% to 2% of your home's purchase price for annual maintenance.
Protecting your home all year long
Regular home maintenance is important, but it's not the only thing you need to do to protect your home. To ensure your investment is properly protected, you need home insurance.
Use our online quoting tool to compare coverages and rates for several companies in minutes.
Related content: