UPDATED: JULY 06, 2023 | 1 MIN READ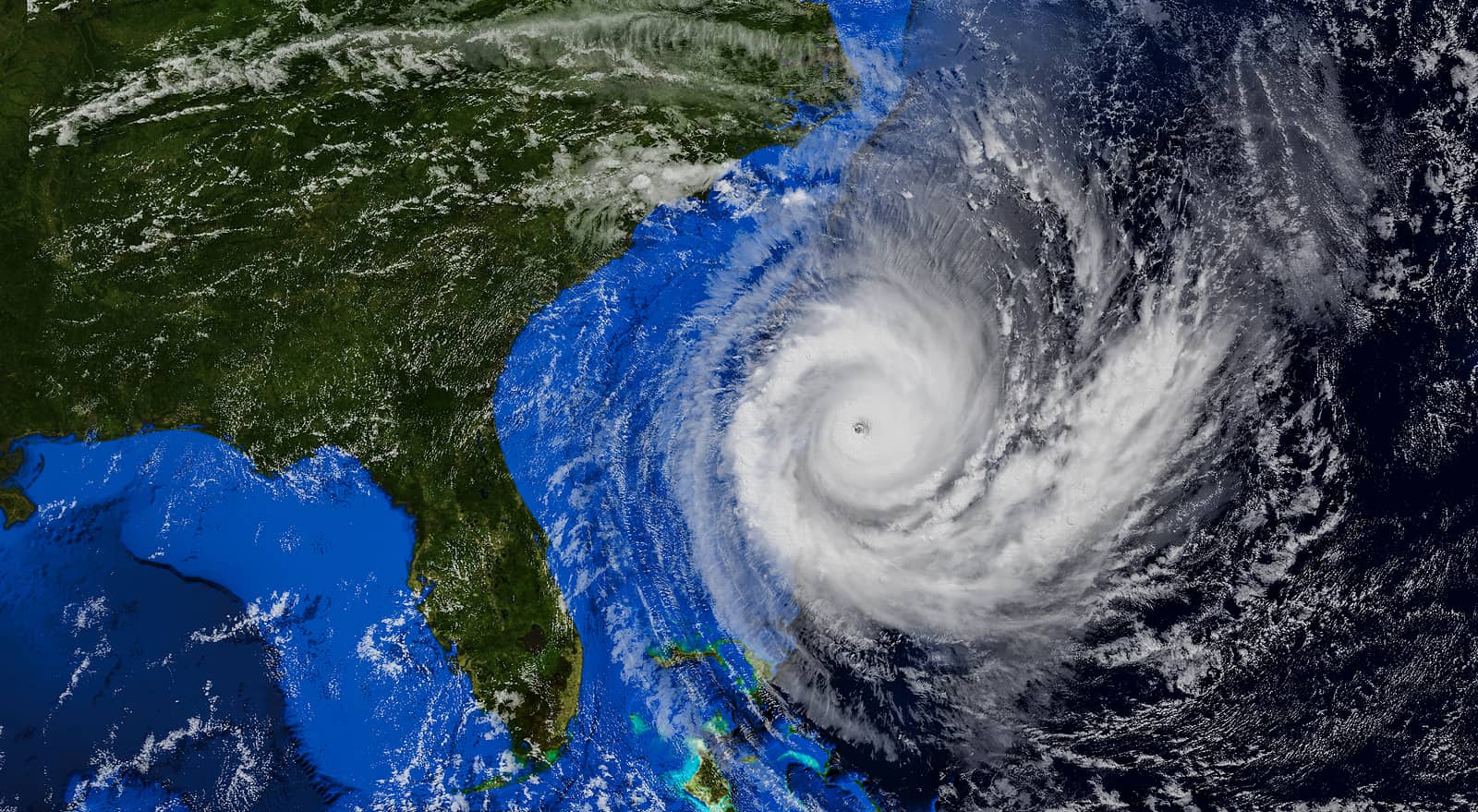 Hurricane season runs from June to November each year, with September and October being the most active months. While hurricanes occur outside this period, 97% of tropical activity falls from June to November. Let's look at what the season involves, how it poses a risk to your home, and how your hurricane deductible works.
How your hurricane deductible works
Homes in hurricane-risk areas are subject to hurricane deductibles. A hurricane deductible is an amount you must pay for damage to your home before the insurance company pays.
Unlike other insurance policy types with flat-rate deductibles, deductibles for hurricane damage are a percentage of your home's value. These rates range from 2% to 10%, depending on where you live.
This typically applies to hurricane damage sustained during a hurricane watch or warning and lasts up to 72 hours after the watch or warning ends.
Hurricane insurance coverage
A typical policy covers wind damage and rain associated with a hurricane. Coverage for your home may vary according to your area, but your policy will include dwelling coverage and personal property coverage.
Flood insurance coverage
Standard policies don't cover flood damage. So it's important to purchase a separate policy for flooding that occurs during a hurricane. In many cases, you can do this directly through your insurance company.
However, smaller companies may not offer flood insurance policies. In that case, you can purchase one directly from FEMA.
Windstorm insurance coverage
Some policies, typically those for people located closer to the coast, don't automatically cover hurricane damage. If this is the case, you need to purchase additional windstorm coverage.
You can determine whether you're covered for hurricane wind damage by contacting your insurance company or reading through your policy details. If you're reading your policy, be sure it specifically states that it covers hurricane and windstorm damage.
Understanding hurricane season
When the waters of the Gulf of Mexico and the Atlantic Ocean are warm, it creates an ideal environment for hurricane activity. The warm waters combine with moist air in a low-pressure area, becoming clouds of the storm. Hurricanes start as tropical disturbances.
When a tropical disturbance increases in strength, it becomes a tropical depression, a tropical storm, and finally, a hurricane. Even a tropical storm may bring severe weather and storm surges. The Saffir-Simpson Hurricane Wind Scale uses wind speeds to classify storms.
Category 1: 74 mph to 95 mph
Category 2: 96 to 110 mph
Category 3: 111 to mph
Category 4: 130 to 156 mph
Category 5: Winds greater than 157 mph
Common types of hurricane damage
When hurricanes strike, four types of damage often occur. The wind is one of the most destructive parts of a hurricane, as are tornadoes. For coastal areas, a hurricane's storm surge may pose a threat. Flooding from rain is also possible, with typical hurricane rainfall ranging from 6 to 12 inches.
Exterior and roof damage
Exterior damage from hurricanes can range from a few blown shingles to ripping off the entire roof. Your gutters might also blow away and could cause damage to your property or your neighbor's home. High winds may cause a tree or debris to fall into your roof.
Interior damage
As the storm hits your home, its windows or doors may break or blow away. Various debris and rain may fly into your home and ruin your belongings.
Structural damage
Hurricanes are brutal to the home structure. They may cause shifted or cracked foundations or weaken other structural supports.
How to prepare your home for a hurricane
Start your hurricane preparedness routine by looking at your home's exterior.
Clear the yard of loose objects such as:
Patio Furniture
Grills
Outdoor toys
Potted plants
Trash cans
Yard ornaments
Pool equipment
When hurricane winds increase, it may create flying projectiles that can break your windows. Remove these objects from the outside and bring them inside, or place them safely in a garage.
Heavy sustained winds may blow out windows or doors. If your home doesn't have wind shutters, board up your windows and doors with thick plywood. Trim any loose limbs, dead branches, and other weaknesses. Tree branches are also potential projectiles, so remove them properly if twisted, loose, or broken.
If you have a shed, gazebo, or pergola, ensure it's securely anchored.
Don't neglect your pool during hurricane preparedness.
Turn off the power source
Remove covers, blankets, and toys
Don't drain the water completely, only a bit to accommodate rain
Secure pool equipment with plastic covers or disconnect them if there's a high risk of flooding
Add extra chlorine to your pool
Weather alerts
When a hurricane is in the area, officials may issue a hurricane watch. This means hurricane conditions may be possible. Hurricane warnings are more severe as officials expect hurricane conditions.
What month has the most hurricanes?
Historically, September brings the most hurricanes. Conditions in the Atlantic are highly favorable for storms thanks to warm waters, low winds, and moist air. The average hurricane season sees four named storms during September.
Does home insurance cover hurricane damage?
Yes. A standard policy isn't a one-size-fits-all approach to covering hurricane damage, so that it may have exclusions. Your policy will specify coverage. A standard policy does not cover flood damage. You will need a separate flood policy, and your area may require a wind policy.
Is there such a thing as hurricane insurance?
Insurance companies don't offer a policy for "hurricane insurance," and a homeowners standard policy won't always apply to hurricane damage. Destructive winds and water pose the most threat to your home.
FAQs
How much is a hurricane deductible?
Hurricane deductibles are typically between 2% and 10% of your home's replacement cost. However, this can vary between insurance carriers so it's important to review your policy for specific details.
What month has the most hurricanes?
Historically, September brings the most hurricanes. It also sees more Cat 5 hurricanes than any other month during the hurricane season. Research shows the first two weeks of September mark the peak of the Atlantic Hurricane Season.
What part of Florida gets hit the most by hurricanes?
Hurricanes hit the Florida Panhandle, or Northwest Florida, the most. This region includes cities such as Panama City, Fort Walton Beach, and Pensacola.
What's the difference between a hurricane and a tropical storm?
Hurricanes have winds greater than 74 mph, and tropical storm winds range from 39 to 73 mph. A tropical storm develops into a hurricane as it grows in strength and size.
How to get home insurance for hurricane season
Even a low-grade tropical storm can pose a dangerous risk to your home. As we move into hurricane season, look over your policy and ensure you're well-protected against hurricane damage.
Add the right protection to your home with flood insurance and other policy options from a home insurance company. Request your free home insurance quote today.