UPDATED: JUNE 14, 2023 | 3 MIN READ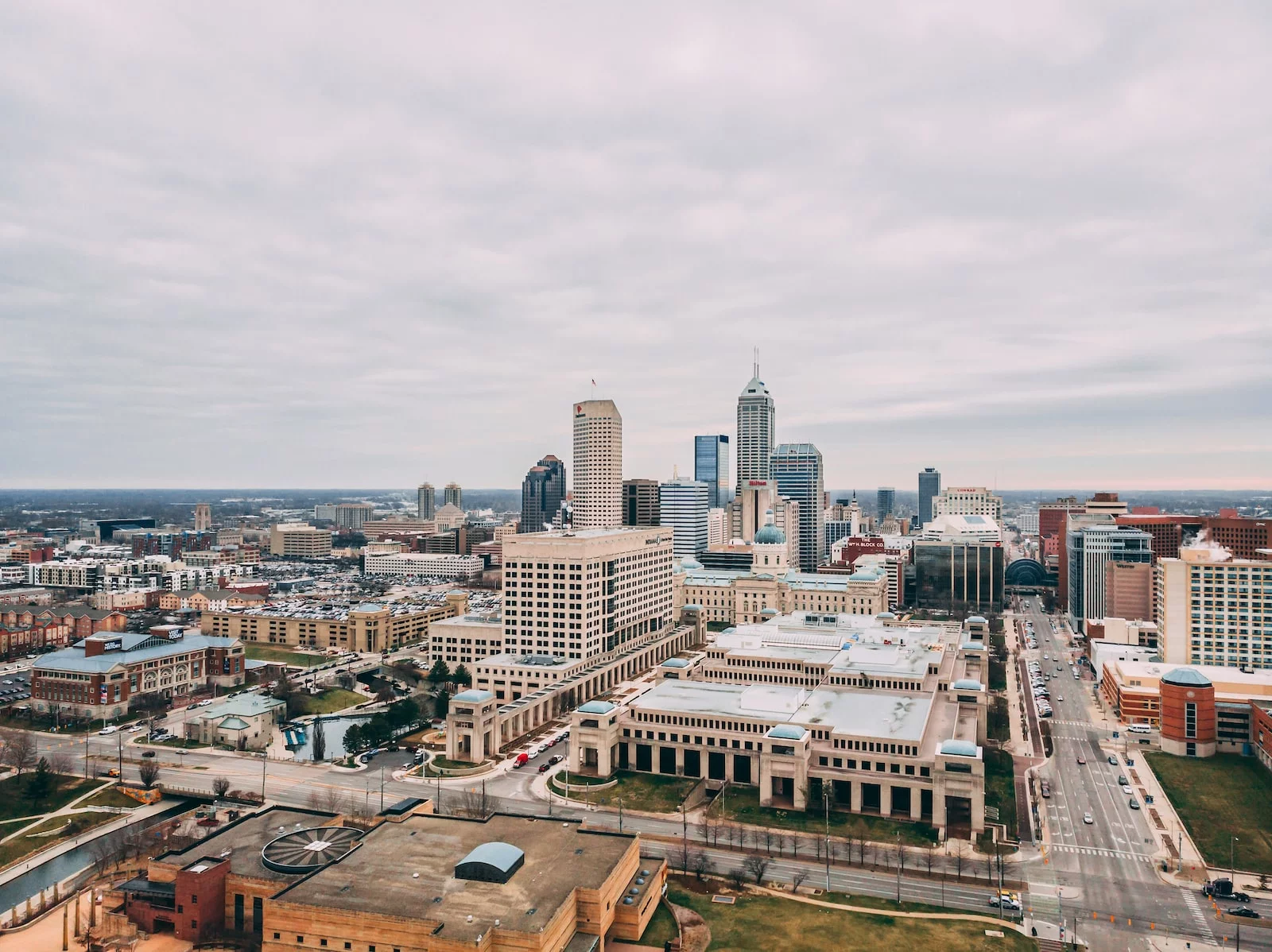 Indiana car insurance is among the cheapest in the country. On average, auto insurance in the state is almost $300 more affordable than the national average rate. Things like age, driving record, and location can affect the price of an insurance policy.
Best Indiana Car Insurance Companies
Indiana auto insurance providers in the state were rated based on customer reviews and available coverage options.
Cheapest Indiana Car Insurance Company
The cheapest quote with minimum coverage is from Auto-Owners. The premium is as low as $25 per month. The cheapest full coverage policy for auto insurance in Indiana comes from State Farm. Their policy averages $906 per year.
Company With the Best Customer Service
Erie insurance company is the carrier in Indiana with the best customer service. In fact, MoneyGeek rated the company a 5 out of 5 for customer service and satisfaction.
Company With the Best Discounts
Indiana Farm Bureau Insurance offers the most discounts for auto insurance in Indiana. Some of these discounts include a discount for being accident-free, as well as discounts for anti-lock brakes, full payment, and an impact-resistant roof.
Local and Regional Auto Insurance Companies in Indiana
Western Reserve Group
Western Reserve Group is a regional car insurance provider operating in Indiana and throughout the Midwest. Their 110-year history is a testament to their insurance quality and customer service.
Auto insurance coverages from Western Reserve Group include liability, collision, comprehensive, and medical expenses.
Optional coverages include auto enhancement, auto loan/lease gap, trip interruption, and $0 glass deductible.
Western Reserve Group offers a range of ways to save on your premium costs, including a home-auto insurance bundle discount.
Indiana Farm Bureau
Indiana Farm Bureau is an agricultural organization that offers car insurance to its members. With affordable prices and solid customer service, the insurer is a top choice for car insurance in the state of Indiana.
Auto insurance includes car and truck coverage, plus options for motorcycles, RVs, and ATVs. Their car insurance includes liability coverage, property damage liability, medical payments, and other protections.
Discounts from the Indiana Farm Bureau include anti-lock braking equipment discounts, an accident-free discount, an advanced quote discount, and a driver education discount.
Indiana Farmers Insurance
Indiana Farmers Insurance works and sells insurance only in Indiana. The company boasts a legacy dating back to 1877, with premiere customer service and some of the best insurance products in the industry.
They customize your policy to your needs, with coverages for any situation. Coverage includes liability, collision, comprehensive, med pay, and rental reimbursement.
Indiana drivers with the insurer's discounts based on driving habits and payment methods. Students with a B or better average save on their premium as well.
Indiana Insurance Demographics
Drivers in Indiana are paying less for their car insurance. In 2022, the population in the state is 6.8 million. This represents a growth rate of 0.44% from 2021. Indiana is considered a safe state to live in. This, along with other factors, can affect insurance rates:
Crime Rates: The crime rate for violent crime per 1,000 people is 3.56%. While for property crime, it's 17%. Indiana's property crime rate is 7% lower than the national average. The chance of experiencing a violent crime in the state is 1 in 281.
Average Household Income: The average income in the state is $40K. Average earnings for men at $47K, while for women, it's $32K.
Median Age Range: The average age in the state is 37.8. For men, it's 36.5. For women, it's 39.1.
Education: Over 1.4 million people in the state (33.19%) have graduated from high school. In comparison, 898,491 people (20%) have some college education.
Common Risk Factors In Indiana
Common factors that influence car insurance include age and gender, location, clean driving record, doing well in school for young drivers, the type of car, and any previous offenses.
Auto Insurance Laws In Indiana
It's mandatory to have auto insurance in Indiana. The state requires that drivers have a minimum level of insurance coverage. They also need to provide details of this coverage when asked when stopped on the road.
What are the minimum car insurance requirements in Indiana?
A minimum level of insurance is required by Indiana law. These are the minimum requirements according to state driving law in Indiana state:
Bodily injury: $25,000 per person
Bodily injury: $50,000 per accident
Property damage: $25,000 per accident
Am I required to carry uninsured motorist coverage in Indiana?
It's mandatory that each new insurance policy offered to drivers include coverage for the insured, uninsured and underinsured drivers. This can only be rejected in writing.
Indiana SR-22 policies
Indiana car insurance laws require drivers with serious driving offenses like DUI to present an SR-22 form. This form shows that the driver has the minimum amount of coverage needed to drive legally. The insurance company usually fills out this form for the driver.
Is Indiana a no-fault state?
Indiana is not a no-fault state. It's an at-fault state. This means a claim is filed against the driver's policy who caused the accident.
What happens if my vehicle isn't properly insured in Indiana?
Serious consequences result from not being properly insured in Indiana. You could get banned from driving for a year and face a $1,000 reinstatement fee. You may also be required to produce an SR-22 for five years. The type of penalty for not having the minimum level of car insurance in Indiana depends on the seriousness of each case.
Does Indiana accept digital insurance cards?
Indiana became one of the first states in the country to adopt digital insurance cards for auto insurance in Indiana. Drivers can show a digital image of their insurance policy when asked. They can access these details through an app provided by the insurance provider.
How Much Does Car Insurance In Indiana Cost?
Drivers tend to pay less for auto insurance in the state than in most other states. A full-coverage car insurance policy in Indiana costs $112 per month or $1,345 per year. A policy with minimum coverage costs $41 per month or $489 per year.
Average Cost of Car Insurance By City
The cost of car insurance varies from city to city, with Carmel offering the cheapest at $1,146, which is 9% lower than the average auto insurance in Indiana. The most expensive city for car insurance is Evansville, with an average cost of $1,308.
| City | Average Indiana Car Insurance Cost | Difference From Indiana Average |
| --- | --- | --- |
| Carmel | $1,146 | -9% |
| Evansville | $1,308 | 4% |
| Fort Wayne | $1,203 | -4% |
| Indianapolis | $1,371 | 9% |
| South Bend | $1,223 | -2% |
Average Cost of Car Insurance By Company
State Farm offers the lowest rates for liability-only premiums and full coverage. An annual premium for liability only costs $299, while a full coverage policy costs $913. Allstate has the most expensive rate, with $452 for liability only per year and $1,566 for full coverage.
Car Insurance Company
Average Liability-Only
Annual Premium
Average Full-Coverage
Annual Premium
Allstate
$452
$1,566
GEICO
$309
$1,202
Nationwide
$334
$1,103
State Farm
$299
$913
Average Cost of Car Insurance By Age
If you're 18, you're likely to spend a lot of money on your car insurance. An average full-coverage policy costs $3,919 per year. Premiums remain expensive for young drivers until they reach 25 when there's a noticeable price drop. The average price for coverage is $1,681, with premiums getting cheaper with age.
| Age | Average Full-Coverage Premium (Annually) |
| --- | --- |
| Age 16 | $1,954 |
| Age 18 | $3,919 |
| Age 20 | $2,949 |
| Age 25 | $1,681 |
| Age 30 | $1,465 |
| Age 40 | $1,254 |
| Age 50 | $1,224 |
| Age 60 | $1,189 |
| Age 70 | $1,309 |
Average Cost of Car Insurance By Gender
There's only a slight difference of $10 dollars between coverage for men and women in the state. Females can expect to pay 10 dollars more than men.
| Gender | Average Full-Coverage Premium (Annually) |
| --- | --- |
| Male | $1,130 |
| Female | $1,140 |
Average Cost of Car Insurance By Credit Score
Having a poor credit score dramatically affects your car insurance costs. If your score lies between 300 and 579, this is a poor score. When you buy car insurance, the average annual rate you'll have to pay as a result is $1,905. Someone with an exceptional credit score will pay almost $900 dollars with premiums averaging $1,025.
| Credit Score | Average Annual Rate |
| --- | --- |
| Poor | $1,905 |
| Fair | $1,635 |
| Good | $1,390 |
| Very Good | $1,170 |
| Great | $1.025 |
Average Cost of Car Insurance By Driving Record
Maintaining a clean driving record is seen as a major plus when it comes to getting Indiana car insurance. Those with a clean driving record can expect to pay almost half of what a person is expected to pay who has a DUI/DWI on their record.
| Driving Incident | Average Full-Coverage Premium (Annually) |
| --- | --- |
| Clean Driving Record | $1,266 |
| Speeding Ticket | $1,581 |
| Accident | $1,626 |
| DUI/DWI | $2,427 |
What Optional Insurance Coverages Should You Consider?
Driving laws in Indiana require motorists to have a minimum amount of coverage. They must also carry proof of this coverage with them while driving. Minimum coverage can be very little, so it's best to look at options. Here are a few to consider:
Comprehensive: this provides coverage for physical damages
Collision: this can help drivers cover the cost of repairs
Medical payments coverage: this covers the cost of medical bills and or any funeral costs
Roadside assistance: if you experience a breakdown, this type of option provides help when you can't get your car running again
Personal injury: this provides coverage for healthcare costs following an accident
Uninsured or underinsured: this coverage can help with expenses if you have a collision with an at-fault driver who doesn't have any coverage
Auto Insurance Discounts
Depending on individual needs, specific discounts can help reduce the premium for car insurance in Indiana. There are many discounts to look out for. Some of the main ones include:
Accident-Free Discount
Anti-Lock Braking and Passive Restraint Safety Equipment Discounts
Auto + Life Discount
Claims Experience Discount
Full Payment Discount
Loyalty Discount
Mature Driver Rates
Multi-Car Discount
Top Scholar Discount
Youthful Driver Discount
FAQs
Is car insurance high in Indiana?
Indiana car insurance has the second lowest rates in the country. On average, the yearly cost of auto insurance is $725. The national average is $1,424 per year.
What is required for auto insurance in Indiana?
Indiana car insurance laws are similar to other states. The requirements of all drivers include that:
Drivers have proof of insurance to get a driver's license
Drivers must show proof of insurance at all times while driving their vehicle
Drivers need to purchase at the least a minimum liability coverage plan that includes both bodily injury and property damage
How much is full-coverage insurance in Indiana?
For a policy that has full coverage, it costs $112 per month on average in Indiana.
How does car insurance work in Indiana?
In an at-fault state like Indiana, the driver of the vehicle that caused the incident is the person responsible for sorting out the damages. The insurance company insured the at-fault driver pays up to whatever limit the policy agrees. The driver pays out anything above that limit at fault's funds.
How To Purchase Indiana Car Insurance?
Using a comparison service to compare minimum prices and full coverage is a good way to find the best policy. Knowing what discounts to look out for can also help you find the right policy for your needs and price point.