UPDATED: JANUARY 20, 2023 | 1 MIN READ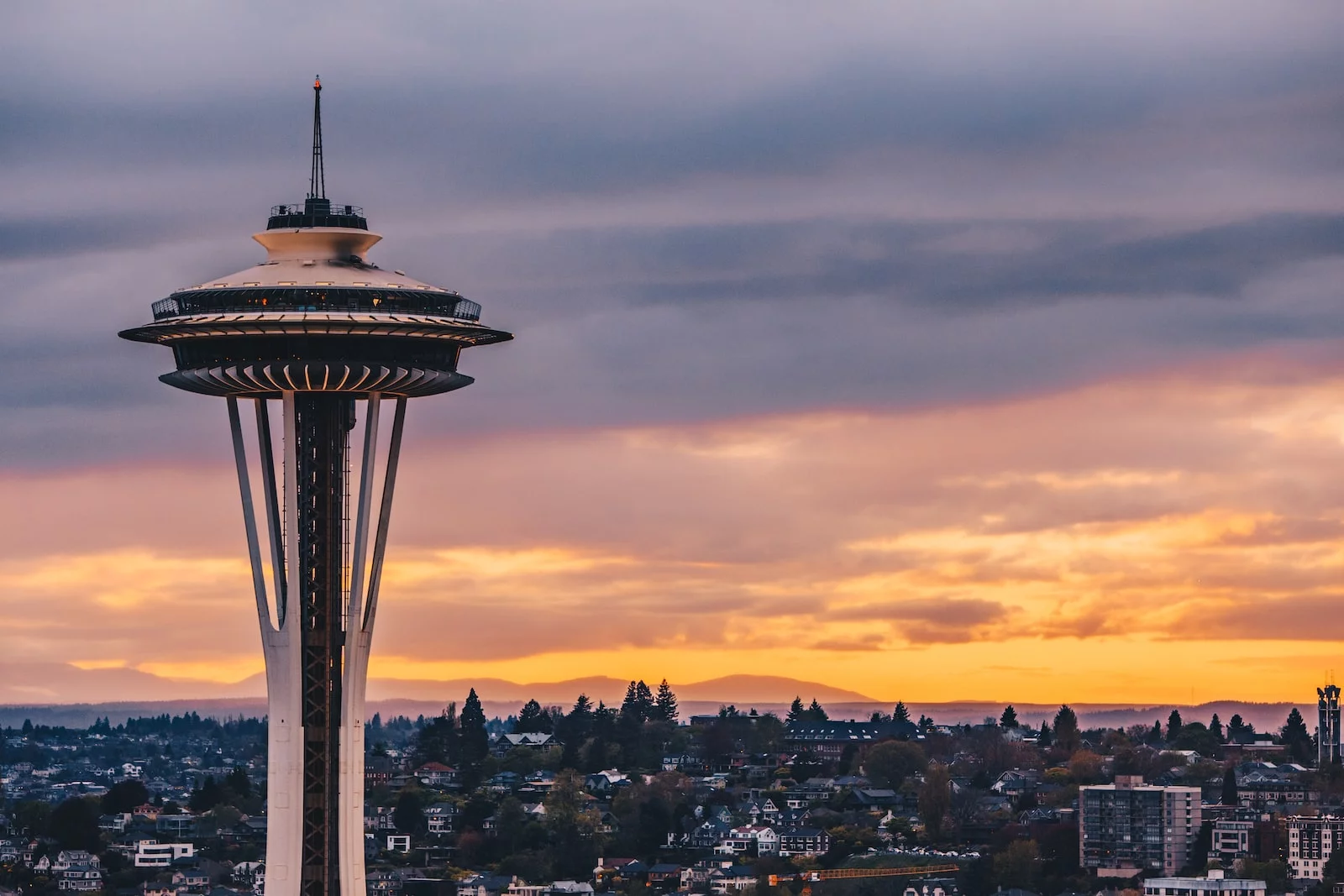 When purchasing car insurance in Washington, many factors influence what you pay. Some variables may be more apparent than others, and the process can be confusing. Here is everything you need to know to help you find the cheapest car insurance in Washington state.
Best Washington Car Insurance Companies
It is important to compare when shopping for car insurance in Washington. Here are some of the best car insurance companies throughout the state, with the most affordable, best customer service, and discount offerings.
Cheapest Car Insurance In Washington State
The cheapest car insurance rates in Washington are through State Farm insurance. For minimum coverage on your automobile, they average around $413 annually. The rate is 30% cheaper than the overall state's average.
The most affordable rate for full coverage insurance is with Pemco. Their average rate is $1,188 annually, with protection beyond the minimum state requirements.
Washington Car Insurance Company With the Best Customer Service
State Farm is not just the cheapest in Washington for car insurance. It is also rated the highest for customer satisfaction. The company has a JD Power score of 845 and an AM Best rating of A++.
Washington Car Insurance With the Best Premium-Reducing Programs
Bundling your auto insurance along with your home or other insurance can help provide cheaper premiums. The best companies for bundling and reducing your premiums in Washington include USAA, State Farm, and Allstate insurance companies.
Washington Car Insurance Company With the Discounts
You should check with insurance companies to see if there are any eligible discounts to help you save money. In Washington, GEICO insurance has affordable coverage and plenty of discounts. Discount offerings include savings for federal employees, good student discounts, and safe driver discounts.
Local and Regional Insurance Carriers
Mutual of Enumclaw
Washington state drivers have a trusted copilot on the roads throughout the Northwest. Trusted in Seattle, Vancouver, and everywhere else in the state, Mutual of Enumclaw is a leading auto insurance provider.
The carrier combines your home and auto coverage automatically. For car insurance, Mutual of Enumclaw offers collision and comprehensive liability, personal injury protection, towing and roadside service, uninsured motorists, and more. You may also purchase limited new car replacement and gap coverage.
PEMCO
Named one of Forbes' best car insurance companies, PEMCO Insurance features car insurance products to protect your vehicle, passengers, and pets. Whether you drive through the mountains near Yakima or just the streets of Seattle, PEMCO is here for you, bumper-to-bumper.
Their coverage offerings include auto loan coverage, collision, comprehension, uninsured motorist, and custom parts. You can also add custom parts and towing/labor to ensure coverage from the rivets to the rims.
PEMCO offers the usual discounts for bundled policies, safety features, good students, and safe driving. What sets PEMCO apart is its special savings for University of Washington graduates and educators.
Mid-Columbia Insurance
Representing good drivers, high-risk drivers, drivers in need of an SR-22, and any driver in between, Mid-Columbia Insurance is an insurance agency offering car insurance for all.
Mid-Columbia provides car insurance throughout Washington state regardless of your driving history, tickets, or credit score. The insurer offers minimum liability car insurance, broad-form car insurance, motorcycle insurance, and even non-owner insurance.
Got a classic car or rideshare? They insure those, too; plus, if you have a home insurance policy, you get a bundle discount.
Washington Insurance Demographics
A state's demographics also go into determining insurance premiums. Below are some typical demographics car companies examine for the state of Washington.
Crime Rates: There was a slight increase in property crimes in 2020. Crime rates are still low, with only 2.93% violent crimes per 1,000 people.
Average Household Income: 10.5% of households in Washington are high-income. The average household income is $103,669.
Median Age Range: The median age for people living in Washington is 38.5 years. It increased from 37.3 years in 2010.
Education: Washington ranks 36th in student education for the state. It boasts an average of 91.7% of residents 25 and older with, at minimum, a high school diploma. 79.7% of the population have a bachelor's degree or higher.
Common Risk Factors In Washington
Another factor determining car insurance premiums is weather risks. In Washington, common weather risks include extreme heat, drought, wildfires, and flooding. Property crimes such as theft or vandalism are also at risk and can affect what you pay.
Auto Insurance Laws In Washington
Washington's laws do require drivers to have insurance coverage. The minimum car insurance coverage, also known as liability coverage, is standard for the state. It is illegal to drive without the minimum required coverage on your car in the state of Washington.
What are the minimum car insurance requirements in Washington?
Washington's minimum required car insurance limits are as follows:
$25,000 bodily injury coverage per person
$50,000 liability coverage per accident
$10,000 in property damage coverage per accident.
Am I required to carry uninsured motorist coverage in Washington?
The state of Washington doesn't require drivers to carry uninsured/underinsured motorist coverage. It can offer more protection for accidents, including hit-and-runs, or when the other driver doesn't have coverage.
Washington SR-22 policies
If you're convicted of auto-related offenses, you may need to carry an SR-22 policy in Washington. These certificates prove you hold the minimum liability coverage required by the state as a high-risk driver.
Is Washington a no-fault state?
Washington state is not a no-fault state. It's an at-fault state or "tort" state. It means whoever is responsible for an accident has to pay for any injuries or damage.
What happens if my vehicle isn't properly insured in Washington?
You're liable for penalties if you drive without car insurance in Washington. The punishment for drivers caught without coverage is a $15 community restitution, $450 in fines, and community service.
Does Washington accept digital insurance cards?
Some insurance companies provide electronic or "paperless" insurance cards. It is usually through the company's app on a mobile or another device. Some states don't allow this type of proof. However, Washington allows you to show proof of coverage with a digital insurance card.
How Much Does Car Insurance In Washington Cost?
The average cost for full coverage car insurance in Washington is around $110 monthly (1,317 annually). Car insurance costs can vary and depend on numerous factors. Below is a guide to average car insurance costs by city, age, company, gender, and driving record.
Average Cost of Car Insurance In Washington By City
Here is the average cost of car insurance in Washington, broken down by city.
| City | Average Washington Car Insurance Cost | Difference From Washington Average |
| --- | --- | --- |
| Seattle | $1,400 | 20% |
| Spokane | $1,150 | -3% |
| Tacoma | $1,430 | 22% |
| Vancouver | $1,215 | 4% |
| Olympia | $1,137 | -4% |
Average Cost of Car Insurance In Washington By Company
Car insurance companies also have differing rates for premiums. Below is the breakdown of average annual premiums by insurance company for Washington state.
Average Cost of Car Insurance In Washington By Age
Age plays a role in factoring in your car insurance premium. The chart below shows the breakdown of average cost by age bracket.
| Age | Average Full-Coverage Premium (Annually) |
| --- | --- |
| Age 16 | $1,935 |
| Age 18 | $4,325 |
| Age 20 | $3,030 |
| Age 25 | $1,545 |
| Age 30 | $1,305 |
| Age 40 | $1,250 |
| Age 50 | $1,135 |
| Age 60 | $1,100 |
| Age 70 | $1,260 |
Average Cost of Car Insurance In Washington By Gender
Your gender also factors into your auto insurance premium. Here is the difference between genders in Washington for average annual cost:
| Gender | Average Full-Coverage Premium (Annually) |
| --- | --- |
| Male | $1,135 |
| Female | $1,155 |
Average Cost of Car Insurance In Washington By Credit Score
Your credit score is yet another factor in determining insurance costs. In Washington, the average costs you can expect based on your credit score are detailed in the table below.
| Credit Score | Average Premium (Annually) |
| --- | --- |
| Poor | $2,160 |
| Fair | $1,760 |
| Good | $1,440 |
| Very Good | $1,190 |
| Great | $965 |
Average Cost of Car Insurance In Washington By Driving Record
Clean driving records give you cheaper premiums. If you have some car or traffic offenses in Washington, here is what you can expect to pay on average.
| Driving Incident | Average Full-Coverage Premium (Annually) | % Increase In Average Full-Coverage Premium |
| --- | --- | --- |
| Speeding Ticket | $1,380 | 18% |
| Accident | $1,785 | 57% |
| DUI | $2,235 | 91% |
What Optional Car Insurance Coverages Should You Consider?
When buying your car policy, you can look for additional coverage beyond the minimum state requirements. You may need more protection for yourself or your vehicle in an accident. Some additional coverages to look for in Washington and consider are
Collision Coverage: covers the repair or replacement costs if you drive into an object, have an accident, or flip your car
Comprehensive Coverage: covers repair or replacement costs when damages occur from natural disasters, animals, theft, or vandalism
You can also choose higher liability coverage limits than Washington state requires by law. This way, when you're deemed responsible for an accident, you have enough to cover damages and protect your assets.
What Auto Insurance Discounts To Look For In Washington
In Washington, many companies offer specific discounts, which can vary between insurers. There are many discounts out there to help save you money. Some discounts to look for include:
Multiple vehicle discount
Bundling (home & auto) discount
Good driver/safe driver discount
Good student discount
Customer loyalty discount
Paperless payments
Safety features/anti-theft systems
Be sure to inquire with the insurer directly about what discounts they provide.
FAQs
How much is car insurance a month in Washington?
Car insurance costs vary, including driving record, credit history, age, and location. The average cost for full car insurance in Washington is around $110 monthly.
Is car insurance in Washington expensive?
Car insurance costs are more affordable in Washington state. The average rates are close to 19% less than the national average.
How expensive is car insurance in Seattle?
The average cost of car insurance in Seattle, WA, is $1,400 per year. It's higher than the average across the state.
How does car insurance work in Washington state?
You must carry the minimum required insurance by law. Liability coverage includes the 10/25/50, which is:
$10,000 for property damage or injury.
$25,000 for bodily injury or death for one person.
$50,000 for bodily injury or death for any two people.
How much does car insurance cost in WA?
Car insurance costs differ depending on the coverage you need and other factors. The average cost in Washington for the minimum required coverage is $472 yearly.
How To Purchase the Cheapest Car Insurance In Washington State
Purchasing car insurance in Washington requires some effort and patience. Here are some easy steps to assist you in your search:
Decide the amount of coverage you need (minimum/full/customized)
Obtain quotes from multiple companies to compare
Ask about discounts or other premium-reducing programs offered
Following these steps helps ensure you make an informed decision and find the cheapest car insurance in Washington state.