UPDATED: SEPTEMBER 05, 2023 | 1 MIN READ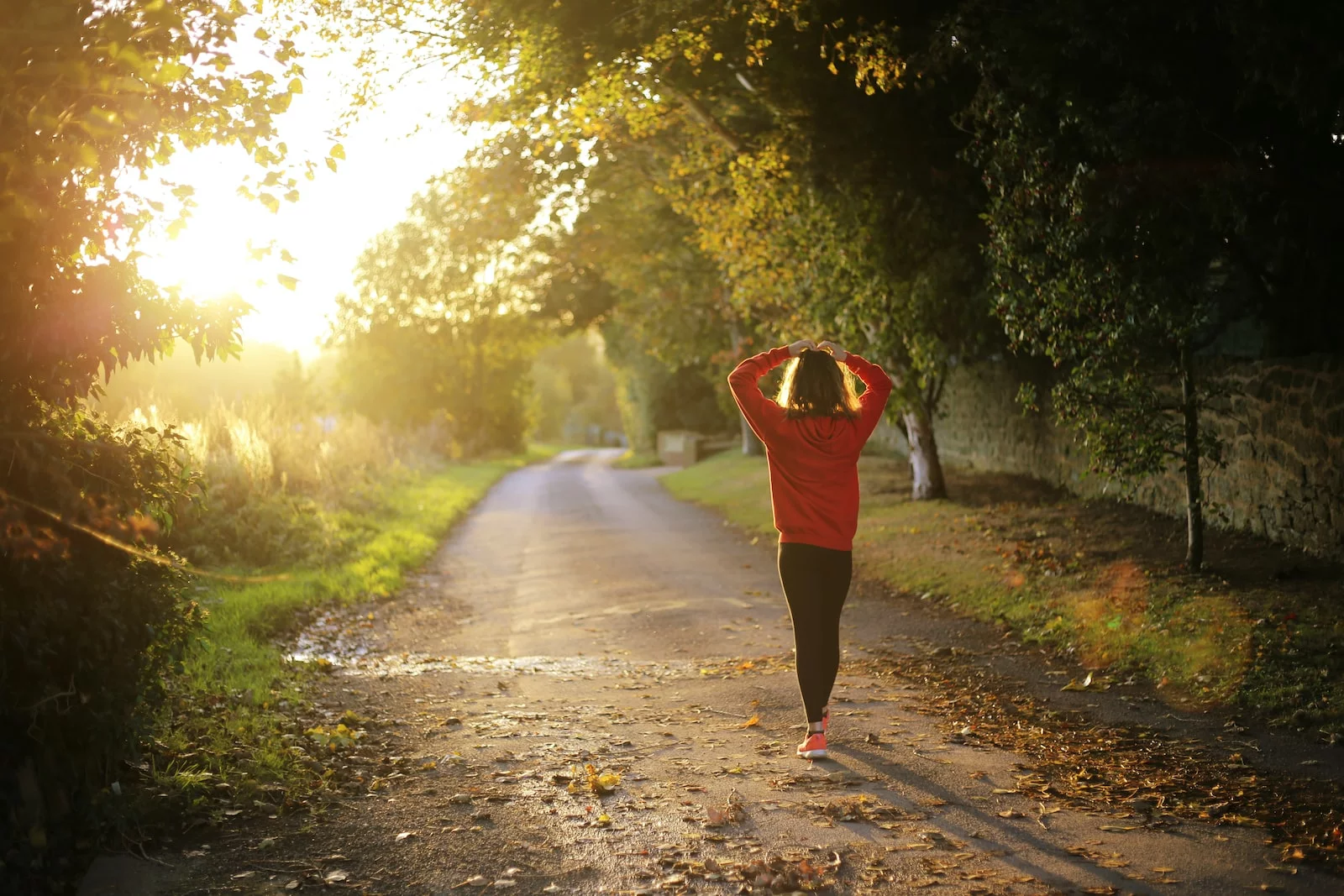 As of 2022, Virginia has a state-run health insurance Marketplace that operates on the federal platform. By late 2023, it will have its state-operated platform for those seeking coverage in 2024. It has 12 insurers offering health insurance in Virginia to its population of 8.7 million people.
Virginia Open Enrollment dates for health insurance
Virginia's health insurance Open Enrollment period runs annually from November 1st to January 15th.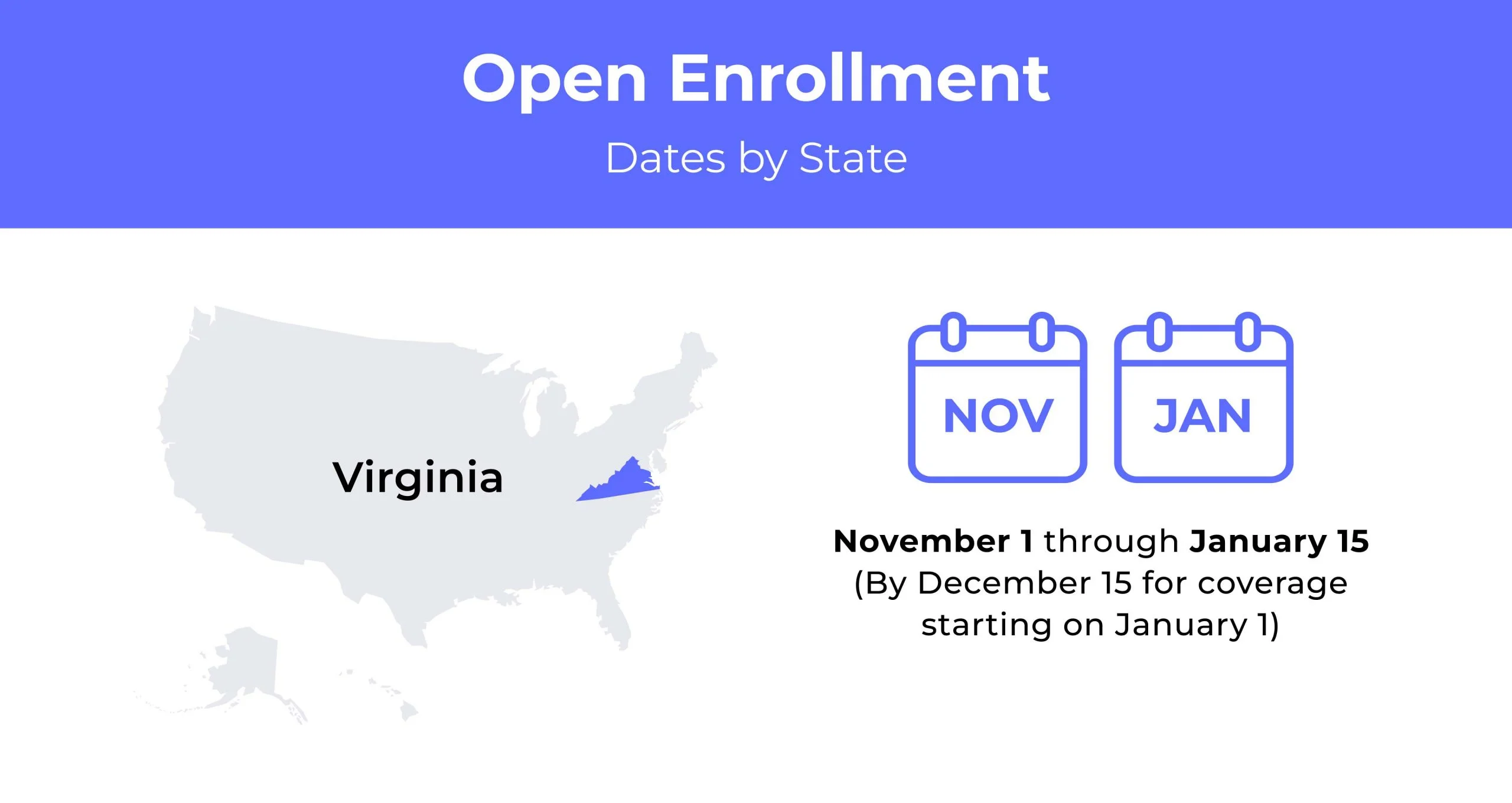 Virginia health insurance demographics
Virginia is the 12th largest state in the country. Its population currently stands at over 8 million, which saw a 0.7% increase in 2022.
Average Household Income: The average income is $47,318. It's $54,984 for men and $39,720 for women.
Median Age Range: The average median age of the entire population is 38.4 years old. For men, it's 37, and for females, it's 39.
Education: Almost 1.4 million (23.8%) have graduated from high school. Close to 1.3 million people have a bachelor's degree (22.36%). Just over one million people have a graduate degree (17.15%).
What type of health insurance Marketplace does VA have?
Virginia uses the federal platform HealthCare.gov to run its state health insurance exchange. It's actively working on transferring to its state-run health insurance exchange and plans to have this active by the fall of 2023. Those seeking health insurance in Virginia in 2024 can get coverage under the newly established exchange system. Once the new system is operational, residents will no longer use HealthCare.gov or the federal call center for queries.
Virginia health insurance plans offer individual and family plans. Small group plans are currently offered directly through insurance carriers. Workers employed by a company with an employer-sponsored health program don't use the Marketplace. Those who qualify under Medicare also don't use the Marketplace. Medicaid is available through the Marketplace.
How many people are insured through the state's health insurance Marketplace?
In 2022, 307,946 people enrolled in Virginia's Marketplace for health insurance. Figures for 2022 were a little lower when compared to other states. The slight drop in Virginia is due to the expansion of Medicaid. With 12 insurance carriers in the state, residents have many options to choose from when looking for coverage.
Did Virginia implement the ACA's Medicaid expansion?
When the expansion of Medicaid was introduced in 2018, almost 400,000 people qualified for it initially. By July 2022, 671,000 people have enrolled for it. This figure is a significant increase from the 388,000 enrolled in February 2020. The increase is due to job losses because of the COVID-19 pandemic. Overall, the total enrollment in ACA has helped the residents of Virginia get health insurance coverage. Figures show that enrollment was 101% higher due to the expansion.
When can you purchase ACA health insurance?
The Open Enrollment Period runs from November 1 to January 15. This open period is for family and individual health plans. Outside of this period, residents need a qualifying event to enroll. Some qualifying events include the loss of coverage, getting married or divorced, moving to the state, a problem during the enrollment period, or becoming dependent or gaining a dependent.
Types of ACA plans in Virginia
Virginia is different from other states because its metal tiers offer more variety. Overall, it provides six metal tiers. They are Catastrophic, Bronze, Bronze Expanded, Silver, Gold, and Platinum.
What carriers offer ACA health insurance in the state?
Twelve carriers offer health insurance in Virginia as of 2022. The coverage provided varies with each insurance carrier. The 12 carriers offering coverage are:
Aetna Life (new as of 2022)
Bright Health (new as of 2022)
Optima
Piedmont Community Healthcare (and Piedmont HMO)
Oscar Health
Optimum Choice
CareFirst
Group Hospitalization and Medical Services, Inc.
Health Keepers/Anthem
Innovation Health Plan (new as of 2022)
Kaiser Foundation Health Plan of the Mid-Atlantic
How much does health insurance cost in Virginia?
Prices can vary depending on the premium chosen and if the person is in good health. Presently, the average monthly cost of a Virginia health insurance policy is $495 for one person on a basic plan.
The cheapest plan is the Catastrophic metal tier at $195 per month offered by CareFirst. The Bronze tier follows this at $335 per month, provided by Kaiser.
Cheapest health insurance by metal tier
Virginia health insurance sold on the Marketplace is divided by metal tier plans. The table below shows the cheapest plan for each tier.
| Metal Tier | Cheapest Plan | Carrier | Monthly Premium | Deductible | Maximum Out-of-Pocket |
| --- | --- | --- | --- | --- | --- |
| Catastrophic | HMO Young Adult 8550 | CareFirst BlueChoice | $240 | $8,500 | $8,500 |
| Bronze | KP VA Bronze 7500 | Kaiser | $335 | $8,600 | $8,700 |
| Bronze Expanded | UHC Value Base Bronze | Optimum Choice | $345 | $6,900 | $8,700 |
| Silver | Silver 6000 | Piedmont | $450 | $6,100 | $8,700 |
| Gold | UHC Value Gold | Optimum Choice | $430 | $750 | $8,700 |
| Platinum | KP VA Platinum | Kaiser | $525 | $500 | $4,000 |
Cheapest silver-tier health insurance by county
Premiums vary slightly based on your location, so it's possible to see a change in pricing from county to county. Below are the cheapest Silver-tier plans in the largest counties in Virginia.
| County Name | Cheapest Plan | Carrier | Individual, Age 40 | Couple, Age 40 |
| --- | --- | --- | --- | --- |
| Chesterfield | Connect 6500 | Cigna | $470 | $940 |
| Fairfax | Value Base Silver | Optimum Choice UHC | $450 | $900 |
| Loudoun | Value Base Silver | Optimum Choice UHC | $450 | $900 |
| Prince William | Value Base Silver | Optimum Choice UHC | $450 | $900 |
| Virginia Beach | Silver X 5300 | Anthem | $485 | $970 |
Are health insurance subsidies available?
A rule in Virginia states that the cost of health insurance can't be more than 8.5% of a household's total income. Because of this, the Advanced Premium Tax Credit system provides subsidies to residents regardless of their chosen tier.
The monthly Advanced Premium Tax Credit was $555 for almost 87% of people who enrolled for insurance. In 2021, a three-person household with an income between $21,960 and $87,840 a year was eligible for subsidy assistance.
Can you purchase off-exchange health insurance coverage in Virginia?
Virginia has imposed some rules around purchasing off-exchange. Individuals shopping for health insurance in Virginia can buy off-exchange during the Open Enrollment Period. This enrollment period runs annually from November 1st to January 15th. The only exception is if the person has experienced a changing life event and needs cover quickly.
Can you purchase short-term health insurance?
Short-term insurance coverage is available in Virginia, yet strict rules exist around its use. In the middle of 2021, the state introduced a law that strictly limits short-term plans to three months. Unlike some states, Virginia allows a short-term plan renewal for three months. The total short-term plan cannot exceed six months.
A short-term plan can't be sold to someone for more than six months. The law doesn't allow the sale of a short-term plan to someone for more than six months in any 12-month timeframe. It also prevents the sale of a plan to someone during the open enrollment for ACA.
Health insurance options for low-income people
If a resident is deemed to have no income or a low income level when set against the federal poverty level, they are entitled to Medicaid. The poverty threshold for households is less than 130% of the FPL. Virginia introduced the expansion of Medicaid in 2019 to include all low-income persons between 19 and 64 years of age. Some of the criteria to be eligible for Medicaid health insurance in Virginia include:
Aged between 19 and 64 years old
Pregnant
Have responsibility for a minor
Be disabled or have a member in the household who has a disability
If a family doesn't qualify for Medicaid, their children may be eligible for Family Access to Medical Insurance Safety (FAMIS). The income of a family determines eligibility.
What Medicare options are available in Virginia?
Medicare is available under Original Medicare and Medicare Advantage. There's also a Medicare Supplement Insurance Plan. Medicare provides healthcare for people over 65 and those with disabilities who qualify under the scheme run by the federal government. Original Medicare consists of Part A (inpatient care) and Part B (preventive care and outpatient medical services). Medicare Part D covers prescriptions that require regular refills. The Medicare Part A Premium and Deductible for inpatient stays is $1,556 in 2022.
Virginia health insurance provides Medicare Advantage under four programs. They are Health Maintenance Organizations (HMO), Preferred Provider Organizations (PPO), Private Fee for Service (PFFS), and Special Needs Plans (SNP).
Medicaid in Virginia
Medicaid is available for adults once their income and household size are within limits. For example, a household of one person can have a monthly income of $906. A two-person household can reach $1,221. There are no enrollment costs and monthly payments for adults who qualify. The eligibility conditions include:
People aged 19-64
Adults who are disabled or blind
Pregnant
Have responsibility for a minor
Be disabled or have a member in the household who has a disability
Cheapest health insurance plans in the state
Two plans in Virginia offer cheaper rates. CareFirst BlueChoice's Catastrophic tier is $195 per month. The next most affordable plan is Kaiser's VA Bronze 7500, with a monthly premium expense of $335.
Cheapest health insurance plan with low out-of-pocket maximums
The Platinum tier has the lowest out-of-pocket expenses of $4,000. However, the monthly premium is $525, and the deductible is $500. The Platinum plan at this price is the Kaiser KP VA Platinum.
Cheapest health insurance plan in Virginia with high out-of-pocket maximums
All health insurance plans offered on the metal tiers, except the Platinum tier, have the same out-of-pocket expenses of $8,700. Yet, the cheapest plans are the Catastrophic at $195 per month, the Bronze at $335, or the Bronze Expanded at $345.
Cheapest health insurance plan with an HSA option
Two plans in Virginia offer a competitive health savings account (HSA) option. These options are available under the HSE Expanded Bronze Plan and the HSA Silver Plan. The Bronze Plan costs $300 monthly, and the Silver Plan costs $325. Both are available through Kaiser.
Cheapest HMO/PPO/POS health insurance plans
An HMO plan is a popular option for many people. Yet, this plan requires the insured to get a referral to see a specialist. An EPO plan offers programs within the network, yet many don't need a referral to see a specialist. A PPO plan offers a broader choice and doesn't require a referral to a medical specialist. The following are the cheapest plans under these three programs, and the prices below are based on a 40-year-old male:
Kaiser's HMO Silver Plan costs $325 per month
CareFirst BlueCross's PPO Silver Plan costs $470 per month
Cigna's EPO Silver Plan costs $470 per month
FAQs
Does Virginia have free healthcare?
Residents of Virginia can get free or largely reduced health insurance through Medicaid or FAMIS.
Is health insurance expensive in Virginia?
The average price for health insurance in Virginia is $495 for one person per month. This is for a basic insurance coverage plan and is relatively competitive.
Who qualifies for Virginia Medicaid?
Adults who are 65 and older can qualify for full Medicaid. Adults who are disabled or blind can also qualify. Other things that can help people qualify include:
Being pregnant
Being responsible for a child age 18 or younger
Being responsible for a family member who has a disability
To be eligible for health insurance in Virginia, a person must be a state resident, a US citizen, a permanent resident, or a legal alien who needs health insurance coverage but is also classified as having a low or no income.
Is health insurance mandatory in Virginia?
Virginia is one of the states that hasn't made health insurance mandatory for residents. The tax penalty for not having insurance was abolished in 2019. So you won't get a penalty when you file your returns in Virginia and don't have health insurance.
However, the law in Virginia does require insurance carriers to offer health insurance for preventative care without copayments, coinsurance, or deductibles.
Does Virginia have a HealthCare Marketplace?
Virginia's health insurance is a state-based Marketplace on the federal-run HealthCare.gov site. By late 2023, the state plans to have its platform up and running so residents will no longer have to use the HealthCare site and phone service. They will be using their exchange platform.
How do you buy affordable individual and family health insurance plans in Virginia?
Now that you have a little background on the different types of Virginia health insurance, it's time to get a quote and see how much your monthly premium will be. Remember, the sooner you apply for health insurance coverage, the more likely you are to be approved for your preferred plan and rates.
Related Content