UPDATED: JULY 07, 2023 | 2 MIN READ
Homeowners insurance in Minnesota is slightly higher than the national average. However, with some knowledge, you can work to locate a premium with the coverage you need at a more affordable rate. Here is everything you need to know about the best insurance companies for a homeowner's policy in Minnesota based on price, service, and coverage.
Best Minnesota Home Insurance Companies
One of the more significant factors for how home insurance premiums are priced is based on how many claims are filed within a particular location and the value of those claims. Below you'll find a breakdown of the best companies in Minnesota for your home insurance policy.
Overall Best Minnesota Homeowners Insurance Company
The best overall Minnesota home insurance company is Travelers. They carry some of the most affordable policies in the state and cover multiple perils affecting homeowners. They provide ways to help reduce your premium with discounts, including good insurance history, bundling your car and home together, purchasing your home within a year of the policy, and owning a LEED-certified green home.
Best Value Minnesota Home Insurance Company
The homeowners insurance company most affordable for people in Minnesota is North Star Mutual. The annual rate is almost half of the state's typical cost of a homeowner's policy. You can save on your premiums with discounts that include:
Living in a protected subdivision,
If you own a home less than 14 years old,
Are older than 55 and retired,
Have you recently remodeled your home, or
Renew your policy at least three consecutive times.
Minnesota Home Insurance Company With the Best Customer Service
State Farm comes out on top in Minnesota for Home Insurance with a J.D. Power rating of 4/5 or A++ for customer service. Travelers insurance is also a top contender for customer service.
Minnesota Home Insurance Company is Best For Bundling
State Farm offers the best bundling options, with Allstate insurance not far behind. You can bundle home and auto insurance policies together. In addition, state Farm provides an Energy Efficiency Upgrade to cover extra costs for more energy-efficient appliances and Vacancy coverage to protect against vandalism and glass breakage.
Minnesota Home Insurance Company With the Best Coverage Options
Multiple coverage options may be necessary, especially if you own a more expensive home in Minnesota. The best coverage options are Chubb home insurance, which includes replacement cost coverage and provides a cash-out option. In addition, their masterpiece policy provides water backup protection, liability for up to $100,000,000, reimbursements for rebuilding, and a thorough assessment of your home's security.
Local and Regional Home Insurance Carriers In Minnesota
North Star Mutual Insurance
As its name states, North Star Mutual Insurance helps Minnesota residents navigate the home insurance industry. The company's policies offer complete coverage for your property and liability. Minneapolis, Saint Paul, and the rest of Minnesota have solid protection from snow, hail, ice, and other hazards.
With home insurance for homeowners, renters, condo owners, seasonal homes, and mobile homes, North Star Mutual Insurance offers a variety of insurance possibilities. Discounts available include mature owner savings, higher deductibles, companion policies, protected subdivisions, new/upgraded homes, and valued customers. 
Farmers Insurance
Known for its freezing temperatures and snowy days, Minnesota delivers plenty for homeowner concerns. Minnesota homeowners have trusted Farmers Insurance with their insurance needs for over 40 years.
With its multiple policies for protecting your home and its contents, the insurance agency makes it easy for Minnesotans to weather storms, even on days when it's zero degrees.
They customize home insurance to your unique home type, single-family home, condo, or mobile home. Enjoy discounts for your home's protective devices, multiple policies, or no smoking.
Auto-Owners Insurance
Minnesota residents choose coverage from Auto-Owners Insurance thanks to the company's dedication, a wide variety of policy options, and affordable rates.
Coverages in Dwelling, Other Structures, Personal Property, Personal Liability, and Additional Living Expenses fall under their home insurance policies. Additional policy options expand your coverage.
The insurer also offers opportunities for Minnesota homeowners with high-value luxury homes. Discounts may apply to homeowners with multiple policies, advance quotes, paperless billing, and excellent payment history.
Demographics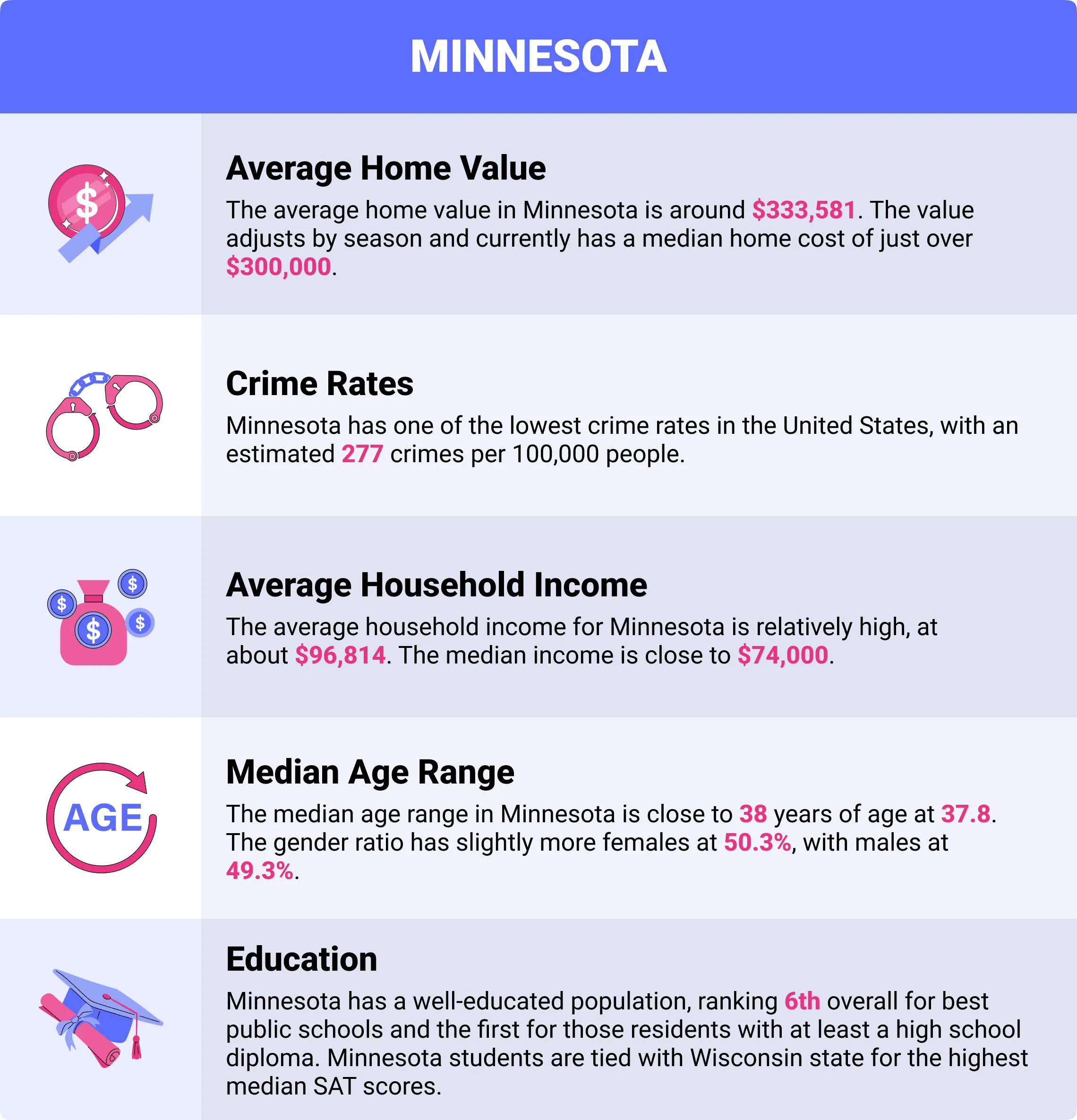 Insurance demographics play a significant role in homeowners insurance companies' premiums. Factors include weighing risks, the number of claims within the area, home value, and more. Below are some of the demographics for insurance in Minnesota.
Average Home Value: The average home value in Minnesota is around $333,581. The value adjusts by season and currently has a median home cost of just over $300,000.
Crime Rates: Minnesota has one of the lowest crime rates in the United States, with an estimated 277 crimes per 100,000 people.
Average Household Income: The average household income for Minnesota is relatively high, at about $96,814. The median income is close to $74,000.
Median Age Range: The median age range in Minnesota is close to 38 years of age at 37.8. The gender ratio has slightly more females at 50.3%, with males at 49.3%.
Education: Minnesota has a well-educated population, ranking 6th overall for best public schools and the first for those residents with at least a high school diploma. Minnesota students are tied with Wisconsin state for the highest median SAT scores.
Is Minnesota Homeowners Insurance Required?
It's legal to own a home in Minnesota without maintaining homeowner's insurance. However, if you are taking out a mortgage with a lender, chances are your lender requires you to purchase homeowners insurance to obtain your mortgage loan.
What Does Minnesota Home Insurance Cover?
A standard homeowners insurance policy is in place to protect your home and belongings from damage or loss. A basic homeowner's policy covers three parts, considered Coverage A, B, and C:
Home's structure or dwelling (Coverage A)
Smaller dwellings located on the property, such as a shed or detached garage (Coverage B)
Your personal property (Coverage C)
These coverages are for standard policies, and you can opt for additional coverage for more protection and higher limits for more valuable belongings. Coverage D is optional to compensate you if you have to live somewhere else while your home is undergoing repairs.
Common Home Risk Factors In Minnesota
Summer storms are a common risk factor in Minnesota, bringing rain, wind, and hail. Blizzards also bring heavy snow and storms, and Minnesota gets an average of close to 70 inches of snow each winter. Damaging floods occur once the snow melts or during severe summer rainstorms.
What Type of Homeowners Insurance Coverages Are Recommended?
A standard home insurance policy helps protect your home, but additional coverage recommendations are needed. In Minnesota, taking in common weather risks and finding a homeowner's insurance policy customized for the state's common causes for loss may have you adding these recommended coverages.
Flood Insurance
In Minnesota, a standard policy helps cover damages from wind, rain, and hailstorms but does not cover flooding. Several private insurance companies sell flood insurance policies. If you are concerned about flooding or live in a designated flood zone, you should purchase a separate flood insurance policy to ensure additional protection.
Identity Theft Insurance
Minnesota has a higher household income, so residents become prime targets for identity theft. Identity theft Insurance is another recommended coverage, where you can get reimbursement for fraud-related costs. Your credit score is precious when purchasing a home; this additional coverage helps repair your score.
Scheduled Personal Property Coverage
If you own highly valuable or treasured items, your standard policy most likely doesn't cover those items fully. Scheduled personal property coverage can be beneficial. It allows you to increase your limits for specific and valuable things you own, such as jewelry, art, or collections.
How Much Does Homeowners Insurance In Minnesota Cost?
The average cost of homeowner's insurance in Minnesota is $1,785 annually. It is well above the average cost in the United States at $1,312. Most likely, the premiums in Minnesota are higher than in most other states due to the unpredictable winter weather. Below is a breakdown of the average costs of an insurance policy by city.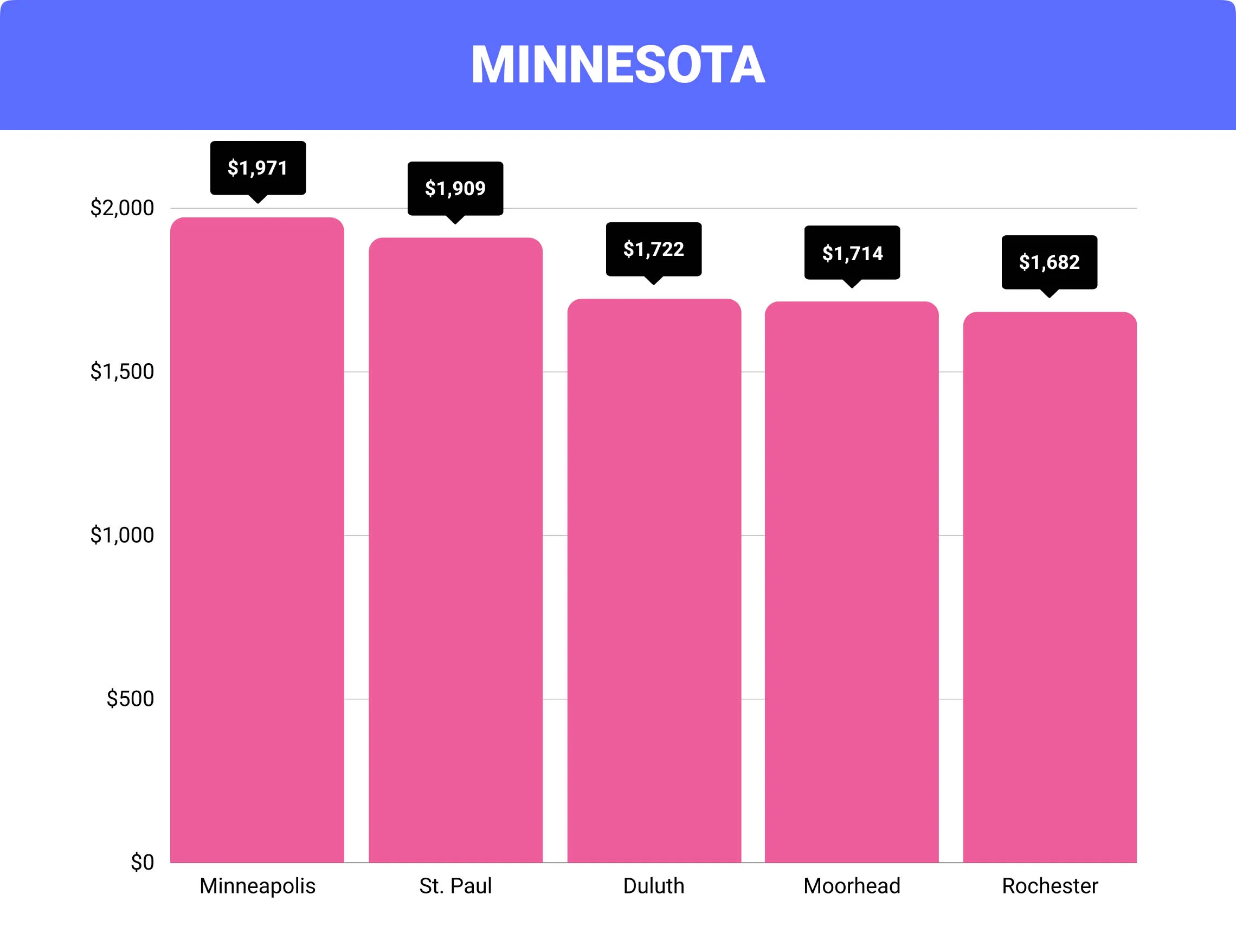 Cost of Home Insurance In Minnesota By City
| | | |
| --- | --- | --- |
| City | Average Minnesota Home Insurance Cost | Difference From Minnesota Average |
| Minneapolis | $1,971 | -$184 |
| St. Paul | $1,909 | -$124 |
| Duluth | $1,722 | $63 |
| Moorhead | $1,714 | $71 |
| Rochester | $1,682 | $103 |
FAQs
What's the average homeowners insurance cost in MN?
The average price for home insurance in Minnesota for a $250,000 property is approximately $1,785 per year.
Is house insurance required in Minnesota?
House insurance is not required by law in Minnesota. However, many mortgage lenders and banks require you to purchase at least a basic home insurance policy before granting you a home loan. It is also a good idea to protect your home and belongings.
Is Minnesota homeowner's insurance expensive?
Minnesota is one of the more expensive states for homeowner's insurance. It may be due to the price of homes, but other risk factors come into play, such as weather, the age of the house, and how many home insurance claims are filed within the area.
What's the average homeowner's insurance premium in Minneapolis?
Minneapolis's home insurance premium is an average of $1,971, which is well above the average cost within the state. It's beneficial to compare different insurance companies and coverage limits when looking for a more affordable policy in Minneapolis.
Is flood insurance required in Minnesota?
Flood insurance is required by law in Minnesota for any residence with a federal mortgage loan and is located within a Federal Emergency Management Agency (FEMA) high-risk flood zone.
How To Purchase Minnesota Home Insurance
Although Minnesota homeowners insurance rates are slightly higher than the national average, there are still ways to find a policy with the coverage you need at an affordable rate. Completing our rate comparison form allows you to find the best homeowners insurance company for your needs easily.