UPDATED: AUGUST 25, 2023 | 3 MIN READ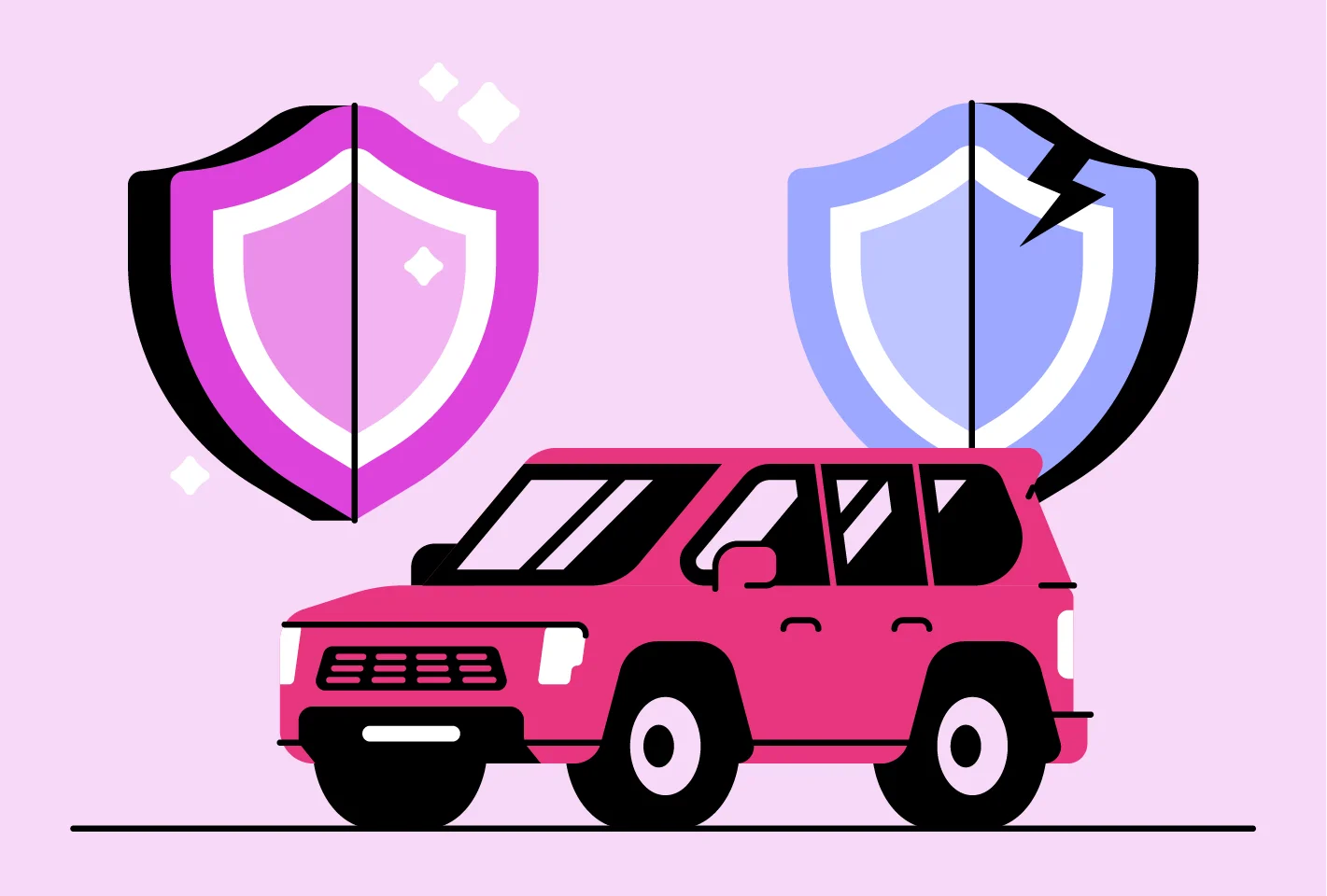 If you've turned on the TV in the past 24 hours, you have probably heard at least one car insurance commercial promising you'll save money by switching. This isn't just a sales gimmick — saving money seems to be the predominant reason for switching car insurance providers.
Interestingly, though, only 28% of Americans report, according to NerdWallet. Perhaps they think it's too time-consuming to reach out to multiple providers, too complicated, or just not worth the effort.
But once you know how to switch car insurance companies, it's a relatively painless process with the potential for a big payoff. AgileRates has helped more than 400,000 customers save about $569 annually by switching. Read on to learn how easy it is so you can start saving money today.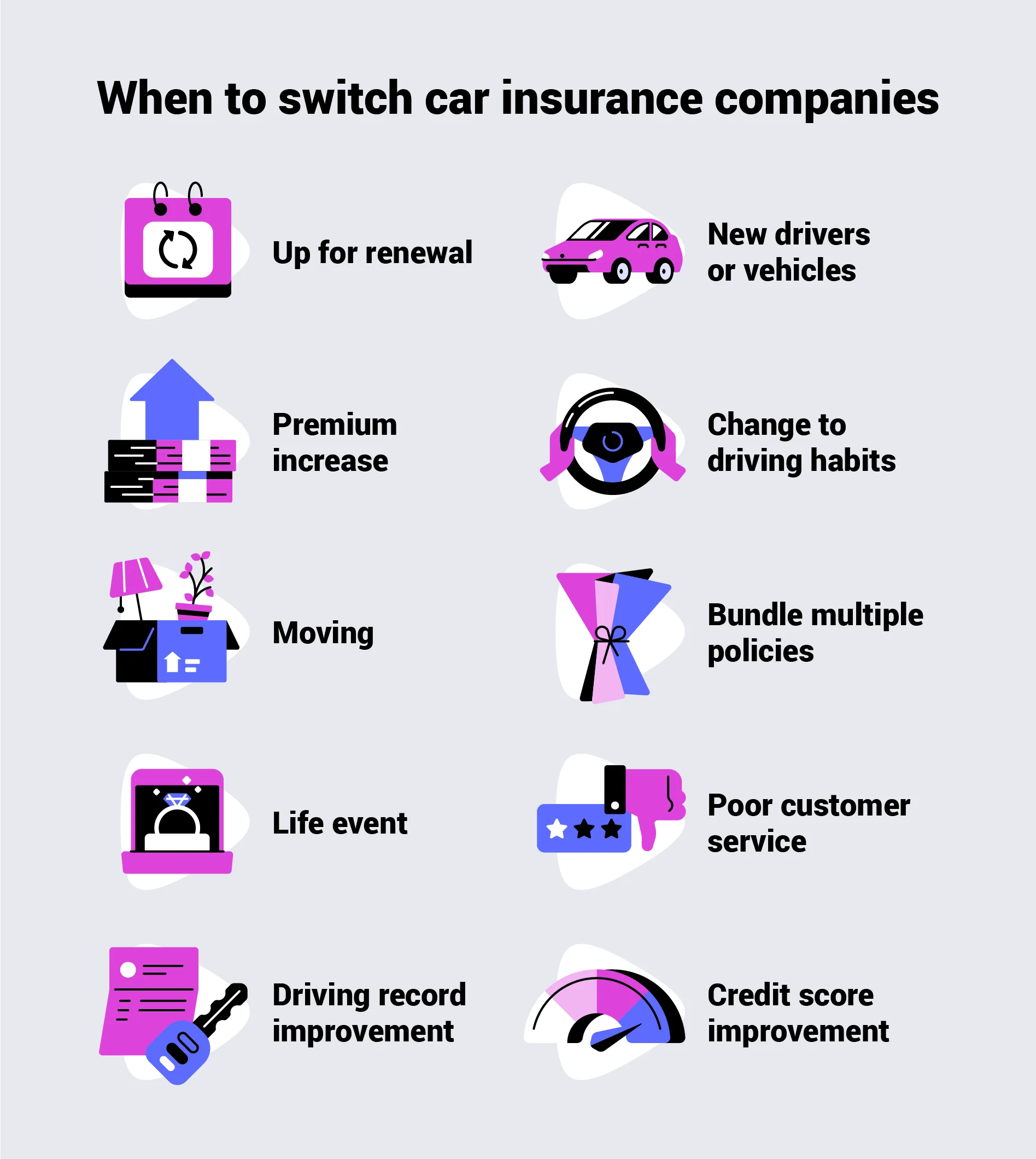 When to switch car insurance companies
While you can technically switch car insurance companies at any time, experts recommend making the switch whenever you experience the following events:
Your renewal date is in a month. Auto insurance policies generally have six-month or one-year terms. The most natural time to switch companies is one month before your current policy expires.
You experience a premium increase. Insurance companies often raise premiums when they renew your policy for various reasons, including claims history and economic conditions. In 2022, premiums rose an average 13.7% due in part to increasing replacement costs and inflation. Your premium may also increase mid-term if you add a driver or experience another life event that impacts your insurance needs.
You move. Location impacts insurance premiums, especially if you bundle your auto insurance with your homeowners insurance. You may have to get new insurance if your provider does not offer coverage in your new state.
Your child gets their license. Adding a new driver because a child gets their license will increase your premium, so shopping for a new policy can help you save money.
Your driving habits change. You may qualify for discounts if you drive less. For example, if you take a remote job and previously commuted 30 minutes daily, you may qualify for a discount. The same is true if a dependent child with a license moves to college and doesn't take their car.
You want to bundle policies. If you purchase your first home, boat, motorcycle, or RV, you can save money if you bundle your policies.
You add a new vehicle to your policy. Because your vehicle's make, model, and year can impact your insurance rates, adding a new vehicle to your policy is a great time to get quotes from other insurance companies.
You experience a life event. Life events such as marriage, divorce, and death often include adding or removing a driver from your policy.
You experience poor customer service. You are required to have auto insurance by law in most states, but that doesn't mean you have to put up with poor service.
Your driving record improves. Auto insurance companies use your driving record to determine your rate. Some insurance companies look at the last seven years of your driving record, while others only look at the previous three years. If an accident or ticket has recently fallen off your record, it's worth a look to see if you can get a better rate.
Your credit score improves. Auto insurance companies also use your credit report as a factor in your rate. If you pay off a loan or a bankruptcy falls off your record (usually after seven to 10 years), you may be able to get a better rate.
If you have a new or unresolved claim with your current provider, it probably isn't a good time to switch providers. While your old company is responsible for closing out the old claim even if you leave, it can cause problems like:
You must balance working with two different insurance companies until the claim is resolved.
Your new company may charge you a higher rate or retroactive charges due to a recent claim.
Your new company might cancel your policy for misrepresentation if you didn't communicate the current claim.
You also probably shouldn't switch providers if:
The penalty for switching is more than you would save
You would lose access to significant loyalty benefits like accident forgiveness
You have recent traffic violations
You have debt with your previous insurer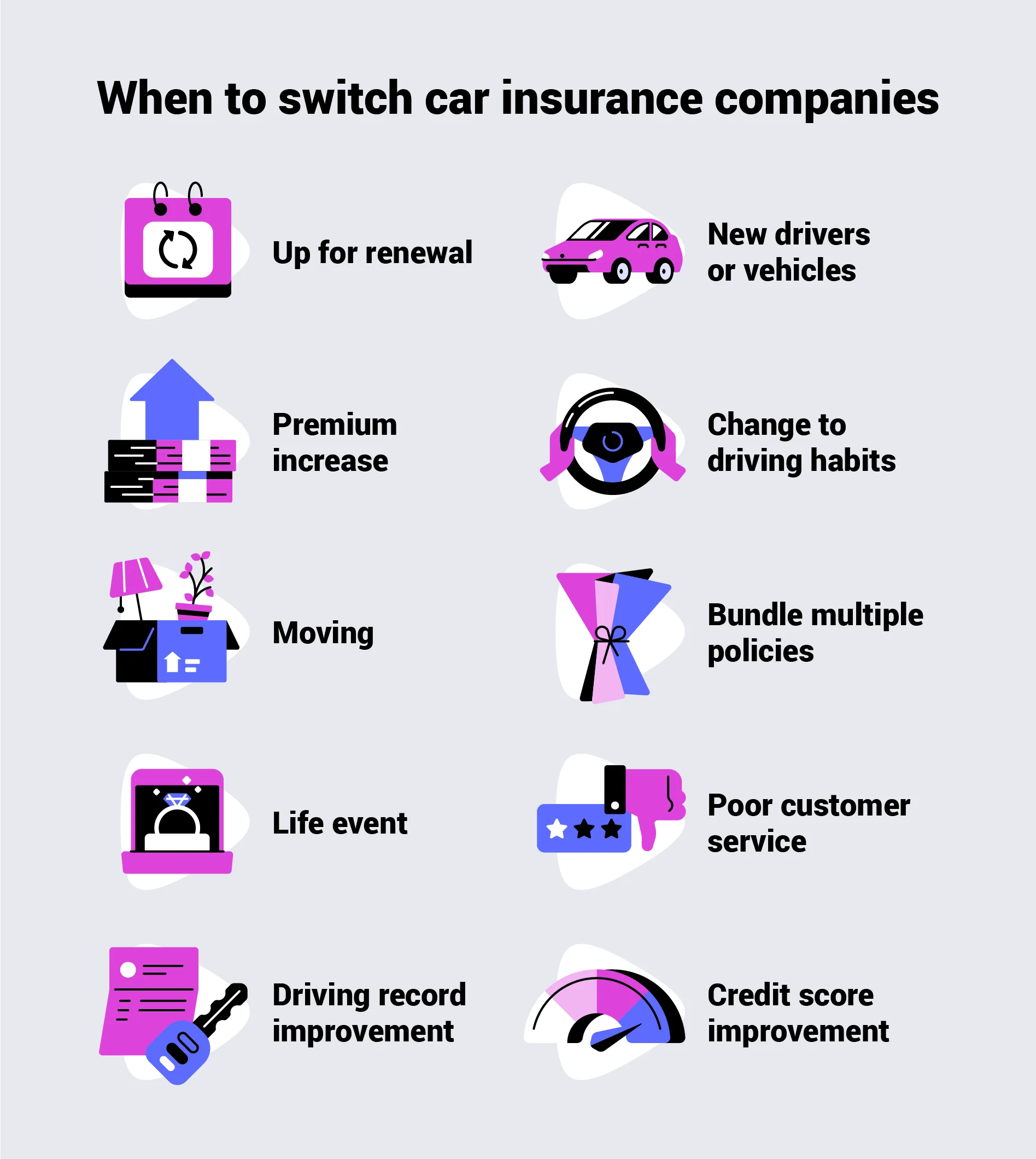 How to switch car insurance companies
Experts recommend you start switching insurance companies about 30 days before you want your new policy to take effect. That will give you plenty of time to work through the process before your current policy expires.
1. Figure out what coverage you need and your budget
Before you do anything else, determine what coverage type you need and set your budget, since those decisions will impact the rest of your journey.
Nearly every state mandates drivers have liability coverage, which covers bodily injury and property damage for an at-fault accident. It does not cover your personal medical or auto repair costs. However, some states require a different minimum, so talk to a licensed agent in your state.
Experts recommend that you purchase more than the state minimum insurance if you have the budget. Collision coverage offsets damage to your car in the event of an accident, and lenders or lessors often require it as terms of your agreement. Comprehensive coverage covers damage to your car outside of an accident, such as vandalism, weather, and other acts of God.
Your budget may impact how much coverage you purchase since the more coverage you have, the higher your premium will be. Other factors, like your deductible, which is how much you pay on a claim before insurance kicks in, also impact your premium. The higher the deductible, the lower your premium.
2. Look at your current provider's cancellation policy
Next, find out your current provider's cancellation policy. Most companies will let you cancel anytime, but they may charge you a cancellation fee if you cancel before the end of your policy term. Some providers may also require a notification period, while others may let you cancel instantly.
If you paid your premium upfront, your provider will refund the prorated amount remaining on your policy. While this should happen automatically, monitor your accounts for refunds or cancellation charges.
Some companies are not transparent about their cancellation policy, so you may have to call their customer service line or your agent to find out specifics.
3. Ask your current provider for a better rate
Auto insurance companies aren't allowed to negotiate rates due to regulations, but you should still call and let them know you are considering switching companies. They can check for additional discounts you may qualify for or help you explore dropping some coverages that aren't state mandated. You may be able to get the better rate you're looking for without the hassle of switching.
4. Compare car insurance quotes and policies
If your current provider can't give you a better rate, compare quotes from other providers.
Get quotes for the same coverage types, deductibles, and other factors to make comparing them easier. If you want to keep your policy type and deductible the same as you currently have, consult your policy's declaration page for exact specifications when contacting other companies.
Experts recommend comparing quotes from at least three providers to find the best rate. You can reach out to each company individually or use a tool like AgileRates to get multiple quotes at once.
When you apply for a quote, ask for any potential discounts you may qualify for. To make the call smoother, have the following information handy:
Your address
The make, model, year, and VIN of every vehicle you need insured
The driver's license number of every driver in your household
Your Social Security number
Quotes are only valid for 30 days, so once you have them, you'll need to work quickly to make a decision.
5. Research potential new carriers
While budget is important when choosing your new carrier, it shouldn't be the only factor. You don't want to go with the company with the lowest rate if it means they're never available or are unable to make timely claim payments.
Before making a decision, consider a provider's:
Customer service history
Claims satisfaction rate
Financial stability
Coverage options
Discounts and perks
Bundling capabilities
Roadside assistance offerings
Loyalty programs
Online and app capabilities
To find this information, you can use the following sources:
National Association of Insurance Commissioners (NIAC) for consumer complaints
J.D. Power for customer and claims satisfaction
AM Best for financial stability
Better Business Bureau for consumer satisfaction
Your state's insurance board for record of complaints
Family and friends for personal experiences
6. Buy a new policy to avoid a lapse in coverage
Once you've selected your new provider, purchase the new policy to avoid a lapse in coverage. A coverage lapse on your history — even if it's only a day — can significantly impact your life.
Many states have strict penalties for driving without insurance, ranging from a ticket to a license suspension to jail time.
If you are in an accident without insurance, you'll be responsible for paying the medical bills of everyone in the accident and damage to any property, which can be significant.
Future providers may deem you a high-risk driver and charge you a higher rate.
Set your new policy date to start the day before your previous policy expires just to be safe. Make the first premium payment or pay the entire premium upfront, and ask for written confirmation that the policy is active.
7. Cancel your old policy
As soon as you know the start date for your new policy and have written confirmation, contact your old provider and inform them of the date you wish to cancel your policy.
Different companies have different procedures for canceling a policy. Some may be okay with a simple phone call or website chat message, while other companies may require you to fill out a form or submit written proof that you have coverage.
To avoid a potential lapse in coverage, set your cancellation date for one day after your new policy begins. It's better to have coverage with two policies for one day than to risk the consequences of not having coverage for a day.
Contact your bank to cancel any automatic charges or stop bill payments to avoid charges after the policy is canceled. While companies will issue a refund if they charge you after the cancellation date, it's best to be proactive.
Finally, ask for written confirmation from your provider that the policy was canceled. Keep this documentation for your records.
8. Inform your lender/lessor
If any cars on your policy have a loan or are leased, call the company and inform them that you have switched insurance providers. If you don't, they may assume you don't have coverage and implement an in-house policy, which can be expensive.
9. Put your new ID cards in your wallet and car
Once you receive your ID cards from your new provider, add them to your wallet and car. Shred your old ID cards to avoid confusion during an accident or traffic stop.
FAQs
Can I switch car insurance companies if I have an open claim?
You can switch car insurance companies even if you have an open claim since your provider is responsible for executing the claim even after you cancel your policy. However, that probably isn't the best time to change insurance providers since it can make the process more challenging.
Is there a penalty for changing car insurance companies?
Insurance companies allow you to cancel your policy anytime but may charge you a cancellation fee. You may also lose access to benefits like accident forgiveness and other loyalty discounts if you change insurance companies.
Can I change car insurance companies at any time?
You can change car insurance companies at any time. However, it's best to change companies when your policy is up for renewal to avoid potential cancellation fees.
How often should I shop for a new car insurance policy?
There's no penalty for shopping around, so experts recommend purchasing a new car insurance policy whenever your policy is up for renewal. Since most policies have six-month or one-year terms, shop for a new policy every six months to a year.
Will switching car insurance providers impact my credit score?
Switching car insurance providers will not impact your credit score. Insurance companies use credit scores to determine your rate since a high credit score suggests you're responsible and will pay your premium. Insurance companies don't run a hard inquiry to credit bureaus like lenders do, but they'll report if you aren't paying your premiums.
Switch car insurance companies with AgileRates
Easily compare car insurance quotes with AgileRates to make switching car insurance companies a breeze. Our insurance agents are standing by to help you find the best car insurance company for your needs. Call us today or check out our online quote tools to explore your insurance options.
Sources:
Auto Insurance Rate Hikes Erode Price Satisfaction, Drive Surge in Value Shopping, J.D. Power Finds (J.D. Power)
What Factors Drive Car Insurance Rates? 63% of Americans Got It Wrong (NerdWallet)
The true cost of auto insurance in 2023 (Bankrate)
Related content: