UPDATED: JULY 06, 2023 | 1 MIN READ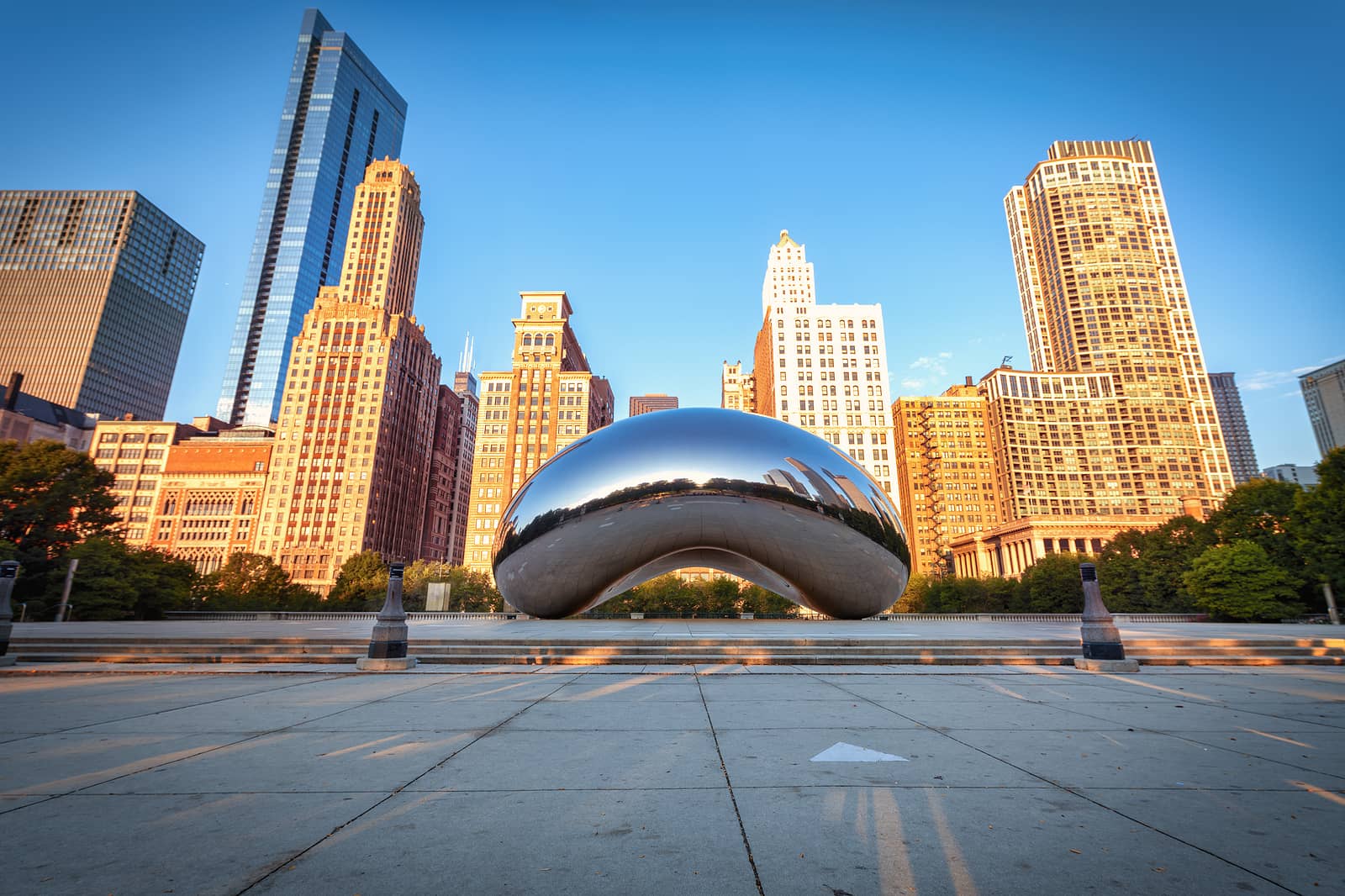 As a new or current Illinois driver, it's essential to know the minimum Illinois car insurance guidelines, especially as the state now has an electronic insurance verification system. Our guide offers everything you need to know about Illinois insurance requirements and costs.
Best Illinois Car Insurance Companies
Illinois drivers have their choice of national and regional names for insurance. The best companies for Illinois car insurance win with customers thanks to their affordable rates, quality customer service, and generous discounts.
Cheapest Illinois Car Insurance Company: State Farm
If you want cheap Illinois car insurance that meets the state's minimum coverage requirements, State Farm is the best option. The average price for a State Farm policy is $377 a year or $31 a month. Travelers offers an annual rate of $1,108 or $92 a month for full coverage.
PROS
J.D. Power gives State Farm a high customer satisfaction rating

A++ Financial Strength rating from AM Best

Lots of coverage options and discounts available
CONS
Doesn't offer gap insurance

Sometimes premiums are on the higher side
Company With the Best Customer Service: USAA
While several Illinois car insurers score over 850 with the JD Power US Auto Insurance Study, USAA is the winner. USAA scores 879 out of 1000 for its billing processes, reliability, and knowledgeable agents. USAA is only for former and current military members. If you aren't able to sign up for USAA car insurance, Erie Insurance is a close second with an 857 score.
PROS
Competitive rates for middle-aged drivers

Good customer satisfaction ratings

Offers insurance, banking, and investment accounts
CONS
Only available to active military, veterns, and their families
Company With the Best Premium-Reducing Programs: Farmers
Farmers has over 20 insurance discounts, with savings based on anti-theft equipment, driving history, consumer loyalty, and completion of driver safety courses. You may also be eligible for a discount if you share a car with a family member.
PROS
Above-average customer satisfaction ratings

Lots of discounts available

Offers new car replacement

Offers accident forgiveness
CONS
Not available in all states

Prices can be higher-than-average

Doesn't offer gap insurance
Company With the Best Discounts: Progressive
The best Illinois car insurance company for bundling is Progressive, which offers savings of up to 20% if you sign up for a new policy. Progressive offers bundles with your homeowners, renters, boat, and condo insurance.
PROS
Favorable rates for high-risk drivers

Snapshot program helps unlock safe driving discounts

Wide range of discounts available
CONS
Higher-than-average insurance costs for some good drivers

Doesn't offer new car replacement coverage

Snapshot program could increase rates if your driving score is low
Local and Regional Auto Insurance Companies in Illinois
Hastings Mutual
Hasting Mutual is a regional car insurance carrier for Illinois drivers. Their products offer protection for you, your car, and everything or everyone within it.
Hasting Mutual features insurance coverages unique to their company, such as joint ownership, limited transportation network driver, and travel interruption. You may opt for additional help with roadside assistance, key replacement, and pet injury.
Discounts for auto insurance from Hastings Mutual include the away-at-school discount, defensive driving course discount, claim-free discount, and a multi-policy bundle.
Pekin Insurance
Pekin Insurance's history since 1921 features dedication and service to its Illinois customers. Located in Illinois, the regional carrier offers a range of car insurance products.
Coverages include bodily injury, medical payments, and property damage. Pekin also lets you increase your protection with auto guard endorsement, auto loan and lease coverage, rental reimbursement, and more.
Save on your policy with Pekin Insurance's discounts for multiple vehicles, home-auto insurance bundles, and cars with anti-theft devices. and more.
Save on your policy with Pekin Insurance's discounts for multiple vehicles, home-auto insurance bundles, and cars with anti-theft devices.
Secura Insurance
Located in the heart of the midwest, Secura Insurance is a car insurance provider for Illinois drivers throughout the Prairie State. Whether you drive through Chicago, Springfield, or anywhere else in Illinois, ensure you have the right car insurance with Secura Insurance.
Their MILE-STONE® package bundles home and auto insurance into one premium payment, plus uses only one deductible for associated loss. Secora Insurance discounts include the good student discount, claim-free/violation-free discount, and the hybrid car discount.
Illinois Insurance Demographics
Age, crime rate, income, and education are all considerations for insurance rates. Illinois car insurance providers look at these demographics as they calculate premiums. Younger drivers are riskier, and high vehicle theft rates equal frequent claims. 
Crime Rates: The property crime rate of Illinois is 15.6%, which is 4% lower than the national average.
Average Household Income: The average household in Illinois earns $81,823 a year.
Median Age Range: Illinois' median age is 38.3, while the median age range is 0-9.
Education: Illinois' population includes 21.58% of residents age 25 and older with a Bachelor's degree.
Common Risk Factors In Illinois
Harsh winters may produce severe storms, especially in Central Illinois, which has the highest possibility of ice storms. Snow, hail, tornadoes, and lightning can all take their toll on your vehicle. Illinois has the ninth-highest car theft in the country. Of Illinois drivers, nearly 12% of those on the road are uninsured. Comprehensive Illinois car insurance is necessary if you want quality coverage for your vehicle.
Auto Insurance Laws In Illinois
Like other states, Illinois has specific laws for car insurance. The state requires specific liability limits for bodily injury and property damage. All drivers in Illinois must adhere to these regulations or risk a fine or suspension.
What are the minimum car insurance requirements in Illinois?
The minimum policy requirements for auto insurance in Illinois are for Liability and Uninsured/Underinsured Motorist.
Liability:
$25,000 per person
$50,000 per accident
$20,000 in property damage per accident
Uninsured/Underinsured Motorist:
$25,000 per person for bodily injury
$50,000 per accident for bodily injury
Am I required to carry uninsured motorist coverage in Illinois?
Yes. Illinois car insurance regulations require uninsured motorist coverage. However, only the state requires just bodily injury, and you may want an additional property policy.
Illinois SR-22 policies
If you have a suspended license, Illinois requires an SR-22 for reinstatement. It also may be required for anyone convicted of a major traffic violation, especially a DUI.
An Illinois SR-22 is a document your insurance company files with the Illinois Driver Services Department. The document certifies you carry the minimum Illinois car insurance and must be on file for three years.
Is Illinois a no-fault state?
No. Illinois uses a fault-based system. If in an accident, you must file a claim against the responsible party's insurance for pain and suffering, car repair, medical bills, and other concerns.
What happens if my vehicle isn't adequately insured in Illinois?
If your car lacks proper auto insurance in Illinois, you may be subject to a fine of $500 to $1,000, plus the state may suspend your license. Fines and suspension vary based on if you're a repeat offender.
Does Illinois accept digital insurance cards?
Illinois accepts electronic insurance cards. They also have an electronic system, the Illinois Illinois Insurance Verification System, which verifies vehicle owners' insurance randomly twice a year.
How Much Does Car Insurance In Illinois Cost?
The average cost of car insurance in Illinois is $1,394 a year. Your premium rate will vary based on age, gender, driving history, location, and the insurer. On average, densely-populated areas like Chicago feature higher insurance rates of nearly $200 a month, while cities with small populations like Ashmore have rates around $130 monthly. Weather, theft, and a large driving population affect the state's rates. Illinois' average car insurance cost is 9% less than the national average.
Average Cost of Car Insurance By City
The average rate for Illinois car insurance varies by city. Aurora is only 1% more expensive than the state average, but Chicago is 33% higher. Just an hour from Chicago, Joliet has an 8% increase in average cost.
| City | Average Illinois Car Insurance Cost | Difference From Illinois Average |
| --- | --- | --- |
| Chicago | $2,070 | 18% |
| Aurora | $1,335 | -26% |
| Rockford | $1,395 | -23% |
| Joliet | $1,455 | -19% |
| Naperville | $1,315 | -27% |
Average Cost of Car Insurance By Company
Car insurance rates can vary wildly by the insurer. If you shop for full-coverage auto insurance in Illinois, you might save up to $300 on your annual policy. The savings might be high if you're over 21 with a clean driving record.
| Car Insurance Company | Average Full-Coverage Premium (Annually) |
| --- | --- |
| Allstate | $442 |
| Erie | $545 |
| Nationwide | $479 |
| Safe Auto | $738 |
Average Cost of Car Insurance By Age
Younger drivers often pay two times the insurance as adults because they're considered a higher risk. Your annual car insurance cost in Illinois will typically drop as you age if you maintain a good driving record. A 16-year-old in Illinois should expect to pay more than $600 or more than a 40-year-old driver.
| Age | Average Full-Coverage Premium (Annually) |
| --- | --- |
| Age 18 | $2,940 |
| Age 19 | $2,800 |
| Age 20 | $2,475 |
| Age 21 | $2,195 |
| Age 22 | $2,260 |
| Age 25 | $1,945 |
| Age 40 | $1,950 |
Average Cost of Car Insurance By Gender
Illinois auto insurance providers consider gender when they determine a premium amount. Men typically pay more than women because male drivers are often riskier on the road and drive more miles, increasing accident possibilities. The difference between rates for male and female drivers in Illinois is slight.
| Gender | Average Full-Coverage Premium (Annually) |
| --- | --- |
| Male | $1,105 |
| Female | $1,095 |
Average Cost of Car Insurance By Credit Score
Insurance companies say drivers with lower credit scores file claims more than good credit drivers. When they offer a personalized quote for auto insurance in Illinois, insurers consider credit scores in their risk calculations.
| Credit Score | Average Premium (Annually) |
| --- | --- |
| Poor | $2,220 |
| Fair | $1,805 |
| Good | $1,430 |
| Very Good | $1,160 |
| Great | $980 |
Average Cost of Car Insurance By Driving Record
Risky behavior at the wheel leads to higher insurance rates for Illinois drivers. Even a speeding ticket may increase your rate by 10% on average, while more severe incidents such as DUI raise it significantly. The better driver you are, the more affordable your Illinois car insurance premium will be.
| Driving Incident | Average Full-Coverage Premium (Annually) |
| --- | --- |
| Speeding Ticket | $1,960 |
| Accident | $2,225 |
| DUI/DWI | $2,860 |
What Optional Illinois Auto Insurance Coverages Should You Consider?
While you can opt for minimum coverage car insurance in Illinois, consider these additional coverages for better protection for your vehicle.
Collision: If you collide with another car or object, this coverage helps you pay for any damage you sustain.
Comprehensive: Illinois ranks high for car theft, which makes comprehensive insurance a good choice. This insurance pays for the repair of vehicles damaged by theft, fire, animal contact, and vandalism.
Uninsured Motorist Property Damage: Illinois requires uninsured motorist insurance but only for bodily injury. To expand your coverage, consider adding this policy to protect you if you're involved in a hit-and-run or other incidents.
What Auto Insurance Discounts To Look For In Illinois
Typical car insurance discounts for Illinois are available for your driving history, car's safety features, and customer loyalty. You may receive a 25% discount if you pay your policy in full or use automatic payments. Savings also come with bundling policies, and school-age drivers with a "B" average or higher may be eligible for a Good Student discount. Check with your insurer for any other discounts.
FAQs
How much car insurance do I need in Illinois?
The minimum car insurance Illinois requires is $25,000 for the injury or death of a person, $50,000 for injury or death of more than one person, and $20,000 for damage to another's property.
Is Illinois a no-fault state?
No. Illinois uses a fault-based system where drivers are responsible for paying for an accident if they cause it.
What is considered full-coverage insurance in Illinois?
Full-coverage insurance in Illinois is any policy greater than the minimum coverage of $25,000 for bodily injury or death per person, $50,000 per accident, and $20,000 for property damage.
Does insurance follow the car or the driver in Illinois?
Insurance follows the vehicle in Illinois. If someone else on your policy is in an accident in the insured car, it's covered.
Can you go to jail for driving without insurance in Illinois?
If you drive without auto insurance in Illinois, the penalty may be a fine or license suspicion, depending on the circumstances and if it's a first-time offense.
How to find the best auto insurance in Illinois
Buying cheap car insurance in Illinois is simple. Start with comparing rates as amounts vary by company. You can use our helpful tool to find the best insurance options.