UPDATED: JULY 10, 2023 | 2 MIN READ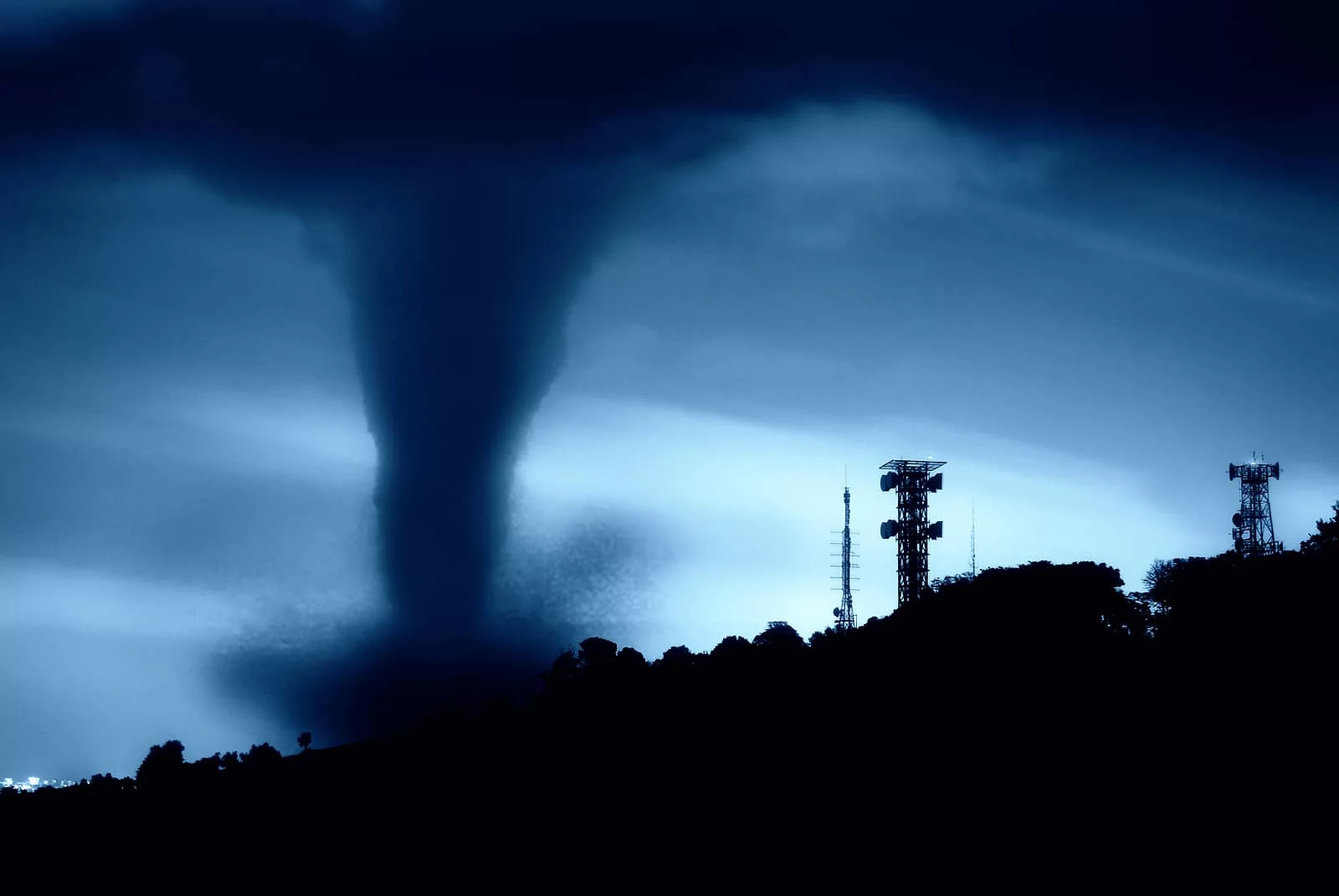 The state of Kansas is prone to many tornadoes. The severe weather of a Kansas tornado can bring damaging winds and destruction of property. According to the National Weather Service, the ten-year average of tornadoes is 112.
So, how long does tornado season last in Kansas? Read on to discover about tornados in the Sunflower State and what you can do to ensure protection.
When is tornado season in Kansas?
The tornado season in Kansas runs from April to June. But Kansas can still experience tornadoes outside of the season. Warm, wet air from the Gulf of Mexico mixes with cool and dry air, forming tornado conditions.
Residents who live in Kansas need to prepare for tornado warnings and sightings.
Where do tornadoes touch down in Kansas?
Sherman County, located in the northwest area of Kansas, has seen more tornadoes than any other county. There were 109 tornadoes from 1950 to 2020. Ford County and Baron County were other counties with over 100 in their tornado count annually across the same period.
The National Oceanic and Atmospheric Administration(NOAA) has researchers and meteorologists working to predict tornado activity. They estimate more than 600 lives have been saved due to their accurate warnings.
What is tornado alley?
Kansas is one of the states within "tornado alley." It loosely defines where tornadoes happen most in the central United States.
The region begins in the Southern plains and extends north through the midwest to the Canadian border. The states making up tornado alley includes Nebraska, Kansas, South Dakota, Colorado, Iowa, Oklahoma, and Texas. Sometimes Illinois, Wisconsin, and western Ohio are part of tornado alley.
Weather Patterns in Kansas
Twisters reduce by the middle and later parts of June. The environmental condition involving the jet stream storm system and vertical wind shear move northward. Tornadoes impact the northern US for the rest of the summer.
When do twisters occur in Kansas?
The months of October and November are prone to tornadoes in Kansas. With winter approaching, the autumn air combines with any hot air masses. It's an ideal weather pattern for tornadoes to form.
There are times of day when tornado occurrence is more likely. The hours between 4:00 PM and 8:00 PM are the peak hours for tornadoes in Kansas. The highest temperatures are usually between 4:00 PM and 5:00 PM. It's when high levels of humidity and vertical wind shear are present.
What happens when a tornado hits?
Tornadoes cause severe weather across the terrain where they land. Wind speeds are so high they can cause vehicles to overturn. The wind can also rip siding and walls completely off of homes. It causes the debris to become lethal when flying through the air.
Does home insurance in Kansas cover tornado damage?
If you live in Kansas, your homeowners insurance policy likely covers damage caused by tornadoes. Depending on the liability coverage, you may want to add additional to ensure you have enough in a violent tornado.
Flood insurance and wind damage
Severe thunderstorms create heavy rainfall, which can lead to flooding. Floods aren't typically covered by standard homeowners insurance. You need to obtain separate flood insurance.
Your policy may also exclude wind and considerable hail damage. You must purchase a separate wind-only policy for efficient coverage in more prone areas.
Windstorm deductibles
Your insurance company may require you to pay a windstorm deductible if your home is damaged. It's separate from your standard home insurance policy. It applies specifically to wind and large hail damage.
FAQs
How often is there a tornado in Kansas?
The average tornado count in Kansas is 92 annually. It's one of the most tornado-prone states in the US.
Is Kansas in Tornado Alley?
The boundaries of tornado alley aren't clearly defined. However, Kansas is considered one of the states on the path, but Texas typically gets more tornadoes. Other states include Nebraska, South Dakota, and Iowa.
What month do tornadoes Most occur?
According to the NOAA, if you live in Kansas, May or early June is when most tornadoes occur.
Is Kansas the state with the most tornadoes?
Texas is the state in the US with the most tornado count. Kansas is second in line, with Oklahoma not far behind.
What is the deadliest month for tornadoes?
Tornadoes are dangerous enough to take lives. The month with the most tornadoes to cause such danger is in May.
What are the signs of a tornado?
There are numerous signs you can see if a tornado is near:
The color of the sky changes color to dark or green.
You hear a roar or loud noise outside.
You see clouds of debris at ground level.
You see debris falling from the sky.
A funnel-shaped cloud extending from gray clouds or a thunderstorm.
What is the average number of tornadoes in Kansas?
Texas has an average of 151 tornadoes each year. Kansas is next in line with an average of 92 tornadoes.
What is the average wind speed of a tornado?
The average speed of a tornado is around 30 miles per hour (mph). But tornadoes can get as fast as 70 mph.
What are some precautions people can take to prepare for a tornado?
It would be best if you took refuge in the basement of your home. If you don't have a basement, hunker down in a room without windows on the lowest floor.
What is the deadliest tornado to ever hit Kansas?
The Udall tornado is the deadliest tornado to hit Kansas. It took 80 people's lives and injured 270.
What month is tornado season in Kansas?
Tornado season runs from April to June in Kansas.
What is the most destructive tornado in Kansas history?
The Topeka tornado in 1966 is one of the most destructive recorded tornadoes in history. It killed 17 people, injured more than 500 people, and caused over $200 million in damage.
How to be prepared for tornado season in Kansas
Staying safe in the event of a tornado warning is crucial. Take steps in preparation for a tornado watch or warning in your area:
Ensure your home insurance is up-to-date and has enough coverage.
Evacuate or take refuge in a safe and sturdy area within the home. It helps to identify the safest place in your home for shelter.
Stock up on supplies such as non-perishable food and water.
Ensure you charge devices and have batteries for flashlights or other necessary things.
Create an action plan and ensure all family members follow it.
Reinforce your home if you're able.
You should sign up for notifications when your community issues or sends warnings. Some areas have outdoor sirens to alert residents.
Once the storm passes, and it's safe, assess the damage carefully. Take pictures or videos and contact your insurance company to file a claim. Many communities work together to help clean up debris and repair or rebuild damaged areas.
---
---