UPDATED: JUNE 14, 2023 | 3 MIN READ
Your homeowners insurance in North Carolina should be affordable and offer comprehensive coverage for the worst-case scenario, but it's not easy to tell which company has the best deal. In this article, we'll use details from our research on North Carolina homeowners' insurance to help you nail down the perfect policy for your household.
Best North Carolina Home Insurance Companies
The policy you choose depends on whether you require basic or extended coverage. You might find an affordable basic policy with the minimum protection you need or broader coverage with better overall value.
Using data from top insurance providers, we'll share the best carriers regarding the value, customer service, bundling, and coverage options.
Overall Best North Carolina Home Insurance Company
The best overall insurance provider in the state is North Carolina Farm Bureau Insurance. You can expect excellent customer service, affordable rates, and coverage that matches your unique needs as a North Carolina homeowner. The average annual premium is $956.
Best Value North Carolina Home Insurance Company
If you want the cheapest homeowner's insurance in North Carolina, Travelers has rates as low as $734 yearly. The company offers discounts, including deals for new homeowners, multiple policies, and green homes.
North Carolina Home Insurance Company with the Best Customer Service
Eerie Insurance has an 835 (out of 1000) J.D. Power rating, seconding in homeowners insurance companies' national customer satisfaction rankings. Eerie provides homeowner's insurance in 12 states, including North Carolina, and allows you to personalize your coverage.
North Carolina Home Insurance Company Best for Bundling
You can save up to 30% by bundling your home and auto insurance with State Farm, one of the highest discounts for combining your policies in the state.
North Carolina Home Insurance Company with the Best Coverage Options
USAA has the most comprehensive coverage available for North Carolina homeowners who qualify (active military and veterans).
The average annual premium is $1,598, significantly higher than the state's average. However, the company provides its policyholders' services and puts it at the top regarding customer satisfaction.
An alternative for non-military members who want broad coverage is North Carolina Farm Bureau, whose local agents can tailor your policy to your needs.
Local and Regional Home Insurance Carriers In North Carolina
North Carolina Farm Bureau
The North Carolina Farm Bureau Federation was formed in 1936 to serve North Carolina farmers.
Today, the Farm Bureau Federation serves over 500,000 North Carolina families, providing comprehensive home, auto, and farm insurance. Charlotte, Raleigh, and Greensboro homeowners can reasonably purchase insurance from the Federation.
The Federation's standard policy provides Guaranteed Replacement Cost Coverage of up to 125 percent of the insurance limit on your home.
The insurer covers HVAC, kitchen appliances, home electronics breakdowns, and more. North Carolina farmers can insure their unattached garages, sheds, and surrounding buildings by adding additional coverage to their homeowners insurance.
Since many farm families have more significant properties, they may benefit from the Federation's Umbrella insurance offerings. This coverage enhancement gives additional protection when an event exceeds the homeowners policy limits.
Erie Insurance
Erie Insurance started as a Pennsylvania insurance company and now offers comprehensive insurance policies in North Carolina. Since your home is your largest purchase, Erie gives you peace of mind with its Guaranteed Replacement Cost coverage, which allows you to rebuild your entire home.
Erie has many options for North Carolina homeowners, including coverage for structures detached from your home, coverage of your personal belongings, protection if you lose the use of your home, and bodily injury liability. Erie offers several discounts, including a home-auto bundle, protective device credit, and other savings.
Penn National Insurance
A farmers' trade group founded Penn National Insurance in 1919 to assist farmers with workers' compensation. As the US economy evolved, Penn National expanded its offerings to help North Carolina families insure their homes and cars.
Penn National coverages protect your home, Other Structures, Personal Belongings, Living Expenses, Liability Claims against you, and medical payments to anyone accidentally injured on your property.
Homeowners qualify for discounts if they have a non-smoking household, replace the roof, install fire protective devices, and add wind mitigation to the structure.
North Carolina Insurance Demographics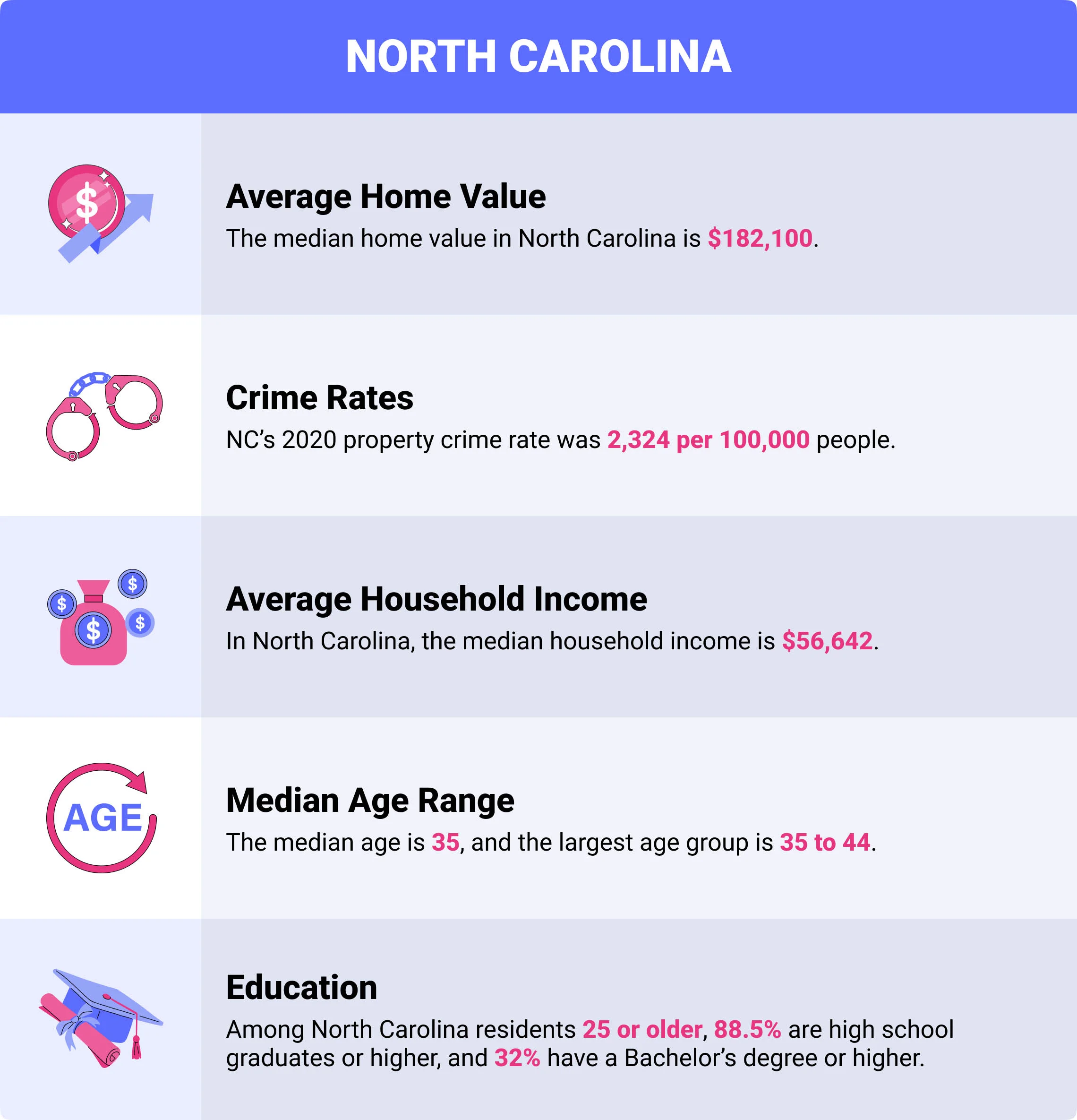 Insurance premiums are higher in areas where policyholders file a lot of claims. Demographics like home value, crime rates, and income can affect how much you'll pay for house insurance. Statistics that affect North Carolina homeowner's insurance costs include:
Average Home Value: The median home value in North Carolina is $182,100.
Crime Rates: NC's 2020 property crime rate was 2,324 per 100,000 people.
Average Household Income: In North Carolina, the median household income is $56,642.
Median Age Range: The median age is 35, and the largest age group is 35 to 44.
Education: Among North Carolina residents 25 or older, 88.5% are high school graduates or higher, and 32% have a Bachelor's degree or higher.
Is North Carolina Home Insurance Required?
No law mandates that you have a homeowner's insurance policy in North Carolina, but your mortgage lender will likely require it for a loan.
What Does North Carolina Homeowner's Insurance Cover?
Standard home insurance in North Carolina typically includes regular storm damage, personal property, and personal liability coverage. Most insurance carriers offer add-ons to customize your policy to meet your needs. Additions include coverage for valuable property, flooding, hail, and other natural disasters. We recommend comparing policies with equivalent or similar coverages to find the best deal.
Common Home Risk Factors in North Carolina
Being on the East Coast, North Carolina has a high risk of damage from severe weather events, such as heavy winds, hurricanes, hail, and lightning. North Carolina residents in some areas might experience damage to their homes from falling trees, damaged power lines, hail, and strong winds.
What Type of Homeowner's Insurance Coverages Are Recommended in North Carolina?
With the frequent threat of hurricanes, tropical storms, lightning, hail, and flooding, homeowners in North Carolina should ensure their policy covers damage from weather common in their location. Below are three coverages we recommend to North Carolina homeowners:
Flood Insurance
Most basic North Carolina homeowners insurance doesn't include flood coverage. FEMA provides flood insurance through the National Flood Insurance Program (NFIP), which covers $250,000 in structural and $100,000 in personal property. Some private insurance carriers also offer flood coverage.
Windstorm Coverage
Strong winds from hurricanes and tropical storms can cause damage to your home, but many standard home insurance policies don't include windstorm coverage. You'll likely have to purchase a separate policy to cover wind and hail damage.
Replacement Cost Coverage
Your homeowners insurance policy will likely start with actual cash value coverage for your personal property, meaning the amount you receive to replace damaged or stolen items will take depreciation into account.
Adding replacement cost coverage to your policy ensures you can replace your property with its equivalent. This will make it much easier to recover if a tornado or hurricane severely damages your house and its contents.
How Much Does Home Insurance in North Carolina Cost?
The average annual cost of a homeowners insurance premium in North Carolina is $1,317 (for $250,000 in dwelling coverage). Coastal states typically have higher home insurance prices, but much of North Carolina lies inland, where there's less risk of catastrophic damage from flooding and hurricanes.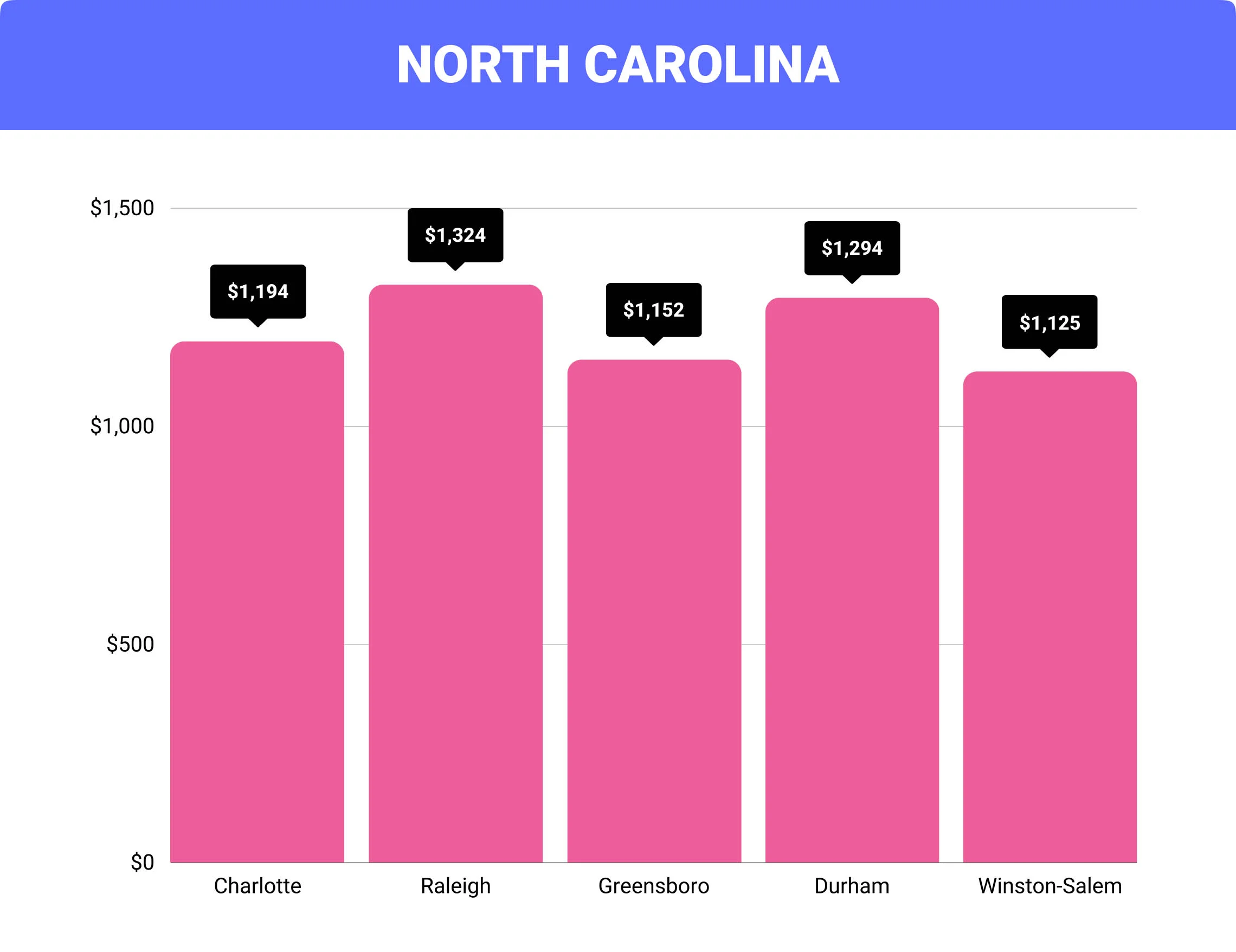 Cost of Home Insurance in North Carolina by City
| | | |
| --- | --- | --- |
| City | Average North Carolina Home Insurance Cost | Difference From North Carolina Average |
| Charlotte | $1,194 | -9% |
| Raleigh | $1,324 | 1% |
| Greensboro | $1,152 | -13% |
| Durham | $1,294 | -2% |
| Winston-Salem | $1,125 | -15% |
FAQs
What's the average cost of homeowner's insurance in North Carolina?
North Carolina home insurance cost is $1,317 on average, but cities on the coast might have higher premiums due to being in the path of severe weather. For example, Wilmington has an average premium of $2,165.
Are you required to have home insurance in North Carolina?
No, it's not against the law not to have homeowners insurance in North Carolina. However, you likely won't be able to get a loan from a mortgage without a policy.
Do you have to have wind and hail insurance in North Carolina?
Wind and hail insurance is optional in North Carolina, but storms are frequent between June and November in the state. Getting wind and hail damage policies could save you from paying out-of-pocket during storm season every year.
Is North Carolina insurance expensive?
The national average homeowners insurance premium is $1,383, only 5% different from North Carolina's $1,317 average.
How much is home insurance in Charlotte?
The average premium for home insurance in North Carolina in Charlotte is $1,194, 9% less than the state average and 14% less than the national average.
Is renters insurance required to rent a home in North Carolina?
Rental insurance is not required in North Carolina. However, the number of landlords that require renters insurance is increasing.
How To Purchase North Carolina Home Insurance?
First, decide the coverages you need based on your home and property risks. Most North Carolina home insurance companies provide free quotes and the ability sign-up online, but you can also talk to an agent over the phone or in person. To ensure you find the best deal, compare quotes and coverages from several companies before making your final decision.
---
---