UPDATED: JULY 06, 2023 | 3 MIN READ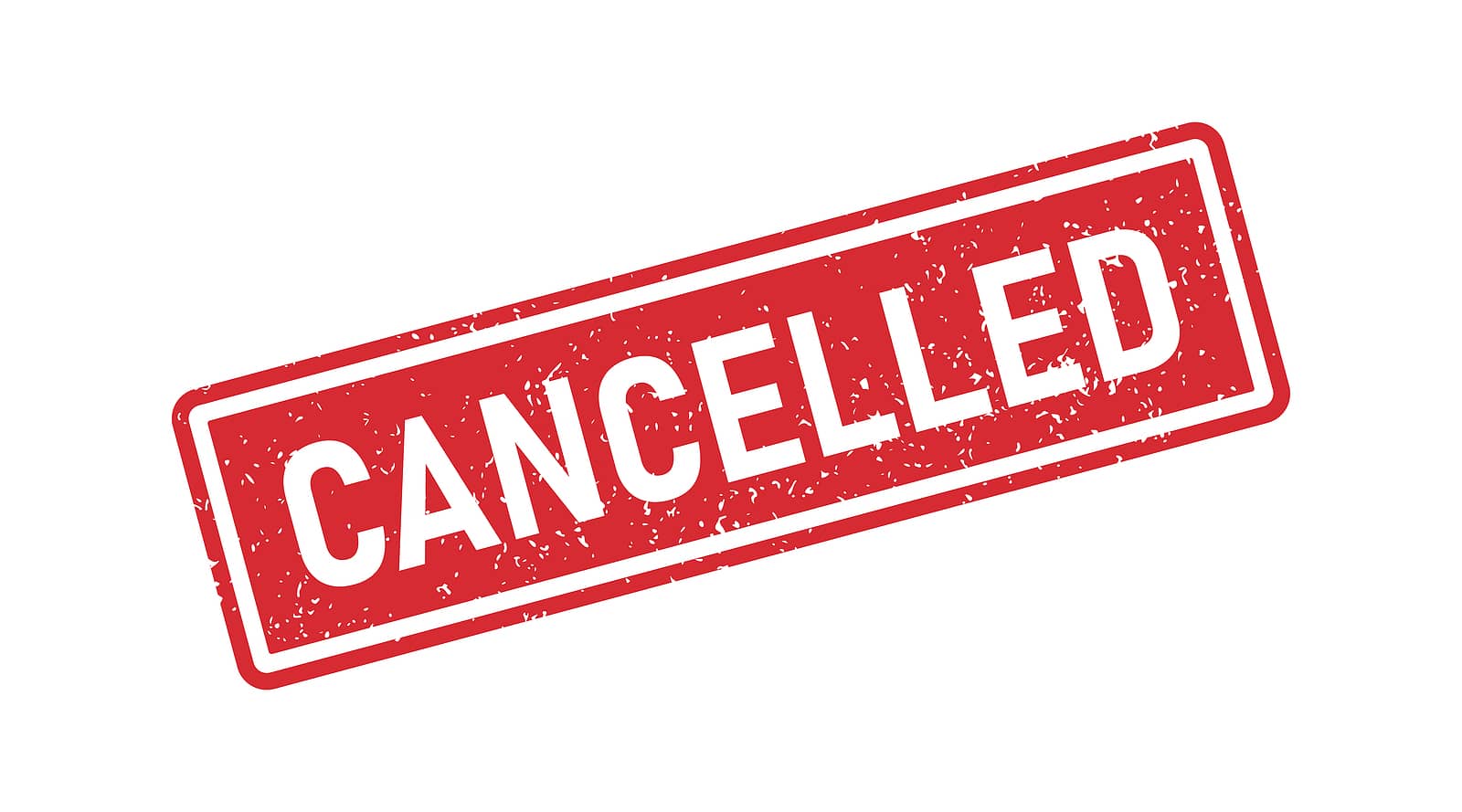 An unexpected letter from your insurance company can be nerve-wracking, but thankfully, in most cases, it's just asking for important information like your current contact details.
Sometimes, they may choose not to renew your policy or even cancel it during the current policy term.
Insurers can cancel home insurance policies. One of the reasons why avoiding this cancellation is so important is that new and future insurance carriers might deny coverage as a result of your previous cancellation.
You may not be able to get new insurance at the coverage amounts and current cost of coverage going forwards if you've had a policy canceled.
While home insurance cancellation is scary, it's not unmanageable.
The Difference Between Non-Renewal and Cancellation
When a provider cancels someone's insurance policy, it could mean one of two things: policy nonrenewal or policy cancellation.
If a company does not renew your policy, it means they will not offer you an insurance policy when the current policy period ends.
Cancellation means that your coverage will end early. Cancellations will take effect within 30-45 days' notice. Insurance providers can cancel a homeowners insurance policy within the first 60 days of the active policy.
Nonrenewal is usually related to filing excessive claims or new structural issues with the home. The insurance provider may no longer be covering insurance in your state.
Mid-term cancellation is often the result of a homeowners misrepresentation of the truth, non-payment of premiums, or the possibility that the company has filed for bankruptcy and is going out of business.
What Are My Rights?
Insurance companies aren't required to renew your home insurance policy; however, they are obligated to provide sufficient written notice if they decide to end the relationship. It varies with each state, but it's typically a 30-day notice.
Suppose you've received a nonrenewal notice; depending on the reason for nonrenewal, you should discuss the issue with the insurance provider to try to realign your home with their risk standards.
If you can show them that you're willing to make a good faith effort to comply with the direction, you may be able to negotiate a timeline with the carrier that extends beyond the nonrenewal deadline.
If you still don't agree with their decision, you can file a complaint with your state's insurance administration.
Reasons Why Home Insurance Policies Get Canceled
Excessive claims
A high number of claims within a short time, usually two within five years, is a risk factor for insurance providers.
Insurance companies consider customers filing several claims high-risk and costly to the insurance provider. Insurance companies want to limit paid claims to rare and unpredictable occurrences.
They'll look at your claims history; if you make excessive insurance claims in a short period, you will be considered high risk.
Always compare the cost of repairs to the number of your deductibles before filing a claim.
Your location is now considered a high-risk area.
It can be hard to wrap your head around this idea if you've had the same policy with the same company for a long time. The model they use to evaluate potential disasters like natural disasters is predictive. However, areas can change over time.
Changes in mapping natural disaster areas could result in higher prices/premiums or lower coverage limits. Natural disaster areas likely noted for hurricanes, fires, floods, and earthquakes can cause your home to become less desirable for insurance.
Your roof has aged
Roofs that are getting old need to be replaced. This is because they may leak and can result in damage like water damage. Claims are also inevitable so that an insurance company may have a roof replacement as a policy condition. Alternatively, they may cancel your policy. You may also be required to purchase a roof condition certification from a licensed roof inspector.
The house failed a safety inspection.
Homeowners need to be aware that the insurance company may be reluctant to cover any claims if there are structural issues. Poor workmanship or code violations can cause minor issues to snowball into expensive problems.
Common problems noted during an inspection include outdated electrical and plumbing systems, missing safety features, inadequate fire protection, or insufficient insulation.
You own exotic or dangerous pets.
Your policy isn't going to get canceled because of your house cat or Golden Retriever.
Certain species of animals are categorized as dangerous and aggressive. These animals are usually bred to be used as hunting dogs or guard dogs. These animals may pose a threat to their owners and the surrounding community.
Owning one of these animals may increase the likelihood of someone being injured on your property and suing you. The insurance company would be on the hook for that payout. They see this as too high a risk to take and may cancel or not renew your policy.
You stopped paying your premium.
Your home insurance carrier will cancel your policy if you're not paying for it. Not paying your home insurance premium is the number one cause of cancellation.
Some insurers may find you less reliable if you have a history of late payments. In cases where it's genuinely unintentional (e.g., say you did not update your autopay information), you can call customer service and ask for it to be reinstated.
There is usually a grace period built into your policy, but this varies depending on the provider, insurance policy, and your state's department of insurance regulations.
The grace period is the time after your premium is due, usually thirty days, during which you'll still have coverage.
You Misrepresented Your Property
Misrepresenting the condition of your home or making significant changes without informing your insurer are policy violations.
This could be as simple as installing a pool or, more seriously, not letting them know about any structural issues you've discovered in your home.
If an insurance company does not have all the necessary information, they will not be able to provide you with a policy that fits your needs.
What Can I Do To Keep My Insurance
Follow the insurance policy guidelines.
If your insurance company has given you specific instructions on lowering your risk level and bringing it more in line with theirs, please follow them. To ensure your policy is reinstated as soon as possible, contact your insurance company and tell them about your plans to do the work before you reach your policy renewal date.
Explain the circumstances of the claims
It would be advantageous for you to discuss your claim circumstances with the insurance provider thoroughly. They may see your case in a better light if you can prove that the claims were unrelated and caused by things beyond your control.
Dispute the inspection
This is the least convincing thing you can present to an insurance company, but it may be worth a try if you have the resources and are out of options. You could try having an independent expert assess your property to provide a counter-evaluation of your insurance company's findings.
Though everything the independent inspector says may be true, it may not be relevant for insurance and risk. For example, your hired electrician may agree that your old wiring may be okay for a few more years, but that doesn't minimize the insurer's current risk.
Changing Carriers After Your Home Insurance Was Cancelled
Even if you've done all you can to try to stay with your current home insurance provider, there is still a chance that they will cancel your policy. Fortunately, that's not the end of home insurance for you. With the countless options today, finding a new home insurance policy should be easy and affordable for anyone who wants it.
Work with an insurance agent.
Each company has similar but slightly different requirements and risk profiles. An agent who specializes in multiple carriers can give you a better idea of which one is a better fit for you based on your specific needs. Be sure to be upfront about your insurance history so they can accurately give you all your options.
Look into FAIR plans.
Some states offer a high-risk insurance plan called Fair Access to Insurance Requirements (FAIR). FAIR plans are surplus lines insurance plans for homeowners who don't qualify for private market insurance.
These plans cover structural damage to the home but usually don't cover everything that a standard homeowners insurance policy covers.
Keep in mind that you're not automatically entitled to a FAIR plan. To get this plan, you must ensure your home is in order or risk being denied coverage.
Similar to standard home insurance, your state might dictate that you must repair items before they offer coverage for the home.
Lender-placed insurance
This is an option of last resort. Your mortgage lender will want to make sure they have the appropriate information if something should happen.
If your insurance company cancels your policy, it will update your mortgage lender with this information. Mortgage companies require that their clients maintain insurance coverage on their property.
This protects the mortgage company's financial interest in the home and only covers the loan balance as opposed to the actual economic value of the house.
If a client can't find a carrier, the company will either find one for them or become the insurer. This is known as force-placed insurance.
Before choosing to insure your home loan with a lender, knowing how it can affect your finances is essential.
Prevention To Prevent Your Insurance From Being Cancelled
Be more selective about filing claims
Filing multiple small claims or ones that barely exceed your deductible will cost you more money in the long run. It's best to pay for these repairs out of pocket and not risk filing multiple claims in a relatively short time.
Do regular maintenance
As they say, prevention is the best medicine. Keeping your home in good condition is a great way to keep your insurance rates low. You can hire a professional inspector to give you an inspection report and recommendations for improvements and then make gradual changes over time.
Bundle services
There are many benefits to bundling your homeowners insurance with your other lines of insurance, such as auto insurance. This tells the company that you're invested in them and want a long-term relationship. They also may be less keen on dropping you as a customer if you have multiple policies with them.
Don't Violate Your Policy
Insurance companies write your policy based on your specific circumstances. If your situation changes, then you need to update your home insurer. If you have a swimming pool and didn't inform the insurance company, you should have received higher premiums. This is considered fraudulent on your policy agreement.
It's important to talk to your insurance agent so they can help facilitate your needs as much as possible.
FAQs
Can a homeowners insurance policy be canceled at any time?
Homeowners' insurance companies can give you a notice of cancellation for any reason in the first 60 days of your policy being active. After that, they can still cancel it for several reasons, usually with a 45-day written notice.
Why would homeowners insurance be canceled?
For an insurance company to be able to cancel your policy, they must have a legitimate reason that the policyholder was aware of when they applied for the insurance. Common grounds for policy cancellation include nonpayment, misrepresentation of facts on the application, or if the home's condition drastically changes. Using claim money to purchase something other than the repairs they were meant to cover. Sometimes an insurance company is no longer writing insurance in your state or has filed for bankruptcy.
Can I cancel my home insurance policy and get my money back?
Depending on when you cancel your home insurance policy, you may be entitled to a prorated refund of your insurance rates for the remaining time of your policy period.
Does an insurance company have the right to cancel?
Yes. When you agree to your insurance company's terms, you agree to fulfill your obligations to the policy. If you fail to keep your end of the agreement, they can cancel your policy, leaving you without protection.
What should I do if I cancel my homeowners insurance?
If you want to cancel your homeowners insurance, you should first find out if there will be any penalties or fees.
It may become more expensive to switch to a new provider if there are additional costs to cancel. It would help if you aimed to have your new policy go into effect as soon as your old policy ends to ensure no gaps in your coverage.
What is a homeowners insurance policy?
This insurance policy protects against covered perils or events, such as water damage, wildfires, or someone injuring themselves on your property. It will pay out if your home is damaged or you're liable for someone's medical bills, for example.
What are the benefits of homeowners insurance?
Not only do homeowners insurance policies help to protect you against financial loss in case of accidents or natural disasters, but mortgage lenders also require it as a condition of lending you money.
How can I make an insurance company cancel my policy?
Most insurance companies will allow you to cancel your policy without issues, but you may have to pay the penalty.
What is the difference between canceling a policy and canceling a claim?
Canceling your insurance policy means deleting your coverage and, therefore, losing all protection against several perils.
Canceling a claim is when you decide not to continue making a claim; however, the claim may remain on your record and affect your future premiums.
What does it mean when a homeowners insurance policy is canceled?
It may make it harder to get insurance elsewhere, as your insurance history is recorded in the Comprehensive Loss Underwriting Exchange (CLUE) database. This is a reference tool used by insurance providers to assess risk.
If you have had your policy canceled, you may be denied coverage by the insurance company you're trying to get insurance coverage through. Cancellations can stay on your record for five years or longer.
Can I cancel my insurance coverage?
Most home insurance policies allow you to cancel whenever you want to, for any reason. However, they also usually have fees or penalties for doing so. Therefore, you should only cancel cautiously and ensure that you have new coverage lined up to avoid gaps.
How To Get Help After Your Homeowners Insurance Was Cancelled
Although receiving a letter from your insurance company can be nerve-wracking, in most cases, it's just asking for important information. However, sometimes they may choose not to renew your policy or even cancel it during the current policy term.
If you're concerned about what this might mean, we can help. Get quotes online and compare policies. You may find that another provider is a better fit for your needs.