UPDATED: JUNE 02, 2023 | 1 MIN READ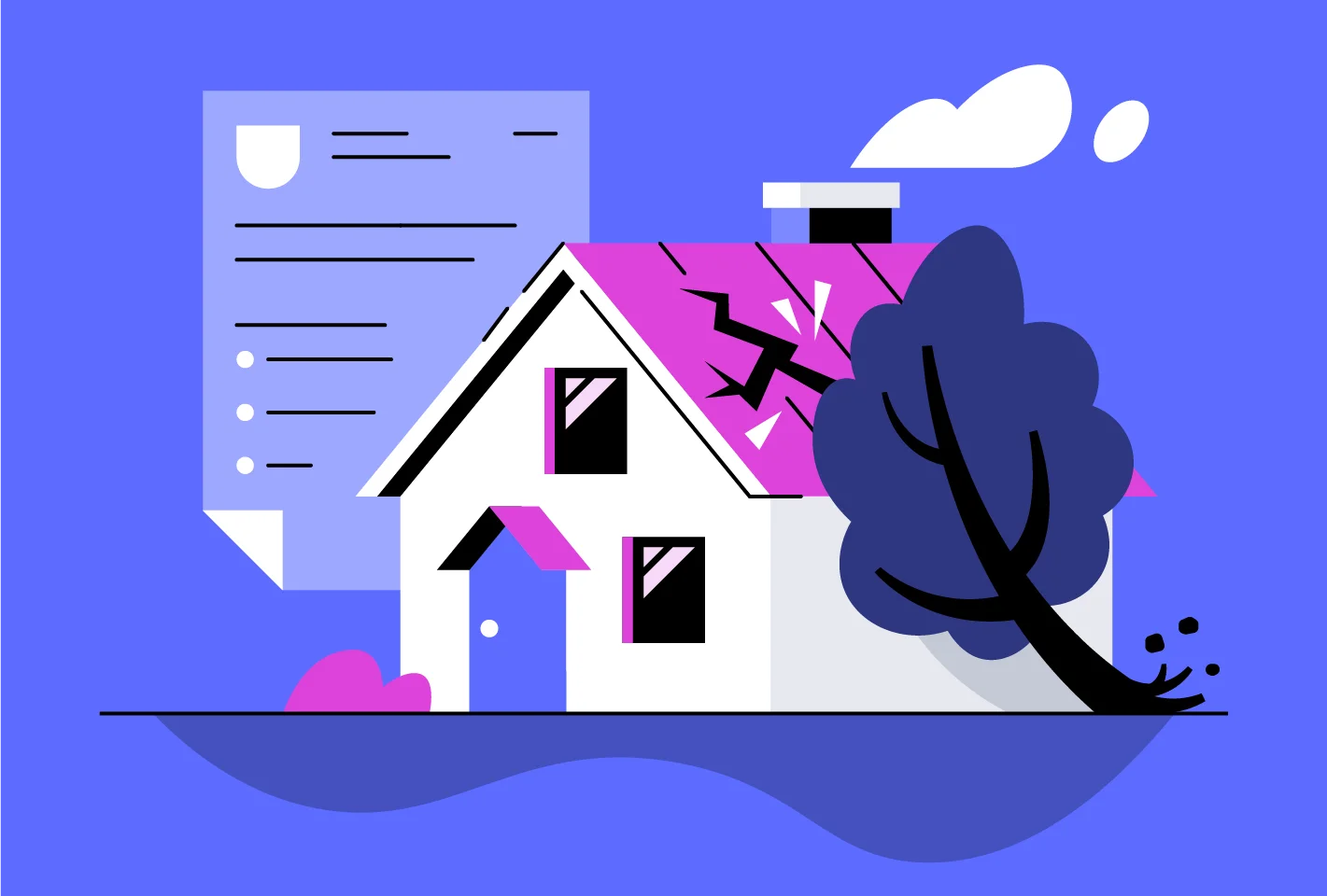 One of the most costly expenses a homeowner may have is a new roof. Your home insurance may provide coverage for replacement and repairs, but it'll depend on how the roof was damaged.
Most homeowners insurance will cover roof repairs and replacement if the damage was caused by a covered peril, like weather events.
In this article, you'll learn if homeowners insurance will pay for a new roof, the types of covered damages, and how to file a homeowners insurance claim for roof damages. 
What kind of roof damage is covered by insurance?
Your homeowners insurance will pay for roof repairs or replacement if your roof is damaged by a weather event or other covered perils. The roof falls under dwelling coverage, which covers the structure of your home.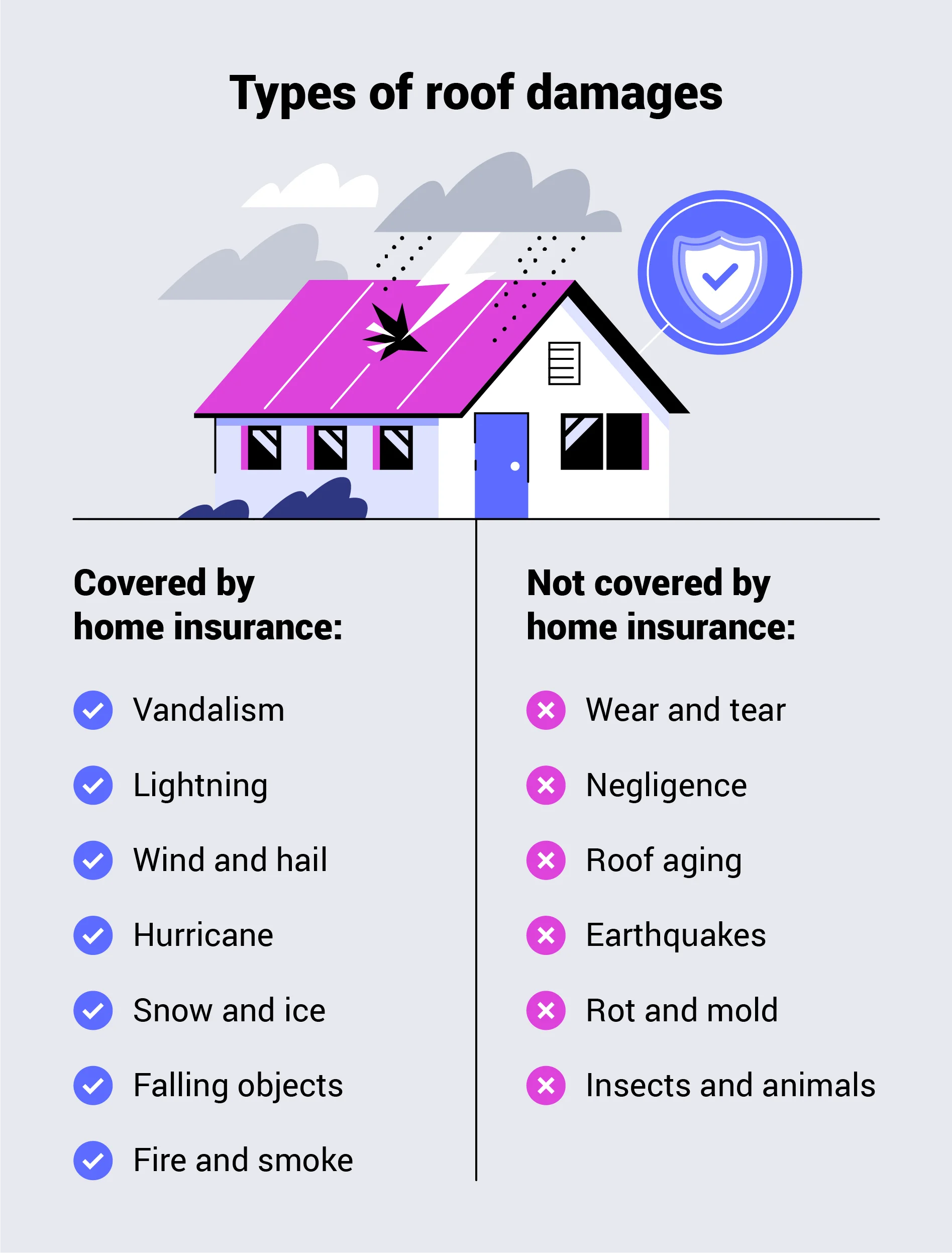 Your home insurance company won't provide coverage for all types of roof damage.
Roof damage is likely covered if the following perils cause it:
Your insurance provider will likely not cover damage like roof leaks if they're caused by wear and tear, negligence, or roof aging.
How to get homeowners insurance to cover roof damage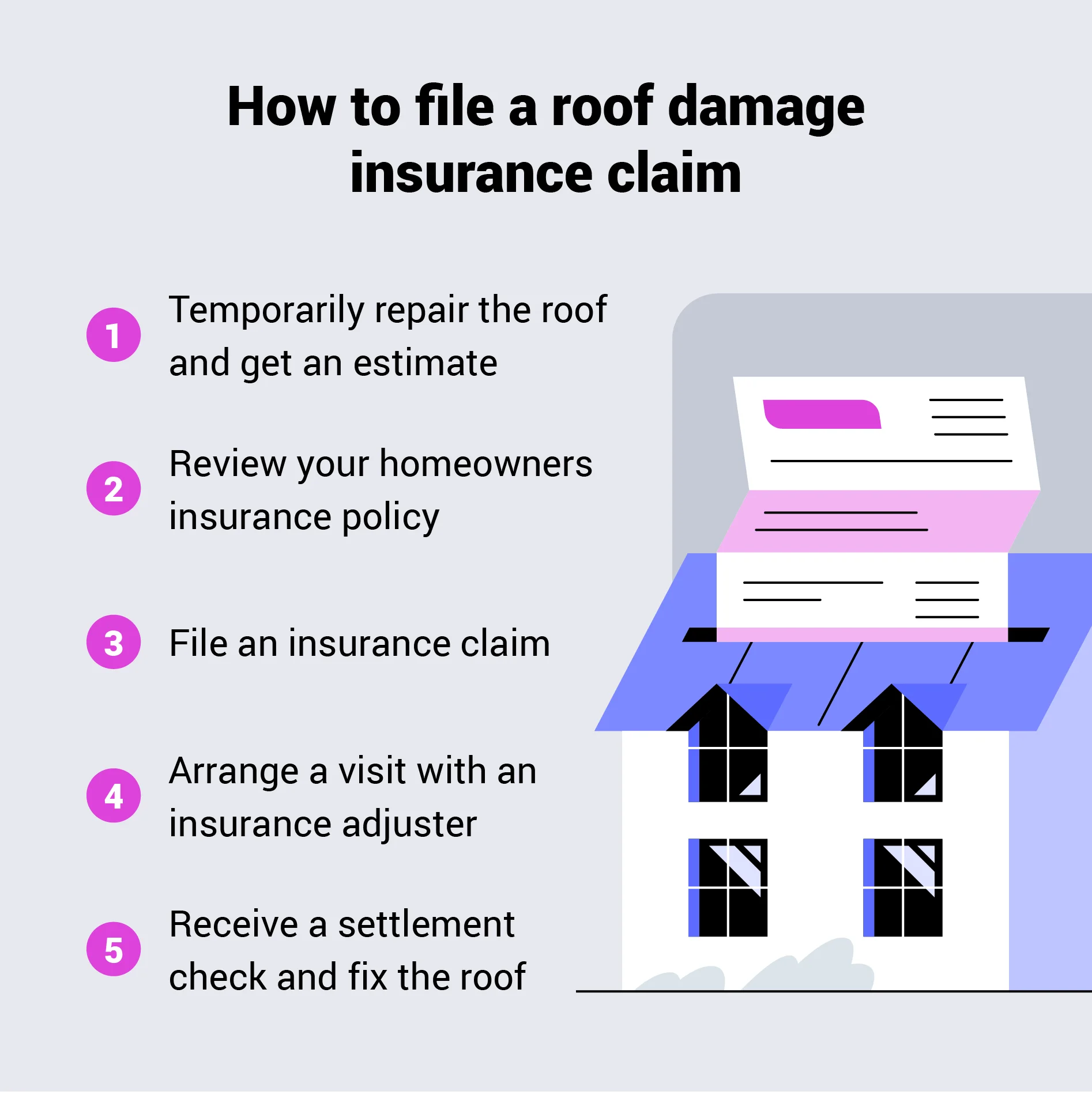 If you need a roof replacement or repair, filing a claim quickly is important to avoid further damage. Here are the steps to take to file an insurance claim for covered roof damage.
1. Temporarily repair the roof and get an estimate
Before filing a claim, contact a contractor to repair your roof temporarily. This will help avoid further damage and reduce costs. Your insurance provider will provide coverage for any initial repairs if your insurance claim is approved.
You'll also want to have pictures taken of the roof and any damages before repairs, either taken yourself or by your contractor. You should also request a quote for the roof replacement or repairs at this stage. These can be used as proof when filing an insurance claim.
2. Review your homeowners insurance policy
Before you file your insurance claim, examine your policy to ensure the damages will be covered and to see an estimate of the payout value. Avoid submitting an insurance claim that's likely to be denied, like uncovered damages, as this will stay on your claims history.
3. File an insurance claim
Most insurance companies give you the choice to submit an insurance claim either online through their website or by phone. You'll need to provide the following information for an insurance claim:
When and how the damage took place
The age and type of roof
Photos of damage
Initial repair bills
Quote for repairs or replacement
You may also need to provide documentation of your most recent roof inspection report.
4. Arrange a visit with an insurance adjuster
After you file an insurance claim, an adjuster will visit your property to examine the roof damages and any other secondary damages. The insurance adjuster determines whether your insurance company is liable for the price of your new roof.
5. Receive your settlement and fix the roof
When your claim is approved, you'll receive a settlement check that covers the cost of replacing or repairing your roof. Some insurance companies will provide a partial check to pay for a contractor and ensure that the roof repairs will be completed up to standard.
Does homeowners insurance cover old roofs?
Roof replacements are a steep expense, and older roofs are more likely to be impacted in a storm and require an insurance claim. Most insurance providers don't have insurance policies for roofs older than 20 years. If the insurance company does provide coverage, they'll typically offer coverage for actual cash value versus replacement cost.
Depending on where you live, different insurance companies may have varying rules regarding the age of your roof. For properties in storm-prone regions that tend to experience more wear and tear, some providers may lower the maximum roof age to 15 years.
How to prevent roof issues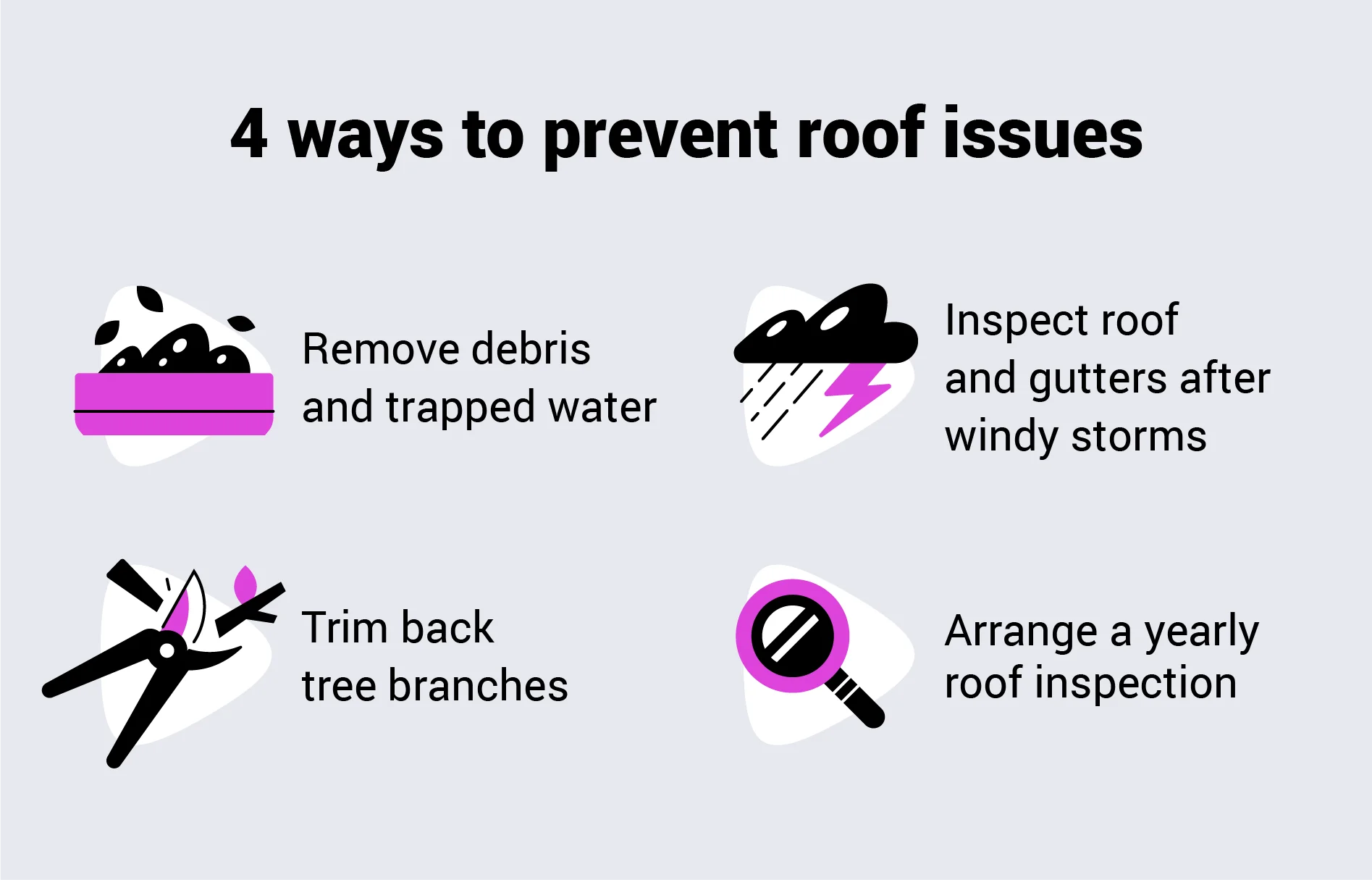 As a homeowner, it's your responsibility to properly maintain your roof. Here are several ways to prevent roof issues and prolong your roof's lifespan.
Remove debris and trapped water
Trim back overhanging tree branches
Check gutters and roof after windy storms
Have a yearly roof inspection
It's best to contact a roof inspector to check your roof if you don't have the proper gear to do it yourself. The inspector can remove debris from the gutters and roof that can cause issues, and check for signs of damage. Maintain your gutters' accessibility by keeping them clear between inspections.
Tips to save on roof costs
The average cost for roof replacement ranges between $5,700 and $16,000. The average cost per square foot installed is between $3 and $6.1 These prices will vary depending on the type of material used and if the price is measured by square footage. Using a more expensive material like metal can impact the total cost.
Here are tips on how to save on your roof replacement and repair costs.
1. Complete thorough research
Before speaking with contractors, know the dimensions and scope of your roof replacement or repairs, plus the materials you want to use.
2. Shop around for quotes
Receive quotes from several contractors and verify local references before choosing a roofer. Contractors should provide a warranty on the materials and installation. Be cautious of inexpensive quotes as they could indicate low-quality work.
3. DIY some of your roof replacement
Think about doing some of the easy work yourself to cut costs. If you have the proper equipment, you can remove the old roofing before your roofer comes to install the new roofing materials.
4. Overlay vs. a roof replacement
A roof overlay entails adding fresh shingles on top of older ones. Overlays are less expensive and require fewer hours than a complete replacement because the original roofing is left in place.
Be aware, however, that a roofing overlay can void or reduce the manufacturer's warranty. Due to greater labor expenses and project waste, overlays also frequently result in higher future replacement costs.
FAQs
Below are frequently asked questions about home insurance coverage and roof replacement.
Do you have to pay a deductible for roof replacement?
You'll need to pay a deductible before your home insurance provider can pay to replace or repair your roof.
The majority of the time, the overall deductible you selected when purchasing your coverage will match the deductible for your roof.
If your roof is damaged by weather events, like a hurricane or hail, insurance providers may occasionally impose a separate deductible. This is typical for homes on the coast or in storm-prone regions. For these homes, the deductible is often a proportion of the total amount of your dwelling coverage.
Can I keep the insurance money for a roof?
Leftover funds after repairing your roof are yours to keep. However, you can't completely avoid repairing your roof and pocketing the insurance money. Your insurance provider will likely send an adjuster to make sure your roof is fixed.
Can an insurance company make you replace your roof?
Your insurance company may require you to replace it if your roof is in poor condition. In fact, the insurance provider may send out an inspector after you purchase a policy to make sure it meets their standards. 
If the inspector discovers damage to your roof, they may issue you a deadline for roof replacement. If you choose not to, the provider will revoke your insurance coverage, leaving you and your roof unprotected.
Will insurance cover a 20-year-old roof?
Finding an insurance provider that will provide a policy for a 20-year-old roof can be hard. These roofs are more likely to be in a poor or weak condition, therefore more likely to require a claim down the road. If an insurance provider does provide coverage, it'll likely be for the roof's cash value and not the replacement cost.
To find an insurance company that'll provide coverage, you'll most likely need to call several agents for quotes. A local insurance broker can also help with finding a company that'll provide coverage.
How long does a roof last?
A roof normally lasts for at least 25 years. However, a roof's lifespan is determined by a variety of factors, including the material of the roof, how much ventilation it receives, the climate, and the slope and size of the roof.
Should I get a home warranty for roof repair or replacement?
Purchasing a home warranty for roof leak protection along with homeowners insurance can provide extra coverage. Home warranties can cover roof leaks caused by an outdated roof or normal wear and tear, which standard home insurance doesn't usually cover. With a home warranty, you won't have to pay for any repairs out of pocket, but it'll require an additional [monthly/annual] fee.
Can an insurance company cancel my policy because of a bad roof?
Your insurance provider may terminate your policy if your roof is in poor or old condition. A property with a physically weak roof has a higher probability of needing to file a claim.
An insurance provider may decide to revoke your policy or refuse to issue new coverage to avoid paying out a possible claim. You might have the choice to replace the roof or complete the required repairs within a specific time period to keep your policy in effect.
Find the best home insurance for your property and roof by comparing home insurance companies and their offerings.
Sources:
Related Articles: