UPDATED: JULY 06, 2023 | 2 MIN READ
Homeowners insurance in Indiana largely depends on your location, and it is helpful to know the difference in costs and what home insurance companies examine. Some factors for home insurance risk depend on the age of your home and how many home insurance claims are made every year.
Here's a breakdown of the best home insurance companies in Indiana by price and service, as well as common risk factors and recommended additional coverage if you live there.
Best Indiana Home Insurance Companies
There are multiple homeowners and renters insurance companies in Indiana. Below are the top picks for home insurance policies. Even with these suggestions, you should still research and compare quotes from several companies before choosing the best policy to fit your home needs.
Overall Best Indiana Home Insurance Company
Policyholder benefits can provide discounts while ensuring your home is more secure, making Erie Insurance the overall best homeowners insurance company for Indiana. Policyholder benefits include credits when you equip your home with security devices or home business protection.
Despite not being the cheapest, it has the highest customer satisfaction rating, with an average premium of almost $990 for a $250,000 dwelling.
Best Value Indiana Homeowners Insurance Company
Affordability is crucial for many buying a homeowner's policy, and Cincinnati Financial Corporation insurance for Indiana residents for a most affordable cost at an average of only $591 per year, as well as having a high level of customer satisfaction.
You can customize your policy to include coverage for extras like landscaping, water damage, and golf carts. However, a downside to Cinncinati Financial is you can't buy from this company online; you have to contact independent agents directly.
Indiana Home Insurance Company With the Best Customer Service
Indiana's two homeowners insurance companies have the highest customer satisfaction ratings. Auto-Owners Insurance Co and American Family Insurance have excellent customer service ratings, offering clients ease in choosing a high-quality policy to fit their needs and budget. Indiana residents can ensure peace of mind when filing a claim.
Indiana Home Insurance Company is Best For Bundling
Allstate Insurance in Indiana is the best home policy when you want to bundle and has a lower price point average of $818 annually. You can lower your rates by combining your home policy with auto insurance.
The company also offers additional coverage, such as sump pump or drain backup coverage and business property, and increases limits for damages to your garden or yard.
Indiana Home Insurance Company With the Best Coverage Options
Nationwide Mutual is the home insurance company in Indiana that meets your needs for various homeowner scenarios.
They can consolidate and bundle multiple policies since they offer coverages for RV, boat, life, motorcycle, and pet insurance. They offer unique additional coverage options, including Better Roof Replacement and Valuables Plus.
Local and Regional Home Insurance Carriers In Indiana
Western Reserve Group
Western Reserve Group is a Midwest home insurance carrier that operates in Indiana. For over 110 years, the insurer has met the needs of Indiana homeowners and farmers from Indianapolis to Fort Wayne.
The coverages available from Western Reserve Group include Dwelling, Liability, and other options. The insurer also features Special coverages such as Service Line, Homeowner Equipment Breakdown, and Condominium Unit Owner's Policy. Renters can get protection for their belongings with the Renters Policy.
You may also opt for a home and auto insurance bundle from Western Reserve Group for one affordable payment. Discounts for multiple policies, advance quotes, and other savings may be available.
Indiana Farm Bureau
Agricultural organization Indiana Farm Bureau offers home insurance to Indiana homeowners, ranchers, and farmers. If you live within Indiana, you may become a member and access the Bureau's affordable home insurance.
Indiana Farm Bureau offers coverage for your home and its contents. Home insurance coverage options include Dwelling, Personal Property, and Liability, plus you can enhance your policy.
Enhancements such as Water Backup, Watercraft, and Valuables offer more specific protection for your assets. Discounts apply for home-auto policies, protective systems, impact-resistant roofs, and paperless billing.
Indiana Farmers Insurance
Indiana Farmers Insurance is a statewide carrier for Indiana residents. The insurer knows the dangers Indiana homeowners face and has a full range of coverage options. Personal Property, Liability, Scheduled Property, Other Structures, and Dwelling are just a few of the coverages.
Discounts include home and auto bundle savings, plus discounts for a new home, empty nester, security system, and mature homeowners. You may also save with their claims-free and consumer loyalty discount.
Indiana Insurance Demographics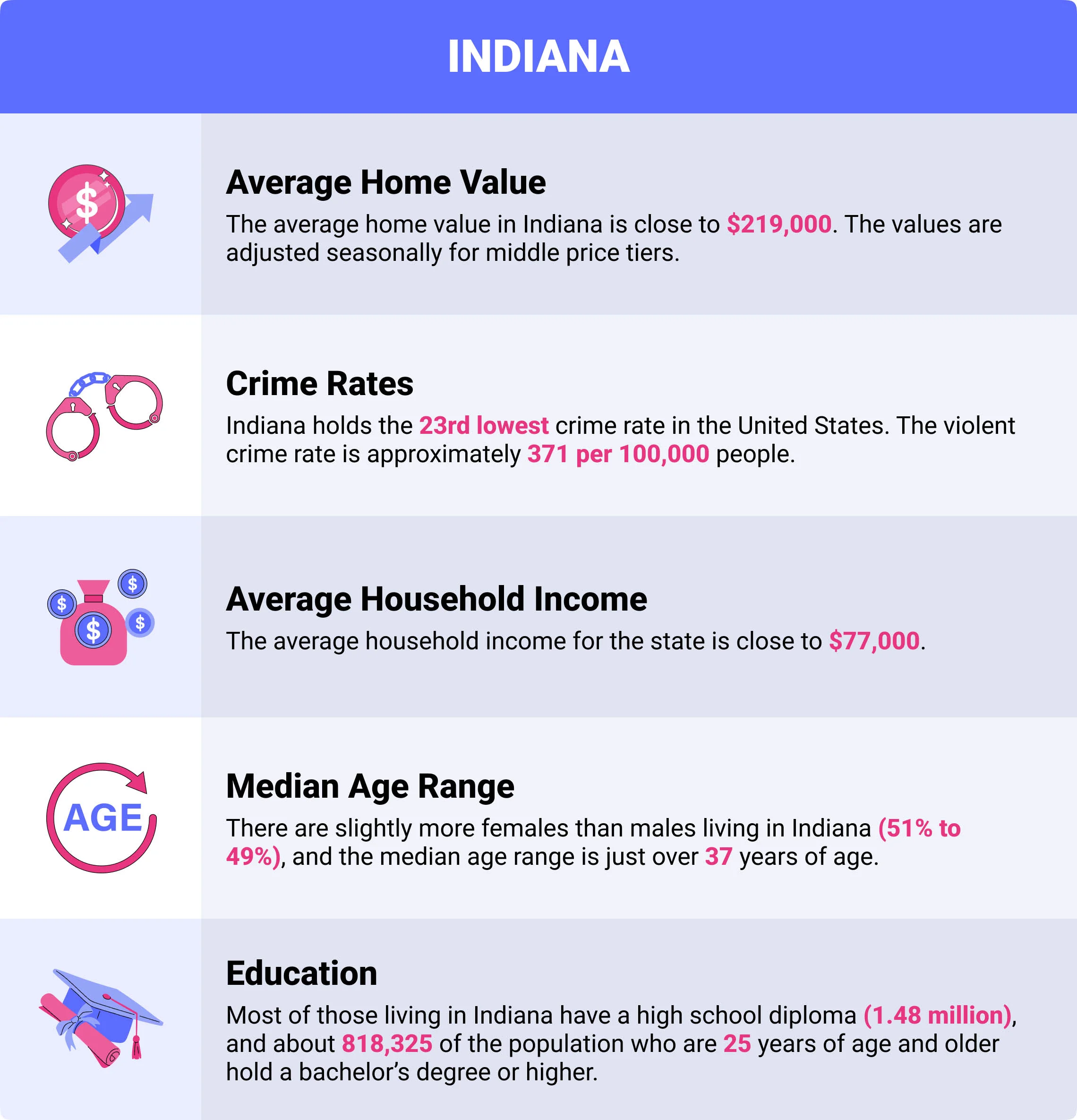 Home insurance policies base their rates based on multiple demographics. Below is the demographic breakdown for Indiana, but understand these are not the only factors to determine policy costs.
Average Home Value: The average home value in Indiana is close to $219,000. The values are adjusted seasonally for middle price tiers.
Crime Rates: Indiana holds the 23rd lowest crime rate in the United States. The violent crime rate is approximately 371 per 100,000 people.
Average Household Income: The average household income for the state is close to $77,000.
Median Age Range: There are slightly more females than males living in Indiana (51% to 49%), and the median age range is just over 37 years of age.
Education: Most of those living in Indiana have a high school diploma (1.48 million), and about 818,325 of the population who are 25 years of age and older hold a bachelor's degree or higher.
Is Indiana Home Insurance Required?
Homeowners insurance is not a requirement by law in Indiana. However, some mortgage companies may require a minimum coverage policy to obtain a home loan. Plus, purchasing a home insurance policy is a good idea to keep your property and belongings safe.
What Does Indiana Home Insurance Cover?
A home insurance policy is in place to protect your home against natural disasters such as fire or storms and from theft, so your losses are covered. The policy helps to cover:
Your structure or dwelling
Other dwellings on your property
Personal property (belongings)
Liability for injuries or damage to another's property.
On a standard policy, these are covered, but you can purchase additional coverage for more protection and higher limits on more valuable belongings.
Common Home Risk Factors In Indiana
The most common home risk factors in Indiana are winter storms and flooding due to increased precipitation.
If your home is at risk due to snow or ice damage, you must ensure you are taking precautions so your insurance company does not claim negligence and denies your coverage.
Wind damage is another risk problem, but damage from windstorms is covered on a basic home insurance policy.
Recommended Homeowner's Insurance Coverages In Indiana
Home insurance policies cover considerable damages, but it can be helpful to purchase additional coverage in Indiana. There are three additional insurance coverages you should invest in if you want to ensure complete protection for yourself and your home.
Flood Insurance
A standard homeowner's policy does not cover damage from flooding. In Indiana, there is a risk of flooding, particularly in areas close to Lake Michigan or the Ohio River.
It would help if you acquired a separate flood insurance policy, so your home's structure and belongings are secure in water damage.
Additional Roof Insurance
Since wind damage is a common risk in Indiana, additional roof insurance or extending your value limit is beneficial. Insurance companies only insure the top layer of your roof for a standard homeowners policy, so if a wind, hail, or snow storm gives your roof a severe beating, additional coverage may be necessary.
Scheduled Personal Property
The last recommendation for supplemental insurance is to extend beyond the coverage for your personal belongings. If you own any expensive or high-valued items in your home, such as jewelry or a painting, you should add this additional coverage.
You assign value to you the insured property along with a receipt or appraised value for more protection above what your standard policy covers.
How Much Does Home Insurance In Indiana Cost?
The average insurance premium across Indiana depends on how much dwelling coverage you need for your home's size.
For around a $250,000 dwelling, the average annual cost is $1,213. However, the total average price is $1,395 per year. Rates are also determined based on the number of claims in an area.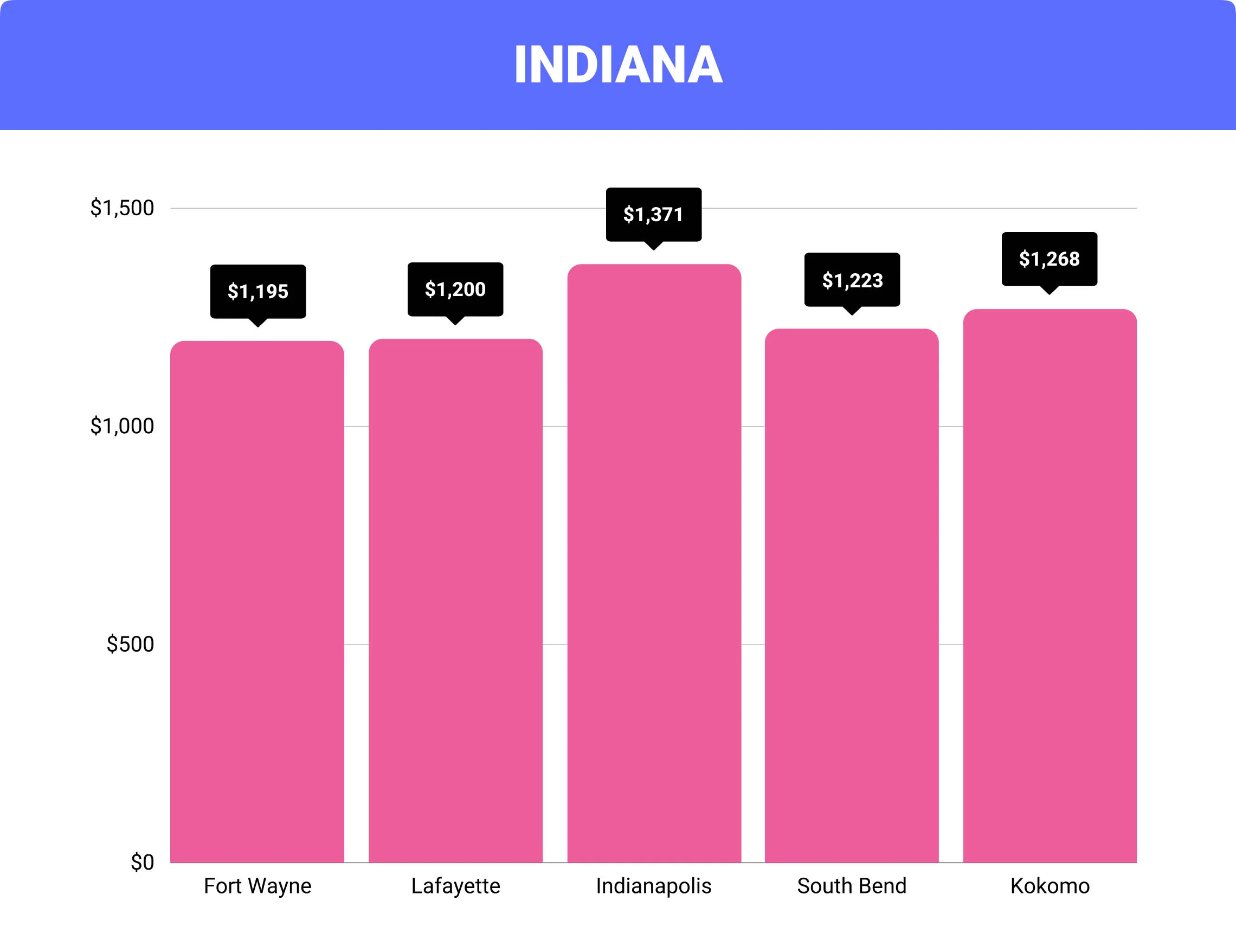 Cost of Home Insurance In Indiana By City
| | | |
| --- | --- | --- |
| City | Average Indiana Home Insurance Cost | Difference From Indiana Average |
| Fort Wayne | $1,195 | $200 |
| Lafayette | $1,200 | $195 |
| Indianapolis | $1,371 | $24 |
| South Bend | $1,223 | $172 |
| Kokomo | $1,268 | $127 |
FAQs
What's the average cost of home insurance in Indiana?
Annual home insurance cost in Indiana depends on the amount of your dwelling. The average is $1,395 for the state, with a typical $250,000 dwelling average at $1,213 annually.
Is home insurance required in Indiana?
Home insurance isn't required in Indiana, but mortgage lenders require you to obtain a minimum-coverage policy before permitting you a home loan.
How long do you have to file a homeowners insurance claim in Indiana?
Check with your insurance provider to see if they have limits on when you can file a claim. Companies may require you to file a claim within thirty days, with some being longer.
How long does a home insurance claim take in Indiana?
Indiana Code 34-11-2-7(3) states that actions for real property injuries must be brought within six years from the incident.
How much is homeowners insurance in Indianapolis?
A typical home insurance policy costs around $114 per month in Indianapolis, Indiana, or close to $1,371 per year.
How To Purchase Indiana Home Insurance?
Determine what specific coverage you need for your home. Decide if you need additional coverage, have your personal and home information, and then gather and compare home insurance quotes to find your ideal policy using our online form.