UPDATED: APRIL 27, 2023 | 3 MIN READ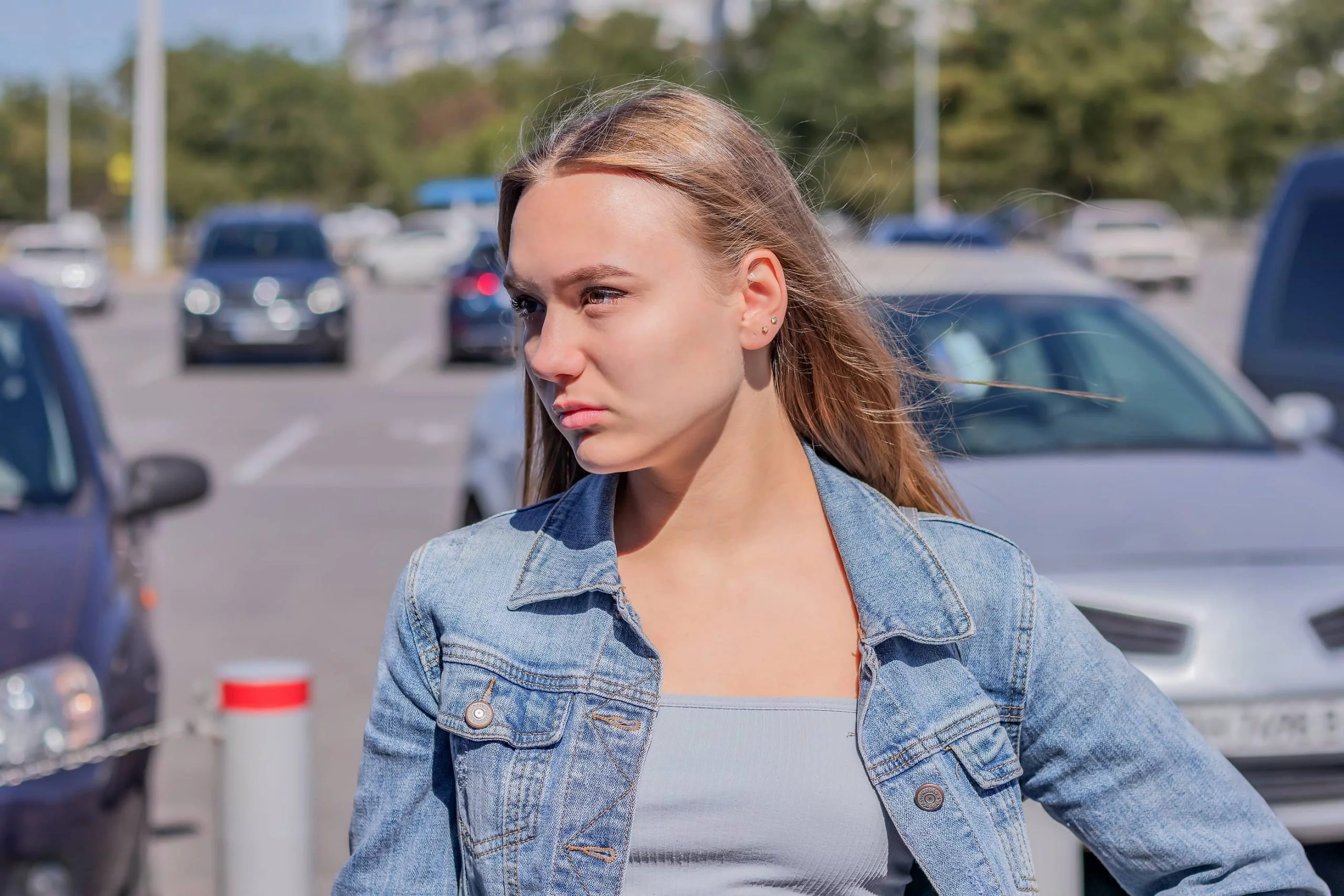 The average 16-year-old pays an annual premium of around $6,000, or about $500 per month. Insurance providers consider teen drivers to be high-risk as they are more likely to get citations or cause an accident.
But there are many ways that young drivers save on car insurance rates to help with the cost of premiums. We're here to walk you through obtaining car insurance for your 16-year-old.
How much is car insurance for teen drivers?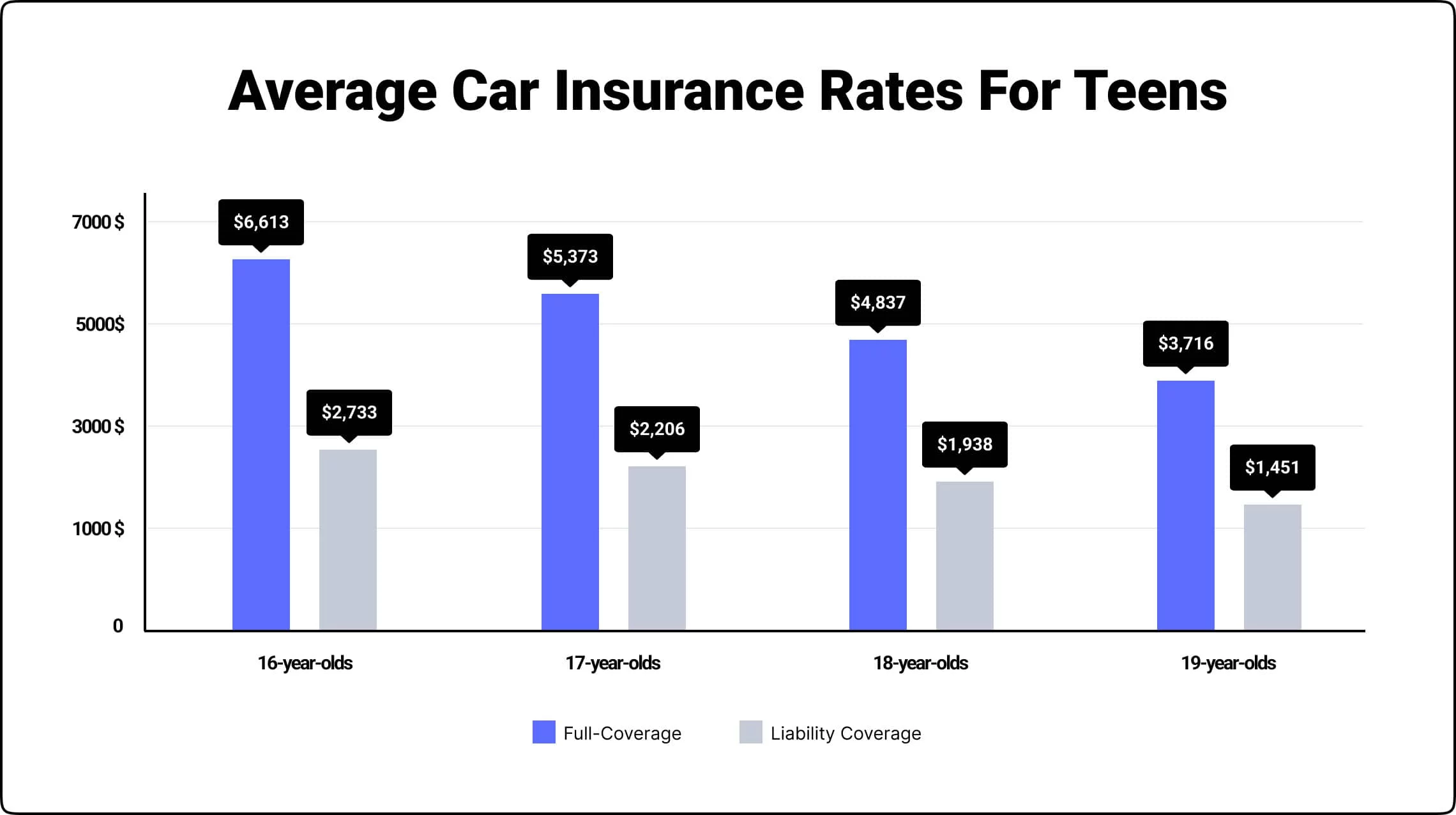 Teen drivers get into four times more car accidents than the average 20-year-old. Car accidents are also the leading cause of death for teenagers. For insurance providers, that means charging higher insurance costs. How much depends on the state that the teen lives in and the age and gender. A new driver pays, on average, 44% more for full coverage than a 19-year-old.
Car insurance costs for teen drivers vary from state to state, but these are some average prices for both minimum and full coverage.
| Age | Full Coverage | Minimum Coverage |
| --- | --- | --- |
| 16-year-olds | $6,613 | $2,733 |
| 17-year-olds | $5,373 | $2,206 |
| 18-year-olds | $4,837 | $1,938 |
| 19-year-olds | $3,716 | $1,451 |
Full coverage insurance policies include comprehensive and collision coverage, uninsured motorist protection, and increased liability limits.
Do I have to add my teenage driver to my car insurance?
In most cases, you should add your child to your existing car insurance policy once they get their license. Some states mandate it by law, and some insurance companies require it. Even if it's not required, it's usually a good idea that the same insurance covers everyone with your teen driving.
Find the Cheapest Insurers For Young Drivers in Each State
Everyone wants cheap car insurance rates, but there are more things to consider when shopping for car insurance. While some people look for the best price, others want 24/7 customer service, discounts, or extra coverage. No one company is the best car insurance company for everyone.
Best car insurance companies for a 16-year-old driver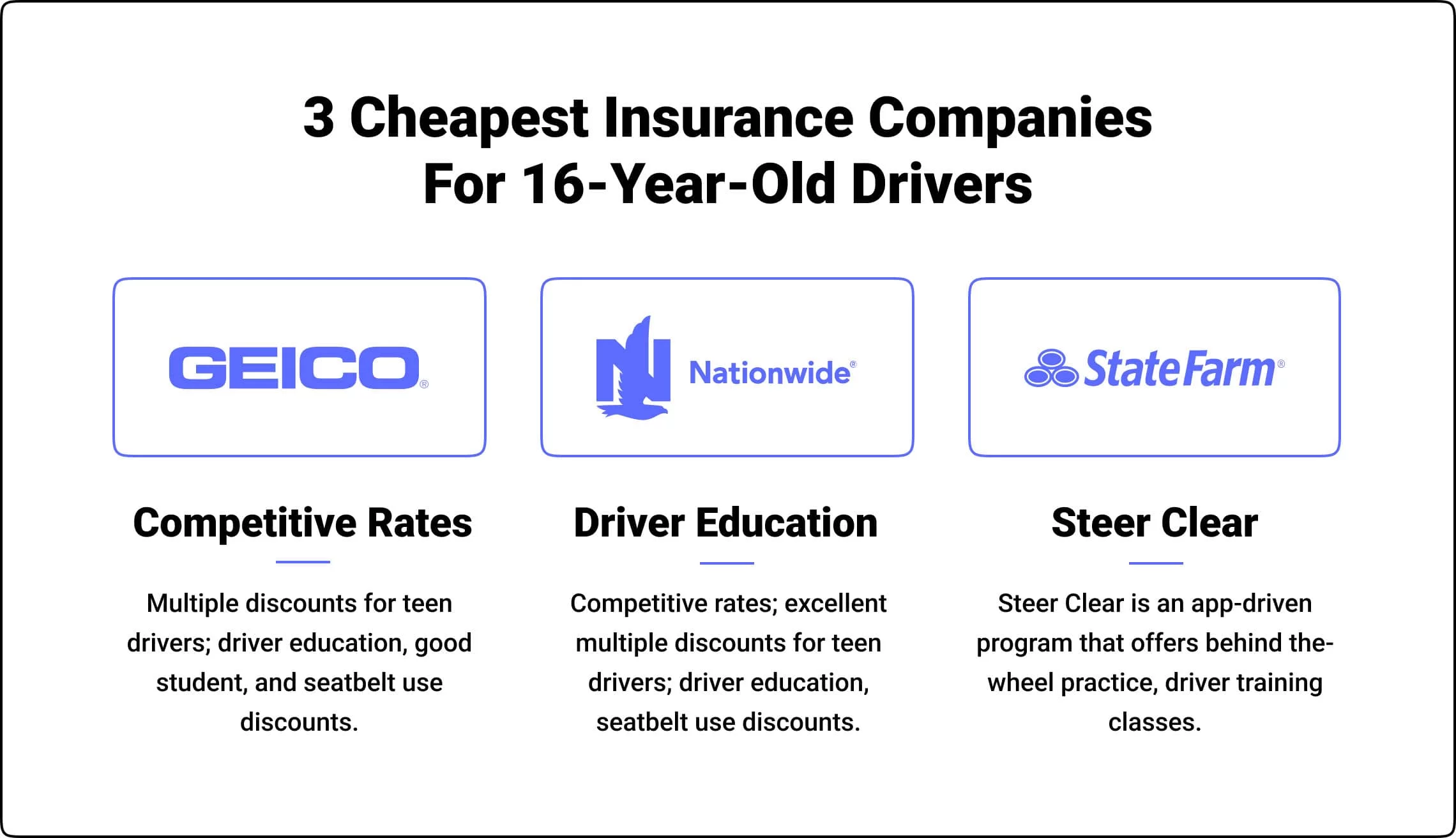 GEICO
GEICO is a provider worth considering as they have competitive rates for teen drivers. They also offer multiple discounts that help keep your premiums low. Teens can take advantage of discounts such as driver education, good student, and seatbelt use. They might not be the best if you're looking for personalized service, as they have limited local agents. On average, a 16-year-old male pays $2,989 annually for full coverage.
Nationwide
Nationwide offers low auto insurance rates for 16-year-old drivers. Discounts such as good student are available for students with a B average or higher. Nationwide also offers two usage-based telematics driving programs called SmartMiles and SmartRide. The average cost of car insurance for a 16-year-old female pays $2,103 annually for full coverage.
State Farm
State Farm is the largest auto insurance company in the country. They offer excellent discounts for young drivers, such as good student discounts and Steer Clear. Steer Clear is an app-driven program that offers behind-the-wheel practice, driver training classes and mentoring.
Your teenage driver gets premium savings and a certificate upon course completion. The cost of car insurance for a 16-year-old male driver is $3,112 yearly for full coverage.
How to lower car insurance costs
The best thing you do as a teen driver is to get on your parent's policy. It's cheaper than getting your car insurance policy. If that's not an option, shop for the best car insurance quotes. When shopping, be on the lookout for insurance discounts such as:
Defensive driving discount: Car insurance companies offer discounts on your rates if you take a defensive driving course.
Good grade discount: Some auto insurance providers offer discounts for maintaining a high GPA.
Student away-at-school discount: If you're away from home to college, you qualify for a student-away discount.
How gender influences insurance premiums for 16-year-olds
In some states, gender does affect a driver's car insurance premiums. Some states forbid insurance companies from using it as a factor for determining rates, but not all states do. A young male driver is more likely to pay more car insurance premiums than a female.
Statistically, male drivers are more likely to get a citation or be in an accident than female drivers, so they are more expensive to insure.
16-year-old males pay $300 more per six-month period for auto insurance than females. The average car insurance rate for 16-year-old males is $558 compared to $497 for females.
Buy a car that's cheaper to insure
One option that you might consider to obtain cheaper car insurance is to buy a car that's cheaper to insure. Sports cars aren't the cheapest ones to insure, especially for new drivers.
When buying a new or used vehicle, something to consider is what it costs to insure the vehicle. Car insurance rates vary depending on the type of car you drive. The cheapest car to insure is a Honda CR-V, Arizona, which is 33% cheaper than a Ford Mustang.
Keeping your driving habits in check is another great way to decrease car insurance rates.
FAQs
Can you get insurance at the age of 16?
Yes, car insurance is available for that age group. It just might be more expensive compared to 19-year-olds. Young drivers are considered high-risk and more likely to get into an accident than older drivers.
How much is car insurance for a 16-year-old Arizona?
Full coverage for a 16-year-old in Arizona, on average, is $3,231 yearly.
Do I have to add my teenager to my car insurance in Arizona?
You only have to list a child on your car insurance when they're regularly using the insured vehicle. Arizona doesn't require you to have your child on your insurance.
Do I have to add my teenager to my car insurance in Illinois?
Yes, it's required in Illinois to add your child to your car insurance policy. Instead of teens getting teen car insurance, you would add your young driver to your own car insurance. Your teen does have to be licensed to do this.
Do I have to add my teenager to my car insurance in NJ?
As soon as your child has a probationary driver's license, they need to be added to a policy, but it doesn't necessarily need to be yours. They have the option of getting their own auto insurance. Adding your teen driver to your policy is more cost-effective, but if your teen gets into an accident, it affects your car insurance rates.
Does insurance cost more for 16-year-olds?
Yes, car insurance costs more for 16-year-olds as insurance providers believe younger drivers are more high-risk than older drivers. The average rates for car insurance are higher for young drivers compared to older drivers.
How to purchase cheap car insurance for teen drivers
Shopping for the cheapest car insurance for teen drivers is easy. Start by comparing rates as amounts vary by company. You can use our helpful tool to find the best car insurance for teens.
Related Posts:
/advice/auto/