UPDATED: APRIL 27, 2023 | 1 MIN READ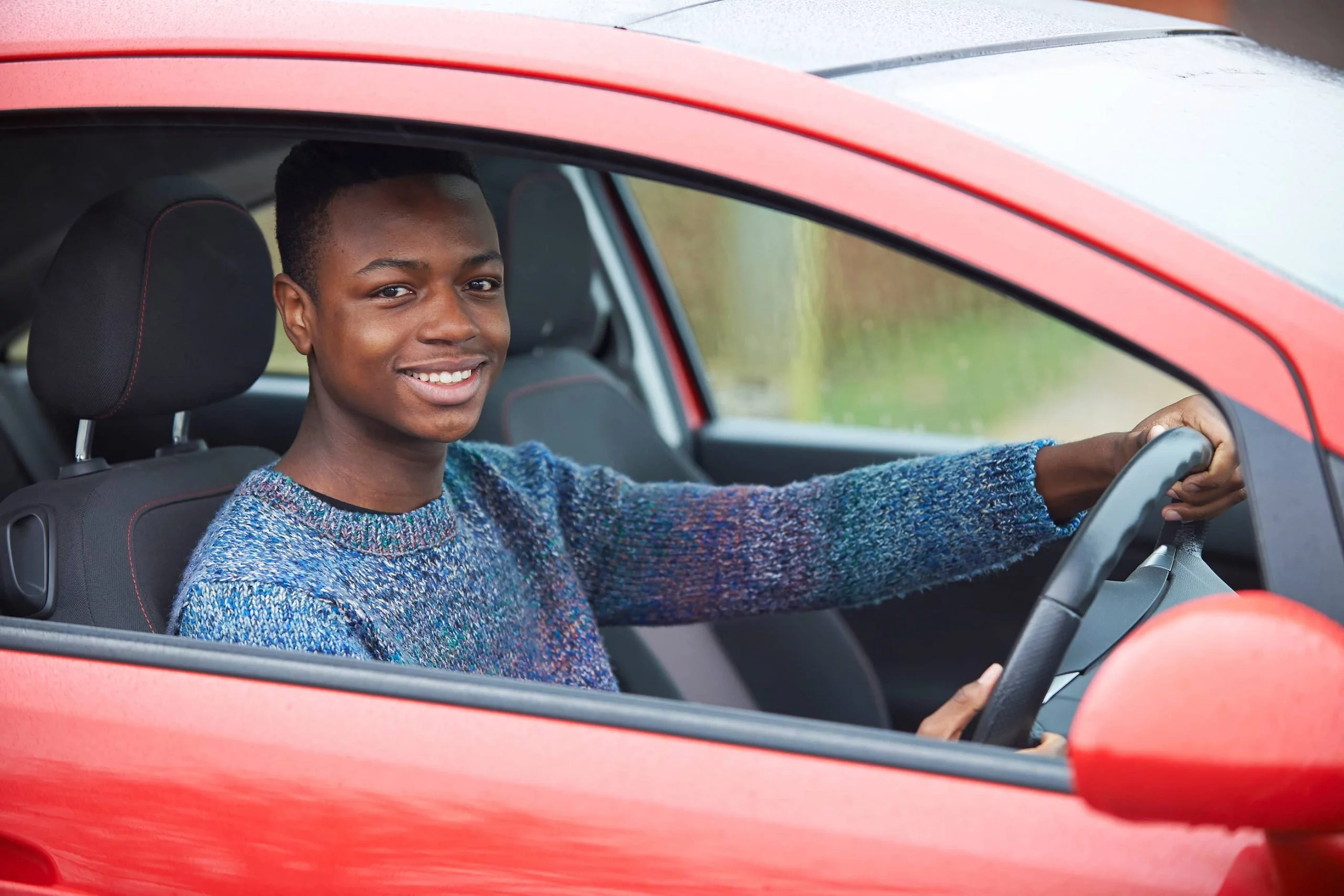 On average, an 18-year-old expects to pay car insurance rates of $356 monthly, which is $2,136 for six months. It's sometimes difficult to obtain cheap car insurance for young drivers due to their age. Even though teenage drivers are out of high school, and on their way to becoming adults, the best car insurance companies see them as high-risk due to their lack of experience on the road.
The average cost of car insurance for 18-year-olds is going to cost more than an older driver. We've put together the cheapest car insurance options for an 18-year-old driver to help you along the process.
How Much is Car Insurance Rates For An 18-Year-Old?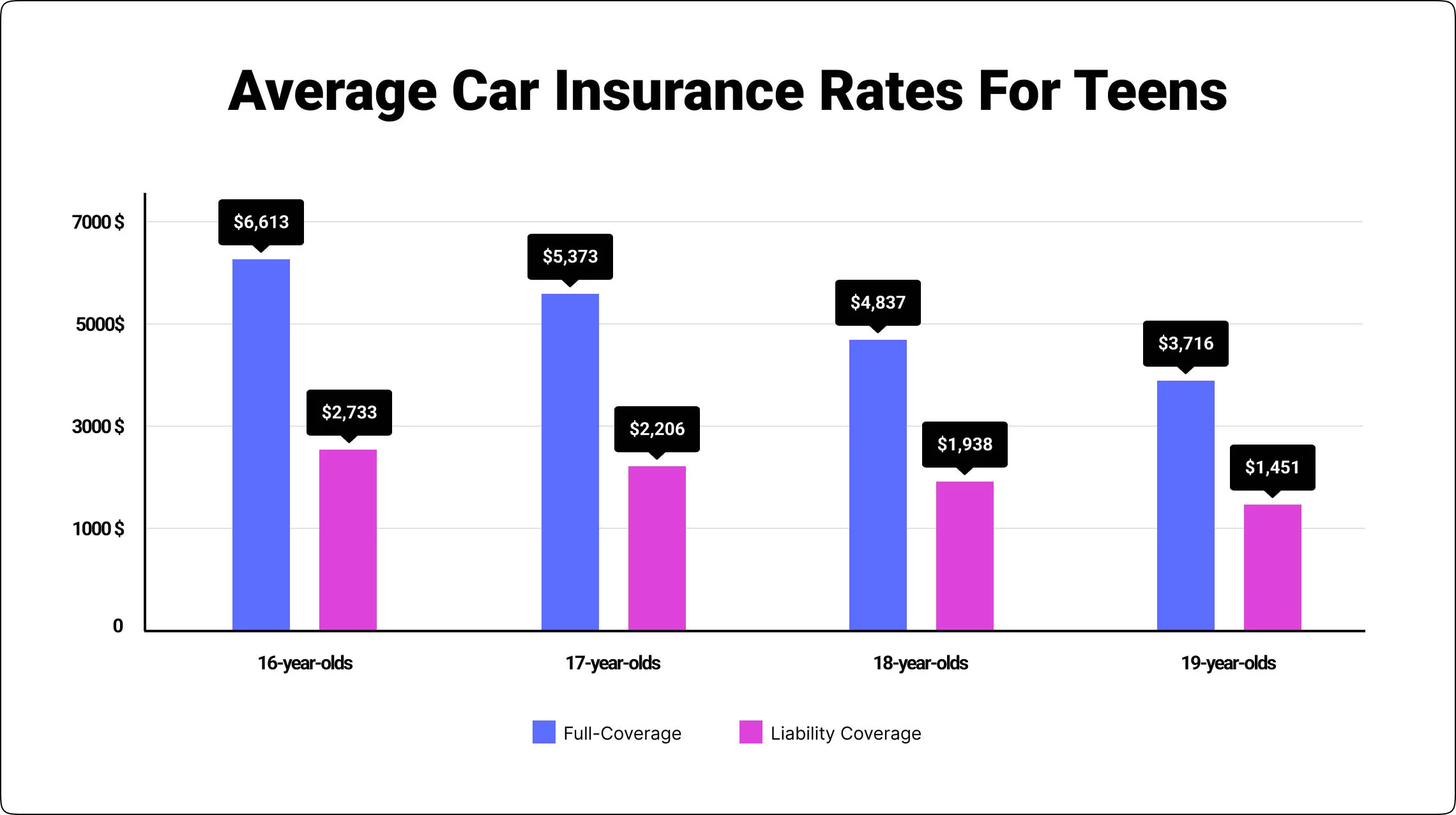 Statistically, teen drivers get into more accidents four times as often as drivers 20 and older. Car accidents are also the leading cause of teenage deaths, which means a higher insurance policy for teen drivers.
Car insurance for young drivers varies from state to state, but these are some examples of the national average for both minimum, and full coverage by age:
16-year-olds: $6,613 for full coverage; $2,733 for minimum coverage.
17-year-olds: $5,373 for full coverage; $2,206 for minimum coverage.
18-year-olds: $4,837 for full coverage: $1,938 for minimum coverage.
19-year-olds: $3,716 for full coverage; $1,451 for minimum coverage.
Full coverage includes collision and comprehensive coverage, uninsured motorist protection, and increased liability limits. Minimum coverage includes state-mandated coverage only.
The cheapest car insurance companies for an 18-year-old driver
The cheapest auto insurance rates for 18-year-old drivers are with GEICO, and USAA. An average monthly premium for USAA is $249 monthly, or $1,293 for six months. GEICO provides coverage for $322 monthly, or $1,934 for six months. Car insurers such as Travelers, Progressive, and Allstate are excellent insurance providers offering great rates for your teen insurance.
How Much Does It Cost to Add An 18-year-old to a Car Insurance Policy?
If you're a parent looking to add your 18-year-old to your insurance policy, there are a few things to know. Believe it or not, it's cheaper if you add your child to your policy instead them getting a separate policy.
On average, you pay $6,277 per year on separate policies, but if you have your child on your existing policy, you both pay $3,577. You save $2,700 annually by having your child on the parent's policy.
How to save on car insurance for 18-year olds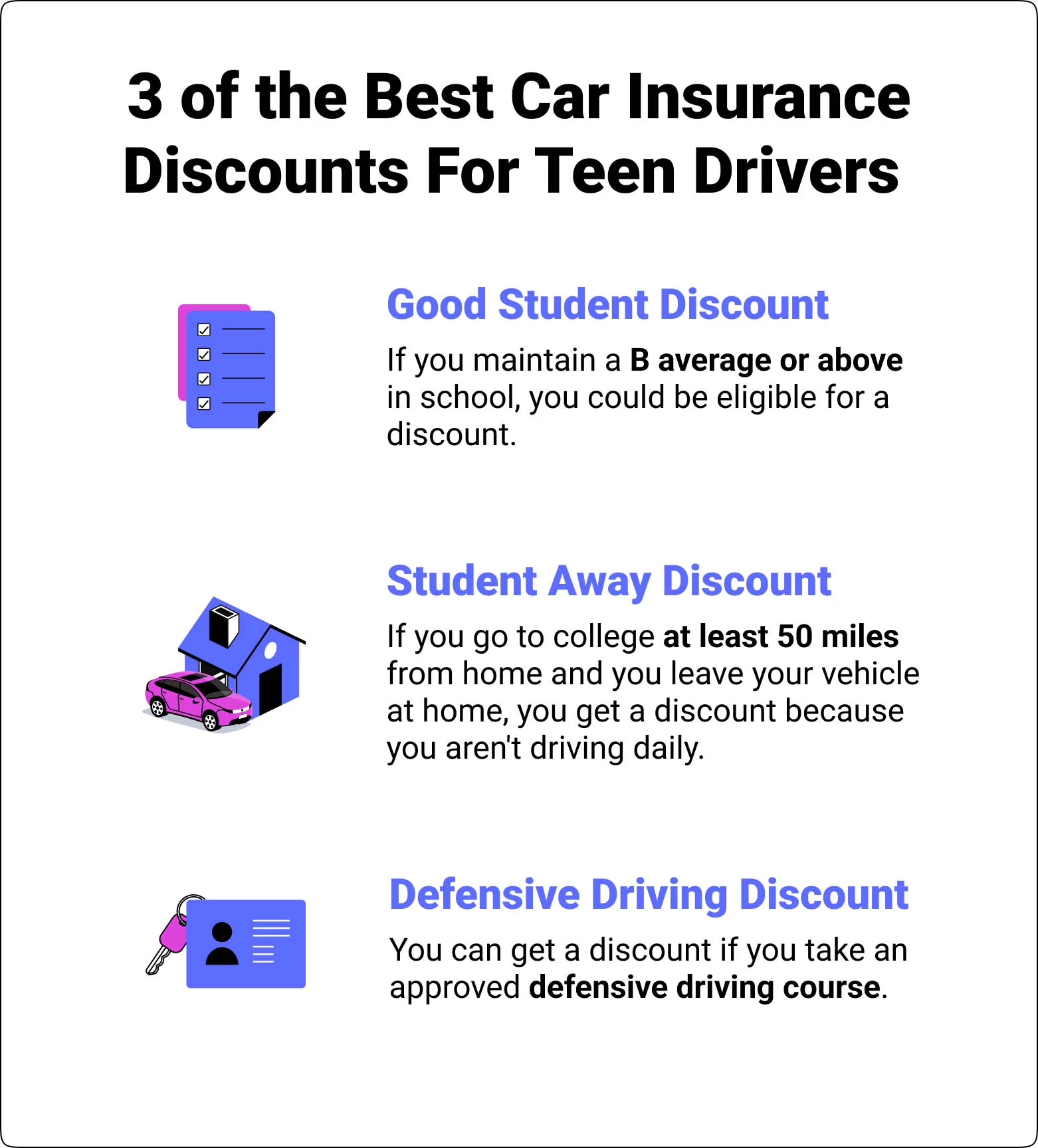 Car insurance for teen drivers is expensive, but there are ways of saving money on a full coverage policy. Adding your teen to your policy is just one way to save; you can also have a clean driving record and clean driving history. Shopping around is essential to getting the best car insurance quotes.
Many car insurance discounts help to lower your car insurance premium. There are student discounts for good grades, and even discounts if your child goes to school over 100 miles away. Bundling your home, health, and auto insurance is an excellent way of saving, and so is taking a defensive driving course. New drivers save money by being good drivers from the start.
Look for the following discounts when comparing car insurance rates:
Safe driver discount
New driver discount
Good student discount
Usage-based discounts
New vehicle discount
Multi-car discount
Multi-policy discount
Must an 18-year-old have complete coverage?
There isn't a regulation for underage drivers for maximum compensation. Getting just liability insurance won't protect your car. We recommend the following conditions when choosing a full coverage policy:
Ensure you have comprehensive coverage to protect against storms, hail, arson, damage to your vehicle, and repairs due to theft.
Ensure that you have collision coverage, to protect from damage to your vehicle regardless of fault.
When a teen is driving, it's best to have as much coverage as possible, even when they practice safe driving.
Which insurance is best for young drivers?
One aspect of auto insurance is liability coverage. This covers losses that a teen causes in an accident to individuals. States provide the minimum coverage for liabilities. That's usually not enough auto insurance. Property damage liability, and hospital visits due to bodily injury add up quickly. You don't want to be responsible for out-of-pocket costs.
Comprehensive coverage, and collision are important if you're financing your car. If you want to lower your premium, it's best to choose a higher deductible.
What Affects The Cost Of Car Insurance?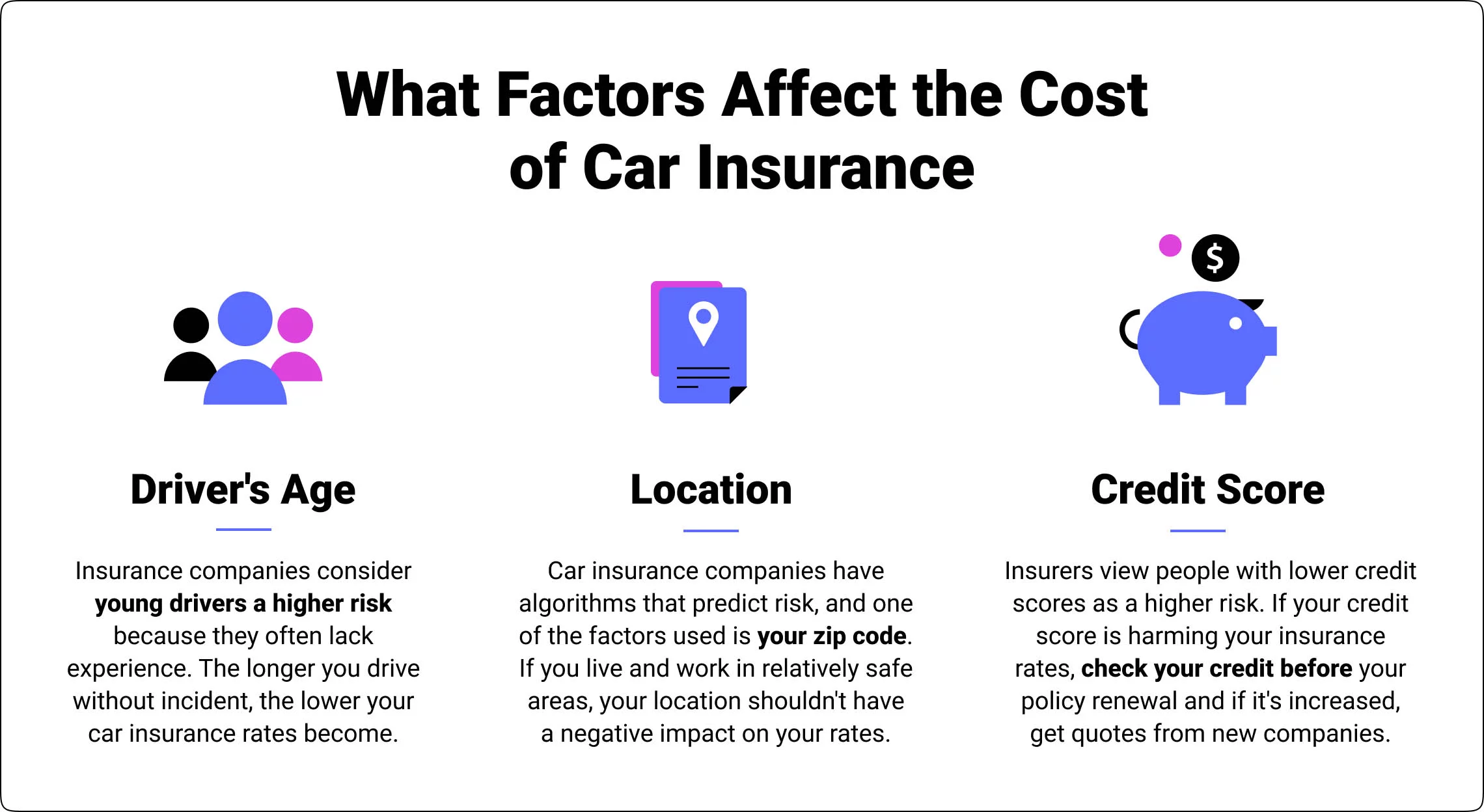 Many different factors affect how auto insurance companies determine your car insurance rate. When companies offer you a quote, things like age, gender, location, and even your credit score come into play.
Age of the driver
Younger drivers fall into a specific age group, which causes higher car insurance premiums. The better driver you're, the better car insurance rates you have. Age comes into play because auto insurance companies see 18-year-olds as inexperienced drivers, and more likely to get into an accident. The average auto insurance for teen drivers is more than for older drivers.
Gender of the driver
Being a girl saves you from paying higher premiums, and deductibles. On average, an 18-year-old male pays more for car insurance than a female. That's because statistically, women report fewer accidents, and have a lower number of DUIs than 18-year-old males. Some states have outlawed using gender as a factor in quoting car insurance, but not all of them.
Location
Car insurance companies consider everything, including location, to give you the best car insurance quotes. Different cities have different rates, so it's based on your zip code. They determine how much theft and vandalism there are, and the rate of accidents in your area.
Credit score
Your credit score is a factor in determining the average rates for car insurance. Insurers believe that drivers with excellent credit scores are more dependable drivers.
FAQs
How much is insurance a year for an 18-year-old?
On average, an 18-year-old expects to pay car insurance rates of $356 monthly, which is $2,136 for six months.
How much is car insurance for an 18-year-old Arizona?
Arizona is one of the most expensive states nationwide for car insurance for teen drivers. The average cost for insurance for an 18-year-old female in Arizona is $4,918 yearly.
Is insurance cheaper when you turn 18?
Insuring an 18-year-old isn't cheap. Although insurance is cheaper for an 18-year-old than a 16-year-old, you'll still see a huge rate increase until they are about 25 years old.
Do I have to add my teenager to my car insurance in Pennsylvania?
No, Pennsylvania doesn't require a parent to add a teen to their insurance policy. The only requirement is that the car being driven is covered for collision and liability. Teens must be insured the day they get their driver's license, regardless of whether they have a car.
How to Purchase Cheap Car Insurance For Your Teen
Insuring a teen driver is tricky, but it's not impossible to find affordable auto insurance. Ensuring you have the right coverage in case something happens while your teen is driving is important. We hope this article has helped you understand your options for obtaining car insurance for your teen.
If you're ready to get auto insurance quotes, it's as simple as comparing rates as amounts vary by company. We have a helpful tool to find your young driver's best car insurance options.
Related Posts