UPDATED: JULY 06, 2023 | 2 MIN READ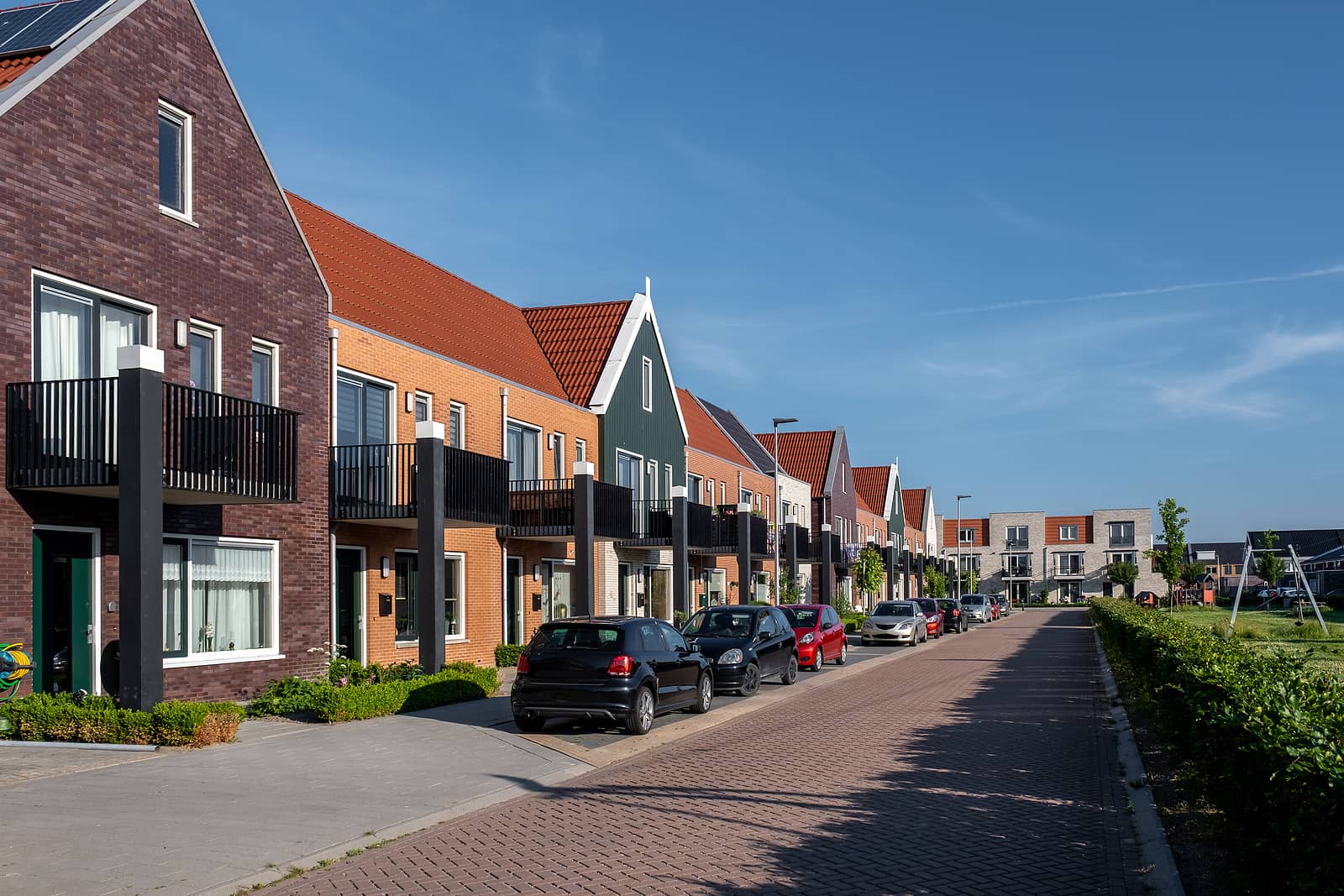 Many people choose to get multi-family homes as investment properties for passive income. Real estate investing is a great income source that lasts a long time bringing in a constant cash flow. Multi-family homeowners insurance can be obtained to protect your investment home and your tenants.
Because these homes have multiple units in one, specific challenges come up. You want to ensure that you have home insurance coverage.
In addition, you should educate your tenant on what your insurance covers and what policies they might want to have on their own. Before purchasing a multi-family home, here's everything you need to know.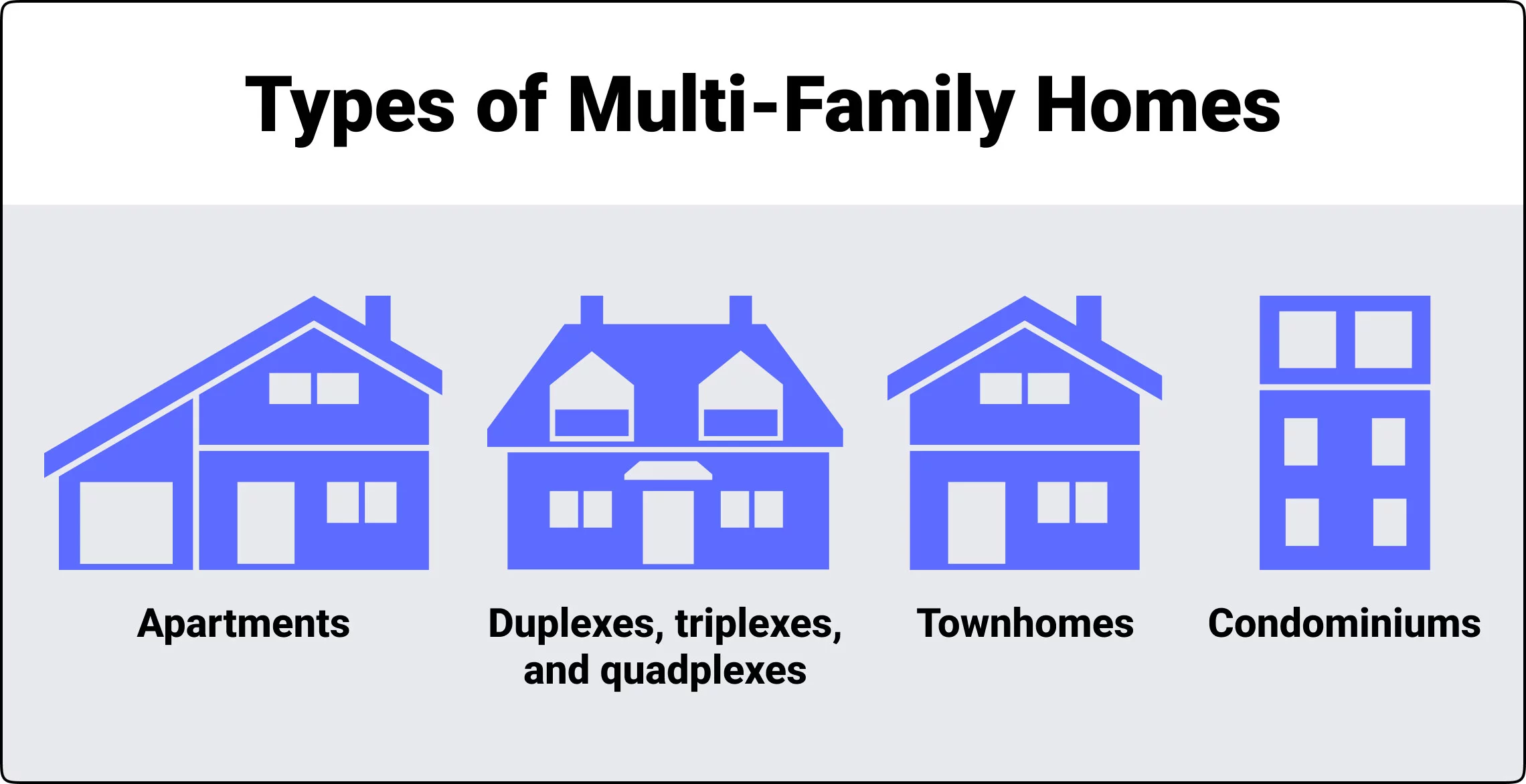 What counts as a multi-family dwelling?
A multi-family dwelling is any building with several units capable of housing more than one family. Each living unit would have its kitchen, bathroom, and living spaces, with walls dividing the units to keep them private and separate.
Some examples of a multi-family dwelling are:
a house with separate upstairs and downstairs flats
a duplex with two units side by side
a four-plex, meaning a home with four independent apartments.
Multi-family real estate applies to homes, condos, triplex, townhouses, and standard apartment complexes; this guide applies to stand-alone houses with multiple interior units.
Contact a real estate agent if you're interested in finding a property to use as an investment property. You should also research how much you need for a down payment and check the current interest rates attached to your mortgage payments.
Duplex, triplex, and fourplex insurance
Duplex, triplex, and fourplex properties require specialized insurance coverage that accounts for their unique characteristics. As a multi-unit property owner, it's important to understand the different types of coverage available to protect your investment.
This section explores the different types of insurance coverage needed for duplex, triplex, and fourplex properties.
Property coverage
Property coverage is crucial for multi-unit properties, as it protects against building damage and any structures attached to it.
This coverage can also include personal property, such as appliances and furniture within the units, which is included with landlord insurance.
Coverage for the entire building
Covering the entire building is also essential for multi-unit properties. This type of coverage ensures that damages to the exterior and common areas of the building are covered, such as damage caused by natural disasters or vandalism. This coverage can also help protect against liability claims arising from accidents within the common areas of the building.
Coverage for each unit
For individual units within a duplex, triplex, or fourplex property, it's important to have insurance coverage that protects against damages to the interior of each unit.
This coverage is typically referred to as dwelling coverage or unit coverage. It can help pay for repairs or replacements of the structure and any personal property belonging to the homeowner, whether or not the homeowner resides in the unit.
The policy you purchase for your multi-unit building only covers the outside of the building, the interior of each unit, and any appliances you own. It doesn't protect your tenant's belongings. Your tenants need to carry renters insurance for that.
Liability coverage
As a multi-unit property owner, it's important to have liability coverage that protects against claims of injury or property damage that occur on your property. The specific type of liability coverage needed will depend on the number of units within your property and the amount of risk you are willing to take on.
A general liability policy is recommended for duplex, triplex, and fourplex properties. This coverage can protect you against claims made by third parties, such as guests or visitors, who are injured while on your property. It can also cover property damage caused by you, your tenants, or your employees.
In addition to general liability coverage, consider umbrella insurance. This type of coverage provides additional liability protection beyond the limits of your general liability policy. This can be especially important for multi-unit properties, as the potential for liability claims can be higher.
Additional coverage options
In addition to property and liability coverage, several other types of coverage may be needed for duplex, triplex, and fourplex properties. Some additional coverages to consider include:
Flood insurance: This coverage protects against damages caused by floods, which are not typically covered by standard homeowners insurance policies.
Earthquake insurance: This coverage protects against damages caused by earthquakes, which are also not typically covered by standard homeowners insurance policies.
Landlord insurance: This type of coverage is specifically designed for rental properties and can provide coverage for loss of rental income and damage caused by tenants.
Equipment breakdown coverage: This coverage can help cover the costs of repairing or replacing important equipment, such as heating and cooling systems, that may break down due to mechanical or electrical failure.
Owner-occupied multi-family homeowners insurance
Lenders and real estate investors usually want owners to have home insurance on their properties. When shopping for multi-family dwelling insurance, the first question is:
Does the owner live in one of the units of the property?
If yes, you can purchase standard homeowners insurance to cover the cost of repairing damages to the structure and its surrounding exterior features.
Note that standard homeowners insurance covers the exterior and framework of an entire structure, so renting out a unit in the house shouldn't affect that policy.
For example, suppose the home suffers roof damage during a storm. In that case, your homeowners insurance should cover repairs even if that damage is located over the rented unit.
Non-owner occupied multi-family homeowners insurance
If the homebuyer doesn't live in the multi-family properties, you would typically need a Dwelling and Fire policy (DP) to protect your multi-family investment.
A DP policy covers the structure itself in a fire or another disaster. It's meant for multi-family dwellings used solely for renting, not for your occupancy.
To ensure you opt for the best DP policy for your unit, here is everything you need to know about this coverage:
Covering lost rent from tenants
A DP policy also provides coverage for "loss of use," or the home's fair rental value, reimbursing you for lost rent while the house is being repaired. If you rely on the rental income from your multi-family dwelling, ask about this coverage, and ensure it's adequate for your needs.
Re-homing your tenants
Loss of use coverage also includes a small amount to help tenants relocate during repairs. This is an excellent coverage option to consider if you want to ensure your tenants decide to return to your property after it's repaired. They may appreciate every courtesy you extend to them during that time.
Covering additional structures
It's vital to note whether outside structures and features need additional coverage. These structures and elements might include a garage, a swing set for the children, or a wood deck. Ensure you have proper coverage for these items and the house itself.
Liability insurance
Liability insurance reimburses the cost of medical bills for someone injured on your property, as well as property damage for which you're responsible. For example, if a renter slips on ice outside the property, you might be liable for their medical bills. If a tree falls on their car, you might also be responsible for repairing it.
A property owner must understand that these costs are outside standard homeowners or DP policies for their housing units. Even a minor accident is costly, so ensuring you have adequate liability insurance for your multi-family dwelling is good.
Personal property insurance
Homeowners or DP insurance policies don't protect personal belongings inside a unit, including kitchen appliances, ceiling fans, light fixtures, clothing, or electronics.
Suppose you don't live in the house and don't provide furniture for tenants, instead using the property for cash flow. In that case, you may not need personal property insurance. However, it's good to consider some coverage for appliances and other such costly items.
Also, you might help your tenants understand that their belongings aren't covered under your property insurance and suggest they carry a renters insurance policy.
You won't run into misunderstandings about your financial responsibility if your furniture, clothes, and so on are damaged in a fire, flood, or another disaster.
What type of insurance do your renters need?
Tenants or renters insurance is important for tenants to protect their personal belongings and liability. It typically provides coverage for damages caused by covered events and can help protect their financial well-being.
While not required by law, it's important to encourage tenants to obtain this coverage. However, you must have adequate homeowners insurance coverage as a landlord to protect your investment.
Is your property covered when your unit is vacant?
Whether or not your property is covered when your unit is vacant will depend on the specific terms of your homeowners insurance policy. Some policies may include provisions that limit or exclude coverage when a unit is vacant for an extended time.
If you have a vacant unit within your duplex, triplex, or fourplex property, it's important to notify your insurance provider to ensure adequate coverage. You may need to purchase a separate vacant property insurance policy to provide coverage during this time.
What impacts your multi-family homeowners insurance costs?
If you're a property owner, no doubt you want to do everything possible to lower your insurance costs. Note some details that often affect insurance premiums, so you're able to make adjustments:
Old wiring
Old wiring is more likely to become bare and frayed, putting your building at risk for an electrical fire. Updating the home's wiring might reduce your fire insurance costs and provide you with lower home insurance costs.
Firewall
A firewall between units using common walls helps to contain a fire that starts in one location, reducing fire damage to the house overall. Note the construction of the wall or walls between units. Consider upgrading to a firewall for the safety of your tenants. This can lower your insurance costs in your rental units.
Owner-occupied
Owner-occupied multi-family dwellings are often maintained more readily than owners who live offsite. Consider moving into one of the home's units to lower your insurance costs and keep your property in the best possible condition overall.
Smoke and CO detectors
Most areas require smoke alarms in homes and rental properties, even apartment buildings. Still, you might lower your insurance costs by adding more smoke detectors and installing carbon monoxide detectors. Also, ask your insurance agent if providing tenants with fire extinguishers reduces your insurance costs.
Exterior maintenance
Ask your insurance agent if you can lower your liability policy costs by hiring an outside company to remove snow and ice or otherwise maintain the property's grounds. A property management company might be more skilled at keeping a property safe for tenants. This reduces your insurance costs, offsetting the fees.
FAQs
How much is insurance on a 4-plex apartment?
The cost of insurance on a 4-plex apartment can vary depending on a number of factors, including the location of the property, the age of the building, the value of the property, and the level of coverage desired. However, as a general rule of thumb, you can expect to pay between $1,000 and $5,000 per year for insurance on a 4-plex apartment.
What is an example of a multi-family home?
Examples of multi-family homes are a townhome, multi-family units, apartment buildings, apartment complexes, condominiums, triplexes, and fourplexes.
What is the difference between an apartment and a multi-family?
An apartment building refers to a suite of rooms, forming one residence within a building containing many similarly structured units. A multi-family building is a rental apartment building where the entire building is under the same ownership.
How much is landlord insurance in Virginia?
The cost of landlord insurance in Virginia varies depending on the property size, location, and level of coverage. On average, landlord insurance in Virginia can cost anywhere from $400 to $2,000 per year.
How much is landlord insurance in NC?
The cost of landlord insurance in North Carolina can vary depending on various factors, such as the type, size, and location of the property and the level of coverage required. Generally, landlord insurance in NC costs around $1,500 per year.
Why would someone want renters insurance if their building owner has insurance?
While building owners typically have insurance coverage for the property, this coverage may not extend to the tenants. Renters insurance protects a tenant's personal property in case of unexpected events, such as theft or fire. It also provides liability coverage.
Without renters insurance, tenants would be responsible for covering the costs of any damages or losses to their personal belongings or for any liability claims made against them. This can be costly and cause significant financial strain, especially in a major loss.
Is landlord insurance different from homeowners?
Yes, landlord insurance is different from homeowners insurance. Homeowners insurance is designed to protect a property owner's primary residence, whereas landlord insurance is designed to cover rental properties.
How much is landlord insurance in Georgia?
Landlord insurance in Georgia costs about $1,620 per year, slightly higher than the national average of $1,516 annually.
What are the different types of multi-family structures?
Multi-family housing has many different structures, including bungalow courts, townhouses, garden apartments, duplexes, triplexes, fourplexes, high-rise apartments, condominiums, multistory, and apartment buildings.
Get home insurance for your multi-unit property
If you need great coverage for your multi-unit building that won't cost you a small fortune, compare rates. Use our online quoting tool to get rate comparisons in minutes.
Related content: