UPDATED: SEPTEMBER 06, 2023 | 1 MIN READ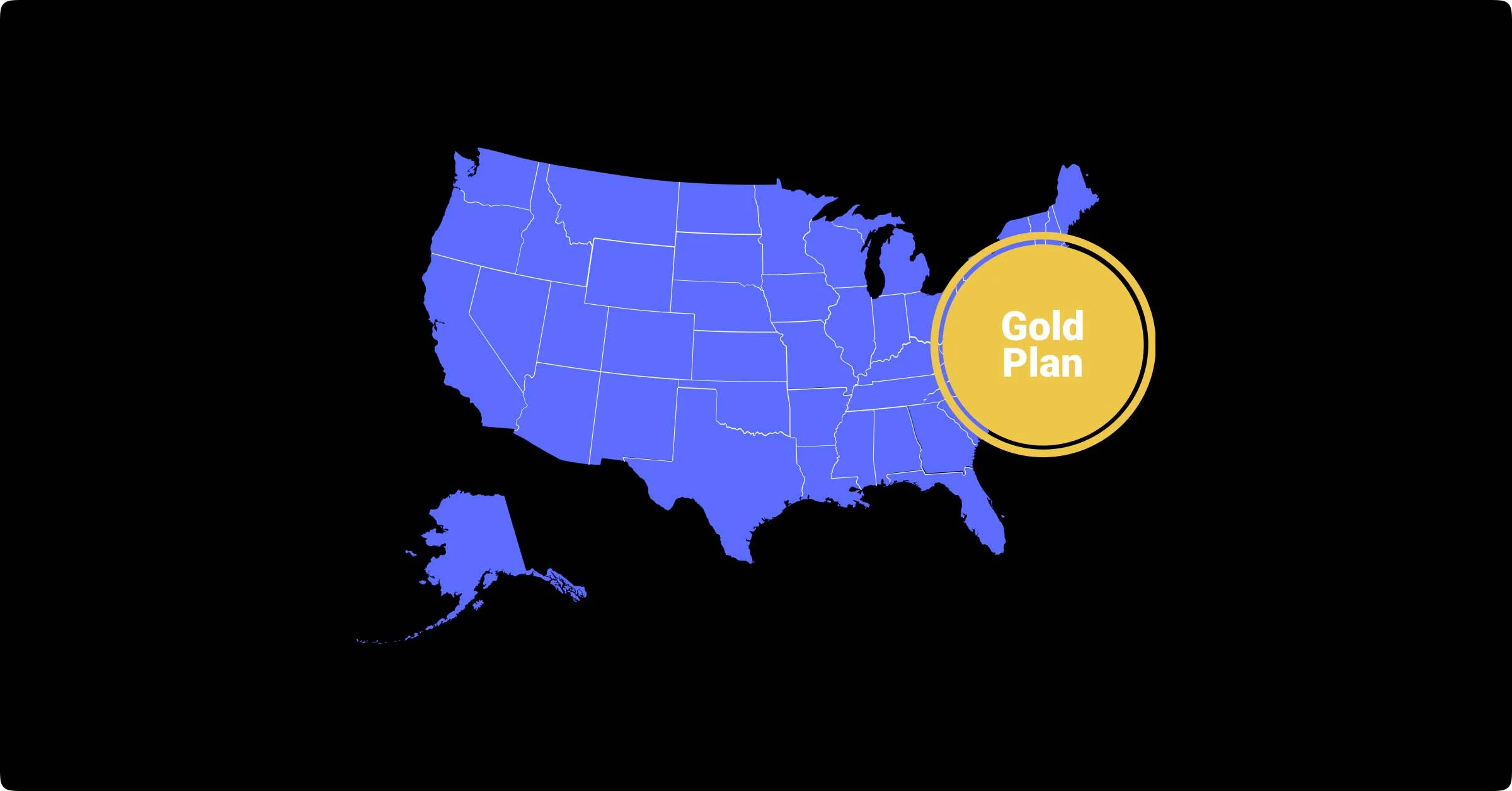 Are you searching for high-quality health insurance coverage that balances benefits and costs perfectly? Consider ACA Gold Plans, a category of health insurance plans available through the Affordable Care Act (ACA). This guide will take you through the ins and outs of ACA Gold Plans, state-specific marketplaces, and how to enroll in these valuable healthcare options.
Understanding ACA Gold Plans
ACA Gold Plans are a premium level of health insurance coverage offered under the ACA. They belong to a range of metal tier plans, including Bronze, Silver, and Platinum. Gold Plans stand out for their comprehensive coverage, making them an excellent choice for individuals and families who want extensive benefits without bearing the highest premiums found in Platinum Plans.
What is an ACA Gold plan?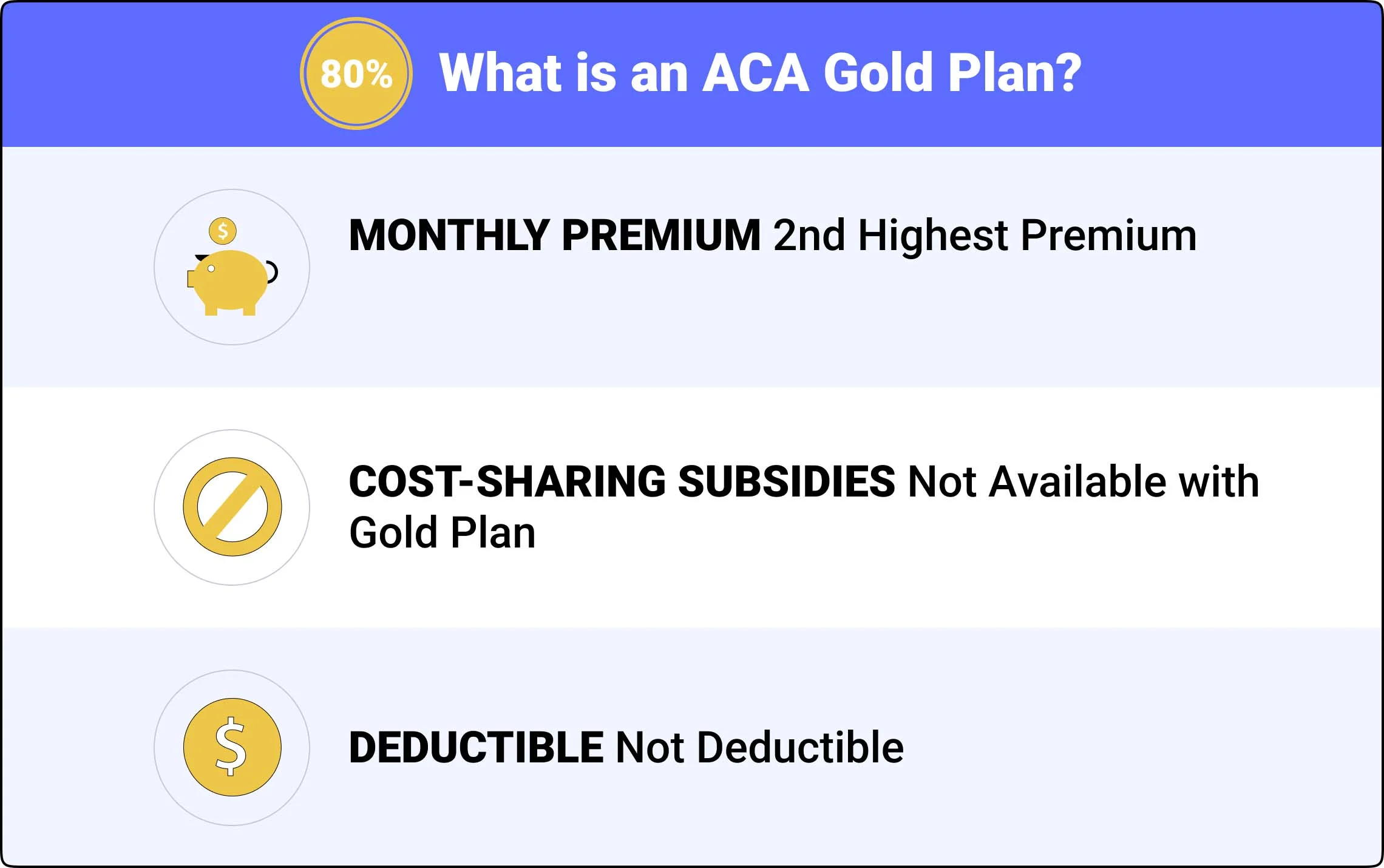 ACA Gold Plans provide wide coverage and benefits, making them attractive for those who expect frequent healthcare needs or want robust protection. These plans typically offer lower deductibles and out-of-pocket costs than Bronze and Silver Plans, ensuring that your medical expenses remain more manageable.
Coverage and benefits
With an ACA Gold Plan, you can expect a broad range of medical services, including hospital stays, preventive care, prescription drugs, maternity care, and mental health services. Moreover, these plans often include essential health benefits mandated by the ACA, such as ambulatory services, emergency care, and pediatric services.
Cost-sharing
While ACA Gold Plans boast comprehensive coverage, it's essential to understand the concept of cost-sharing. This refers to the healthcare expenses you'll have to pay out of your pocket, including deductibles, co-payments, and co-insurance. Although Gold Plans have lower cost-sharing than Bronze or Silver Plans, reviewing the specifics is crucial to make informed financial decisions.
State-Specific ACA Marketplace and Resources
Each state has its own ACA marketplace where you can explore and compare different health insurance options, including ACA Gold Plans. Additionally, state-specific resources and navigators are available to assist you in understanding the plans, application process, and any subsidies you may be eligible for based on your income and family size.
Alabama
Alaska
Arizona
Arkansas
California
Colorado
Connecticut
Delaware
Florida
Georgia
Hawaii
Idaho
Illinois
Indiana
Iowa
Kansas
Kentucky
Louisiana
Maine
Maryland
Massachusetts
Michigan
Minnesota
Mississippi
Missouri
Montana
Nebraska
Nevada
New Hampshire
New Jersey
New Mexico
New York
North Carolina
North Dakota
Ohio
Oklahoma
Oregon
Pennsylvania
Rhode Island
South Carolina
South Dakota
Tennessee
Texas ACA Marketplace
Utah
Vermont
Virginia
Washington
Washington DC
West Virginia
Wisconsin
Wyoming
How to Enroll in a Gold ACA Plan
Enrolling in an ACA Gold Plan is a straightforward process. You can visit your state's ACA marketplace website or the federal marketplace to begin the application process. During the open enrollment period, which typically runs from November to December, you can apply for a new plan or change your existing coverage.
Compare Gold ACA plans in your area
Take charge of your health and financial well-being by comparing ACA Gold Plans available in your state. Fill out our online rate form to evaluate different plans. Get started now and find the perfect ACA Gold Plan tailored to your needs.
Related Content