UPDATED: SEPTEMBER 11, 2023 | 2 MIN READ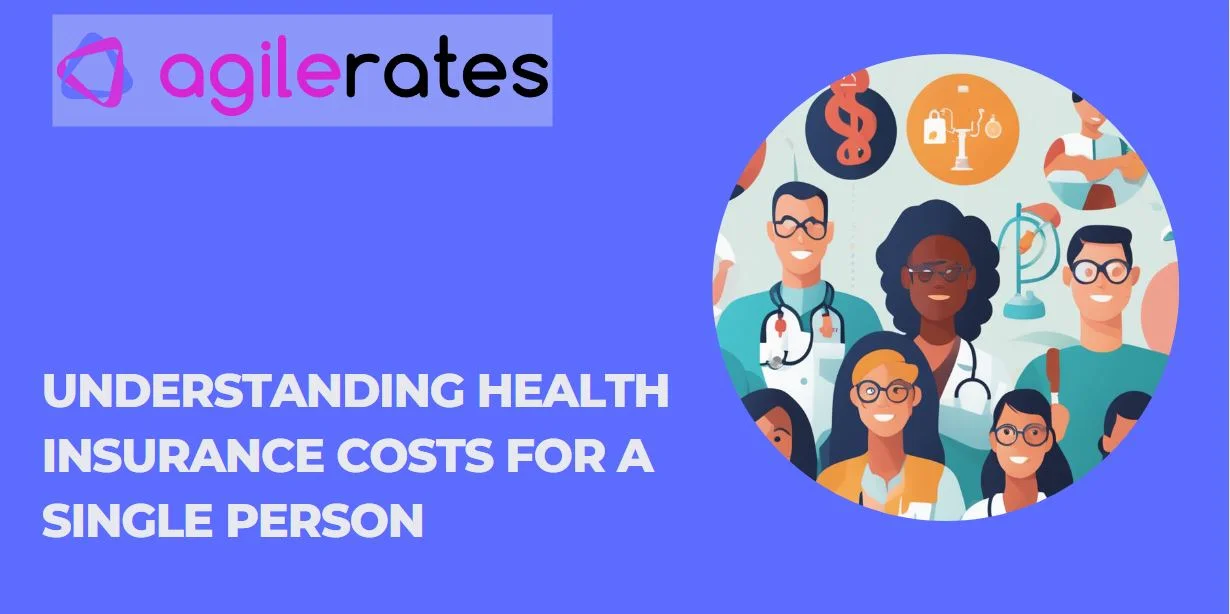 When it comes to safeguarding your health and well-being, individual health insurance plays a pivotal role. Navigating the landscape of health insurance costs can be daunting, but with the right information, you can make informed decisions that align with your needs and budget. We'll review the intricate details of health insurance costs for a single person, shedding light on factors influencing premiums, average rates, and more.
The importance of individual health insurance
When you prioritize your health, you're also investing in your future. Individual health insurance provides the safety net to access quality medical care without undue financial strain. Understanding the dynamics of health insurance costs is crucial for making well-informed choices that align with your healthcare needs and financial situation.
Navigating health insurance costs
The world of health insurance is multifaceted, encompassing various factors contributing to your costs. These elements collectively determine your premiums, from your plan type to your location and personal habits. This guide aims to demystify health insurance costs, helping you navigate the complexities and make decisions that promote your well-being.
Average health insurance costs
Understanding the financial landscape of health insurance is essential for making informed decisions about your coverage. Let's look into average health insurance costs to gain insights into the expenditures associated with various plans and the factors that influence these expenses.
Average health insurance costs for a single person by state
Premiums shown based on a 40-year-old applicant (Silver ACA Plan) – Source ValuePenguin
National averages and regional variations
The cost of health insurance isn't a one-size-fits-all metric. In 2023, the average monthly premium for an individual's health insurance is $560 for a silver plan. However, these costs vary significantly based on your geographical location.
Spotlight on 2023: Cost trends and changes
Understanding the trends in health insurance costs is essential for staying ahead of the curve. From year to year, these costs experience fluctuations, influenced by various economic and legislative factors. In 2023, health insurance rates across the nation have increased by 4%, signaling an ongoing pattern of change.
Factors impacting health insurance rates
Navigating the complexities of health insurance rates requires a clear understanding of the influential factors. From age and location to plan type and coverage tier, many variables come into play when determining the cost of your health insurance.
Location matters: State-by-state premium differences
Your zip code can significantly impact your health insurance costs. Wyoming, West Virginia, and Alaska experience higher premiums, while states like New Hampshire, Maryland, and Minnesota offer more affordable options.
Age and its role in determining premiums
Age is a crucial determinant of health insurance premiums. As you grow older, your premiums tend to increase. The rate of increase varies, with changes typically taking effect annually after a certain age.
Smoking and tobacco usage
Tobacco use affects health insurance costs, leading to higher premiums. This is a key consideration for insurers, and some states even prohibit varying rates based on tobacco usage.
Number of individuals insured: Family plans vs. Individual plans
The number of individuals covered by a plan impacts its cost. Family plans, which cover multiple individuals, come with different price structures than individual plans.
Understanding health insurance tiers
Health insurance plans are often categorized into different tiers, each offering a unique balance between coverage and cost. These tiers, including Catastrophic, Bronze, Silver, Gold, and Platinum, determine how much you'll pay in premiums and out-of-pocket expenses.
Bronze plans: Balancing coverage and premiums
Bronze plans offer lower premiums but require higher out-of-pocket expenses. These plans suit those who want to protect against major health expenses while maintaining more manageable monthly premiums.
Silver plans: A look at the middle ground
Silver plans strike a balance between premiums and out-of-pocket costs. They are particularly popular due to their moderate cost-sharing structure.
Gold and platinum plans: Enhanced coverage options
Gold and platinum plans offer higher premiums but more comprehensive coverage. They're ideal for individuals or families with higher healthcare needs.
Catastrophic plans: A choice for specific situations
Catastrophic plans are designed for young and healthy individuals who seek coverage for major medical events while maintaining lower monthly premiums.
Average monthly health insurance costs for a single person by plan tier
Premiums shown based on a 40-year-old applicant – Source ValuePenguin
Plan types and premium variations
Choosing the right health insurance plan involves more than just picking a tier – the type of plan you select can significantly impact your coverage and costs. Health Maintenance Organizations (HMOs), Preferred Provider Organizations (PPOs), Exclusive Provider Organizations (EPOs), and Point of Service (POS) plans each has distinct features that influence how you access healthcare and the amount you pay for it.
Health Maintenance Organizations (HMOs)
HMOs offer managed care, restricting provider choices but often resulting in lower premiums.
Preferred Provider Organizations (PPOs)
PPOs offer more provider flexibility but typically come with slightly higher premiums.
Exclusive Provider Organizations (EPOs)
EPOs are a hybrid, offering flexibility within a network while maintaining lower costs.
Point of Service (POS) plans
POS plans combine HMO and PPO elements, balancing cost and flexibility.
Average monthly health insurance costs for a single person by plan type
| Type of plan | Average 2023 rate | Average 2022 rate |
| --- | --- | --- |
| HMO | $480 | $457 |
| PPO | $576 | $522 |
| EPO | $507 | $508 |
Premiums shown based on a 40-year-old applicant – Source ValuePenguin
Year-to-year changes in health insurance rates
Health insurance costs are never stagnant – they evolve yearly, influenced by various factors. Understanding the trends in year-to-year changes in health insurance rates is crucial for anticipating the financial implications of your coverage.
Average premium change from 2022 to 2023
State
Average cost in 2023
Average cost in 2022
National
$560
$541
Georgia
$474
$394
Colorado
$489
$409
Wyoming
$882
$764
Alaska
$822
$715
New Mexico
$551
$480
Connecticut
$614
$564
New York
$776
$713
Arkansas
$456
$419
Maine
$506
$465
Montana
$519
$479
South Carolina
$469
$436
Wisconsin
$550
$514
Pennsylvania
$532
$498
Michigan
$435
$410
Washington
$470
$443
Kansas
$565
$534
Maryland
$385
$365
North Carolina
$666
$634
Tennessee
$533
$508
West Virginia
$871
$831
Ohio
$513
$490
Minnesota
$404
$389
Oregon
$493
$475
Iowa
$551
$533
Massachusetts
$404
$389
New Hampshire
$372
$360
North Dakota
$538
$524
Rhode Island
$424
$413
Texas
$589
$575
Florida
$599
$585
Alabama
$591
$579
Delaware
$566
$555
Missouri
$626
$620
Illinois
$561
$556
California
$541
$537
Kentucky
$479
$478
Vermont
$760
$760
Oklahoma
$634
$635
New Jersey
$535
$537
Nevada
$575
$578
Utah
$558
$563
Arizona
$569
$577
Hawaii
$482
$490
Indiana
$425
$433
South Dakota
$792
$811
Mississippi
$499
$511
Nebraska
$652
$685
Idaho
$483
$516
Louisiana
$652
$728
Virginia
$425
$512
Premiums shown based on a 40-year-old applicant (Silver ACA Plan) – Source ValuePenguin
Unveiling the 2022-2023 shifts
Health insurance rates have seen a 4% increase from 2022 to 2023. Understanding these shifts helps you anticipate changes and plan accordingly.
States with the highest and lowest increases
Some states experienced significant premium increases, while others saw more moderate changes. Georgia, for instance, witnessed a substantial 20% jump in health insurance costs.
States with decreases in health insurance premiums
Surprisingly, certain states witnessed decreased health insurance premiums. Virginia and Louisiana led the pack with 17% and 10% decreases, respectively.
Maximizing cost savings
You can take various approaches to optimize your health insurance expenses, from exploring government subsidies and assistance programs to understanding how plan types and coverage tiers shape your overall costs.
Exploring government subsidies and assistance
Government assistance programs like Advanced Premium Tax Credits and Cost-Sharing Reductions can significantly lower your monthly premium payments and healthcare costs.
Medicaid and chip: Avenues for affordable coverage
Medicaid and the Children's Health Insurance Program (CHIP) provide affordable coverage options for low-income individuals and families.
High-deductible plans and Health Savings Accounts (HSAs)
High deductible plans, paired with Health Savings Accounts (HSAs), allow you to save for medical expenses while benefiting from lower premiums.
Navigating your health insurance journey
Embarking on the journey of selecting the right health insurance plan involves understanding your personal healthcare needs, financial considerations, and the intricacies of available coverage options.
Empowerment through knowledge
Understanding health insurance costs empowers you to make informed decisions that align with your financial situation and healthcare needs.
Seek professional guidance
While this guide provides valuable insights, consulting with insurance experts can offer personalized guidance based on your unique circumstances.
Choose wisely for your health and finances
As you embark on your health insurance journey, remember that choosing the right plan involves balancing coverage and costs. By making well-informed decisions, you can protect your health and financial well-being.
FAQs
How much is health insurance a month for a single person in the U.S.?
Typically, an individual contributes approximately $111 per month for employer-sponsored coverage and around $456 monthly for a health insurance marketplace plan, excluding any subsidies. In addition to the regular premium payments, health insurance costs encompass copayments, coinsurance, and the amount required to fulfill your deductible.
How much does a single person spend on healthcare?
The United States boasts some of the world's most elevated healthcare expenses. In 2021, healthcare spending in the U.S. soared to $4.3 trillion, equating to an average of approximately $12,900 per individual. In contrast, other affluent nations maintain healthcare costs that are merely half of this amount per person.
What is the average out-of-pocket cost for healthcare?
The median household income in the United States is $87,864 as of 2023, so the typical American family allocates a minimum of $4,393 annually to cover these expenditures.
How much does an ACA plan cost monthly?
The health insurance marketplace offers bronze-tier plans at an average monthly rate of $440. Thankfully, subsidies are available to decrease your monthly financial outlay. For instance, if your annual income is $30,000, you could secure a monthly bronze plan for as low as $71. For a $45,000 yearly income, the anticipated average cost would be $254.
Get help finding affordable health insurance for a single person
Navigating individual health insurance costs is a journey that demands thorough understanding and careful consideration. Stay informed, seek professional advice, and select a plan that aligns with your needs – because your health is an investment that deserves the best coverage. Simply fill out our online rate form to review plans and rates in your area. We can even connect you with a licensed professional.
Sources
Related content